NSW Premier Gladys Berejiklian will address the media at 4.30pm after appearing at a corruption inquiry on Monday.
She has come under immense pressure after admitting she was in a "close personal relationship" Daryl Maguire who was forced out of Parliament amid corruption allegations.
Victorian Opposition Leader Michael O'Brien says "all roads lead to Andrews" after the resignation of Premier Daniel Andrews' top public servant Chris Eccles.
Mr O'Brien again called for Mr Andrews to resign and said the Premier, Mr Eccles, former health minister Jenny Mikakos and Emergency Management Commissioner Andrew Crisp should all be recalled by the hotel quarantine inquiry.
"Chris Eccles is Daniel Andrews' right-hand man," the Opposition Leader said.
"They worked hand in glove together from the day Daniel Andrews became Premier, and you can just see the entire house of cards is now starting to collapse."
Mr Eccles resigned earlier today after a retrieval of his phone records showed he called former police chief commissioner Graham Ashton on March 27 as Victoria's hotel quarantine system was set up, contradicting evidence Mr Eccles previously gave to the inquiry.
Mr O'Brien and Nationals leader Peter Walsh held their press conference surrounded by 791 small Australian flags, which they said represented the 791 people who have died in "Daniel Andrews' second wave".
"This is what politics should be about," Mr O'Brien said. "Remembering the people who suffered, remembering the people who've been hurt, remembering the people who deserve better."
The Opposition Leader said he had "very little confidence" in other senior public servants such as Department of Health and Human Services secretary Kym Peake.
But ahead of the opposition moving a motion of no confidence in the Premier when Parliament sits on Tuesday, he said Mr Andrews "should be the one held responsible for these failures".
"For all Daniel Andrews' talk about he's accountable for everything that happens under his government, he's not accountable because he's still more interested in protecting his job than protecting the jobs of Victorians," Mr O'Brien said.
Labor will almost certainly use its 11-seat majority to knock back the motion of no confidence.
On the day Victoria's goal of a 14-day average of five cases per day by next Sunday became unachievable, Mr O'Brien said the government needed to improve its contact tracing system and adjust its strategy so Victoria could "learn to live" with COVID-19.
"This state has still not learned the lessons that every other state has learned about the importance of contact tracing," he said. "This is the reason why we are in such a deep second wave and why it's gone on for so long and had such tragic consequences."
Health Minister Roger Cook has provided an update on the situation at Port Hedland. Here's what he had to say.
The latest coronavirus figures from the Department of Health have just landed showing 10 of the 15 new cases are linked to known outbreaks.
However, the total has increased by 14 with one case being reclassified, bringing the tally to 191 active cases. Five cases are under investigation.
" Four cases are linked to a family cluster in Melbourne's south-east, two are linked to a family cluster in Melbourne's north, two are household contacts of a case linked to Box Hill Hospital, one is a household contact linked to a case from Sunshine Hospital and one is a close contact of an existing case," the media release said.
There are 4280 cases that indicate community transmission, an increase of one from yesterday.
Intensive care units have no COVID-19 cases but 21 people are in hospital.
Regional Victoria has five cases, all of which are in the Mitchell Shire.
The latest aged care figures show:
17 active cases linked to Estia Aged Care Facility Keilor (51 total cases).
Three active cases linked to Embracia Moonee Valley Aged Care Facility (82 total cases).
Three active cases linked to Opal Hobsons Bay Aged Care Facility (46 total cases).
Three active cases linked to Uniting Age Well Preston (three total cases).
Young people in Sydney are being urged to abide by hygiene and physical distancing rules in a bid to ease pressure on pubs, bars and restaurants and stave off another lockdown for struggling late-night venues.
The Night-Time Industries Association this week launches a campaign online and in venues encouraging patrons to "Check. Check. Check. Keep COVID in check" when they're going out to help reduce the spread of coronavirus.
Night-Time Industries Association chairman Michael Rodrigues said the slogan reminded people to check-in at venues, check their hygiene by washing and sanitising their hands, and keep in check their distance from others.
"Although Sydney has managed COVID well, it wasn't long ago that we were on a knife edge of more lockdowns.
"The virus can spread like wildfire and we all have a responsibility to keep infections in check. Many business across the city won't survive another lockdown, so let's all work to keep venues and their patrons safe."
The campaign is backed by hospitality venues including The Winery, Earl's Juke Joint and The Landsdowne Hotel.
Sydney comedian Matt Okine said it was "not just about a night out for you. It's about the hospitality and entertainment sector staying open.
"Venue staff can't watch you every minute of the night – nor do you want them to. This really only works if we're all doing our bit [and] triple-checking, every time."
Customer Service Minister Victor Dominello said young people were crucial in the fight against COVID-19 and safety initiatives such as using QR codes to check in to venues were essential.
Jobs and Tourism Minister Stuart Ayres said patrons needed to adapt their habits and be COVID-safe if they wanted to keep going out.
"The Check, Check, Check, campaign is all about reinforcing those new normal behaviours that help reduce the spread of COVID, keeps us safe and allows us to safely enjoy the things we know and love."
One business and 15 people have been fined over public health act breaches on the weekend across New South Wales, including a woman hidden in the boot of a car.
Local police visited a restaurant on Macleay Street in Potts Point and found that their COVID safety plan was not up to date, nor could the manager produce a copy of the venue's liquor license. The manager was then issued a $5000 fine.
About 1am on Saturday, officers stopped a Holden Commodore at the Barham checkpoint and spoke with the 50-year-old female driver, who was unable to produce a permit to enter NSW.
During a subsequent search of the vehicle, police located a 60-year-old woman in the boot of the car.
Both women were issued with $1000 fines, and the older woman was also charged with a breach of bail and issued an infringement notice for travelling in the boot of a car.
She is next due to appear at Deniliquin Local Court on Tuesday November 3.
On Friday morning, police spoke with a 53-year-old woman at the checkpoint on Murray Valley Way, Euston, who claimed that she had no ID or permit to be in NSW because her purse had been stolen.
She verbally provided details to be checked, which revealed that there was no driver's licence recorded for that identity, and entry into NSW had been refused four days prior – and after noticing a handbag in the back of the car, police confirmed her real name, and also located heroin in the vehicle.
She was given two separate $1000 fines and issued court notices from both drug possession and driving with a suspended licence.
A South Australian man was fined $1000 at the same checkpoint that evening, for trying to enter NSW without a permit.
Police issued the man with a $1000 PIN and refused entry into NSW. The other 11 people who were issued fines were linked to an unauthorised transgender rights rally in central Sydney on Saturday, with one woman charged.
She is due to appear at Downing Centre Local Court on Tuesday November 3.
Shanghai/Beijing: China's Qingdao city says it will conduct COVID-19 tests for the entire population of more than 9 million people over five days after new cases appeared linked to a hospital treating imported infections.
The city reported six new COVID-19 cases and six asymptomatic cases on October 11. Most of the cases were linked to the Qingdao Chest Hospital.
The National Health Commission's (NHC) tally of 21 confirmed COVID-19 cases in mainland China for October 11 was published after Qingdao's announcement, but did not include any confirmed infections in the city and it was not immediately clear why.
The number of new asymptomatic cases, which China does not count as confirmed cases, rose to 32 from 23 a day earlier, the NHC said. It did not offer a breakdown on where the new asymptomatic cases were reported, though it said 29 of these cases were imported infections.
Daily COVID-19 infections in mainland China have fallen drastically from peaks early this year, but the country remains on high alert in order to prevent painful lockdowns that led to an outright contraction of the world's No. 2 economy.
Read the rest of this story here.
Premier Daniel Andrews' press conference has wrapped up. One of the final questions was about retail and what the sector could expect on Sunday.
Mr Andrews reiterated that restrictions set to ease on Sunday will relate to social activities rather than restrictions on which businesses can open.
"No decision has been made on retail. And I think it's unlikely that this weekend there will be a big shift in terms of retail," he said.
"There are risks, not so much with the setting, the risk relates to movement. We've had Bunnings put pretty clear views to us, our stores are safe, we haven't had any outbreaks, and that's largely true.
"I mean that in that they only know what they know. So the notion that no positive person has moved through one of their stores or any other retail store is probably unlikely. I think they almost certainly have.
"And it's not so much that their premises, because they've done a great job with cleaning and all their protocols, it's not so much the problem with the setting, it's letting all the customers out of their homes to then go and shop there."
The return of Victorian students to the classroom has been hailed a success by the state's Education Minister James Merlino.
About 580,000 kids returned to school on Monday morning. In the next fortnight, year 8, 9 and 10 kids will return as well.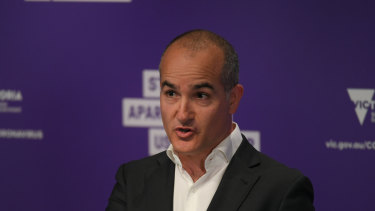 "It's a reflection of our success. We're at this point today because of the success in Victorians driving down numbers," he said.
"Excited kids, excited teachers and staff and a massive sigh of relief for parents.
"It was a different morning for the Premier and different morning for me … the school chaos morning.
"It's been a terrific day."
Mr Merlino said the first priority for schools will be the mental health of students and getting kids reconnected with learning and their classmates.
He said Nazareth College in Noble Park, which closed today due to a positive case, was a "terrific" school and a Health Department outbreak squad was conducting contact tracing.
He predicted more schools would experience positive diagnoses but pointed to research that showed the spread of the virus in schools was minimal.
Read more about what it was like for Melbourne kids returning to school today in this piece by education editor Adam Carey.
Melbourne University epidemiologist Tony Blakely says daily COVID-19 case numbers in Victoria and NSW are converging and both states may need to come to terms with the level of virus circulating in respective states.
Professor Blakely said Victoria had reduced its proportion of "mystery" cases with no known source to about 8 per cent of total cases from a peak of about 20 per cent. NSW has recorded four unknown-source cases in the last week, and Professor Blakely said this would be a troubling figure for health authorities.
"That's quite a high percentage, so they're confronting quite a tough time, I'd suspect," he said on radio station 3AW this morning. "NSW and Victoria seem to be converging into the same spot at the moment. Both look like we're going to be trying to hold the case numbers around 10 per day, we can't do much better than that, it would appear.
"NSW has had a lot of luck so far. They may run out of the luck and Victoria may get some."
Professor Blakely said case numbers could drop into single digits consistently in Victoria if outbreaks were suppressed quickly and no new outbreaks occurred.
He said the state government should focus on easing restrictions that inhibit quality of life. He said the five-kilometre rule should be looked at along with restrictions on outdoor dining.
"The issue is about picking the things that society values the most. I think everybody's sick of the five-kilometre rule," he said.
"If we [ease too many restrictions at once] we could cause a massive steep rise which we do not want."