This Queensland election campaign, Brisbane Times is not only reporting on the news of the day, we're also asking questions on your behalf. Directly.
Is there something you need to know to help you decide how to vote on October 31? Is there an issue you believe has been ignored?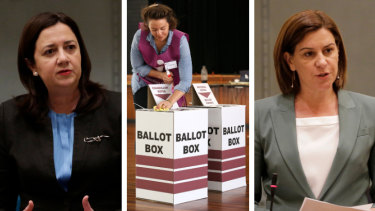 Simply fill in the form to submit your questions and we'll direct them to who we believe can best give an answer.
We're going to try to keep the political spin to a minimum in this space, at least as much as it can be avoided in the heat of an election.
Please note that we may not be able to get answers to all of your questions.
Sven asks: Why are some electorates named after people and not the area? The location of the seat of Caloundra is clear to everybody, but who knows where Oodgeroo or McConnell is located?
An Electoral Commission of Queensland spokeswoman answers: This Brisbane Times article may be helpful.
Naming an electorate after an area can be problematic because if there's a redistribution, the new electorate boundaries may no longer reflect a single place.
For example, Oodgeroo takes in North Stradbroke Island and parts of Cleveland.
Electorate boundaries can be explored here. Just put in an address in the search box and the map will be opened.
Glenn D Amezdroz asks: Amy MacMahon has a large billboard near the Gabba displaying a slogan that the Greens don't access funding from large corporations. Can this be fact-checked, please? Where do the Greens get their funding?
Brisbane Times PM editor Cameron Atfield answers: According to Electoral Commission of Queensland disclosures, the biggest single contributor to the Queensland Greens over the past four years has been reclusive mathematician (and professional punter) Duncan Turpie, who has forked out at least $200,000.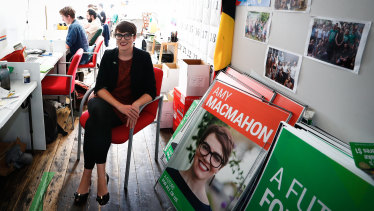 The second-biggest contributor to the Queensland Greens is…. the Australian Greens. They have sent more than $200,000 north in the past four years. So did the national body accept any corporate dollars? Not directly, according to Australian Electoral Commission disclosures, with most money coming from various state branches.
Another notable donor is Wotif founder Graeme Wood, who contributed $40,000 in 2017.
The rest of the party's donations are relatively small, coming from individuals rather than corporations.
Thomas asks: Will Prime Minister Scott Morrison's appearance help the LNP or will it remind voters of his frequent attacks on the ALP's border quarantine policy?
Griffith University political expert Paul Williams answers: It should be a net benefit for the LNP in the regions (far less so in Brisbane), but this is a much-nuanced set of circumstances.
If Morrison talks up jobs and federal assistance to regional Queensland (note that he's not come to Franklinton's $33 billion Bruce Highway party) then yes, it will assist the LNP.
But if the frame turns, as it did yesterday, to closed borders (an unpopular option, it now seems), he will be a net deficit.
Note that the relationship between Morrison and Frecklington appears to be cool and unproductive.
Queensland University of Technology political analyst, former Labor government minister and former Speaker John Mickel answers: It will neither help nor hinder.
He is popular, but it is a state campaign and people can differentiate.
A reader (name not supplied) asks: What are chances of independent candidate Claire Richardson winning the Oodgeroo electorate, given her explicit opposition to the Toondah Harbour development which seems to be supported by the LNP and the ALP? There seems to be very strong community opposition to the proposal to build over 3000 units on land and sea that are listed RAMSAR sites.
Griffith University political expert Paul Williams answers: Almost zero chance.
Independents almost never win seats in metro areas outside capital cities, unless in the most extraoriodianry circumstances, for example a major celebrity candidate and scandals in both major parties.
Mark Robinson won the seat in 2017 on first preferences alone. He is in no danger.
Pauline Peel asks: Who is the LNP candidate for Miller?
Brisbane Times PM editor Cameron Atfield answers: Paul Darwen.
He is out to unseat Transport Minister Mark Bailey, who holds the seat with a pretty safe 8.2 per cent margin.
Justin Jackson asks: If the LNP loses the election, who would likely become the leaders of the party?
Brisbane Times PM editor Cameron Atfield answers: I want to preface this by saying it's far too early to be writing Deb Frecklington off.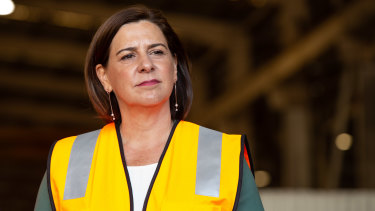 However, if the LNP is destined to spend a third consecutive term in opposition, recent history suggests it would be unlikely that Frecklington would keep her job.
It's long been my belief that the LNP needs a south-east Queensland Liberal (as opposed to a country National) to have a real chance winning a state election. It's a polarised state and a leader who plays well in the city might not do so in the bush (and vice versa).
From the current batch, it's hard to look past David Crisafulli. He ticks the SEQ Liberal box and he has ministerial experience. Just as importantly, he's a good media performer.
Deputy leader Tim Mander would be a contender. He'd have the support of the Christian Right of the party and has the name recognition, both through politics and his years as an NRL referee, to be seen as a viable candidate.
Former leaders Tim Nicholls and John-Paul Langbroek may want another tilt and, given the party's penchant for recycling leaders (see: Lawrence Springborg), they couldn't be discounted.
This is, of course, highly speculative. All of the names mentioned above could well be serving in the first Frecklington ministry in just a few short weeks.
Fiona asks: Hi, I would like to hear about the statistics related to the hotel quarantine program for interstate arrivals in Queensland. Specifically I would like to hear how many people coming from interstate (specifically NSW and Victoria) have gone into hotel quarantine, versus how many of them have actually tested positive for COVID-19. I want this to be explored as I would like to know if the risk has been proportionate to the severity of the response. This inflexible hotel quarantine regime has caused a lot of pain and inconvenience to many people and continues to do so with no end in sight (given the 28 day rule), so I would really like us to be able to judge whether it has all been worth it. The government acts as if we are not allowed to question this stuff, but we absolutely need to, especially as the numbers go down in the other states but this program continues. I have looked at the Queensland Health website before asking this question and was not able to find this information.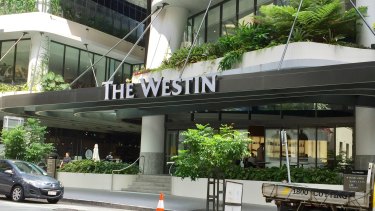 Brisbane Times PM editor Cameron Atfield answers: I contacted Queensland Health on your behalf with your question and comments.
They tell me the Queensland Police Service has sent 16,096 people into hotel quarantine since July 3. In that same period, 24 cases have been detected in hotel quarantine.
So that's 0.15 per cent of people in quarantine who have tested positive. Whether or not that has been proportionate, as you asked, is subjective. Some would say yes, some would say no. And all will have their say on October 31.
A Queensland Health spokeswoman provided this statement in response to your query:
"Hotel quarantine is one of our best defences against the spread of COVID-19.
"The process of quarantining people upon their return from overseas travel or an interstate hotspot is designed to catch cases of COVID-19 before it can enter the community.
"A single case, if left undetected, has the potential to spread exponentially throughout the community. That is the nature of a virus, and the danger of a pandemic.
"Our quarantine process is like a dam wall that prevents an inundation across the community. One case may appear to be just a small crack, but that crack will quickly turn into a catastrophic dam wall failure if it goes unnoticed and untreated."
Patrick asks: Can Labor win Clayfield?
Brisbane Times PM editor Cameron Atfield answers: The short answer is 'yes', but whether it's likely is another question.
It's held by the LNP's Tim Nicholls, who as a former treasurer and party leader has the kind of name recognition most candidates would kill for. Still, that didn't stop a 4.2 per cent swing away from him at the last election, in which he was running to be Premier. He now holds the seat by just 2.4 per cent.
As blue-ribbon as Clayfield is (think Ascot, Hamilton), it's not beyond the reach of Labor. Indeed, it's gone red before – Liddy Clark held Clayfield for Labor between 2001 and 2006. Whether it goes back to the ALP could depend a lot on the Greens and their preferences.
The minor party has had a tumultuous Clayfield campaign so far, with the controversial – and, frankly, very messy – dumping of candidate John Meyer. To steady the ship, they have turned to a familiar face. As a former federal senator, including a pre-Greens stint as leader of the Australian Democrats, Andrew Bartlett is a safe set of hands for the Greens campaign in Clayfield (and, full disclosure, he's also my barista!).
Bartlett would be the first to admit his chances of winning are slim, but if his primary vote is strong enough, preferences could get Labor's Philip Anthony over the line in his second attempt at the seat. Whether preferences would be enough to unseat Nicholls – a giant of the LNP – will only be known as the votes are tallied.
So all that is a long way of saying… maybe? But I wouldn't bet the house on it.
Tommy asks: Is the seemingly daily attacks by the NSW Premier and other NSW ministers on Queensland's border closure likely to hurt or help the ALP in the election campaign?
Jim asks: Do you think the attacks from NSW will be a net positive or negative for either side?
Griffith University political expert Paul Williams answers: It depends on the geographical location of the audience and its partisan position.
Only genuine swing voters — admittedly an increasing share of the electorate — will be swayed by such events.
But, even then, where the voter lives, how her local economy is enmeshed with small business (especially tourism), and even the voter's age will shape that perception.
Younger Gold Coast voters who rely directly on tourism will be agree with calls to open the border; those who are aged and therefore at risk of COVID-19, who live in the regions where there is anti-south sentiment, or who do not rely on tourism, will reject "southern" critics.
I can only emphasise that a key element of Queensland political culture is a state parochialism or even exceptionalism, especially in regional and rural Queensland, where voters reject outsider "advice". Remember the hostility the anti-Adani caravan from interstate attracted during the 2019 federal election campaign?
A reader (name not supplied) asks: Will Jackie Trad become Treasurer again?
Brisbane Times editor Danielle Cronin answers: The short answer is, it's complicated. Firstly, Jackie Trad will need to beat off a challenge from the Greens and retain her seat of South Brisbane. Labor will also need to win the election. If both of these things come to pass, Queensland Premier Annastacia Palaszczuk will decide whether to select her in the cabinet.