At 4.23pm we posted a selection of letters from our valued Herald readers who are backing NSW Premier Gladys Berejiklian to remain in the top job after her stint in the ICAC witness box. Now we turn to some of the less-flattering assessments.
NSW Attorney-General Mark Speakman has described Premier Gladys Berejiklian's evidence at ICAC yesterday about her five-year relationship with the now-disgraced former Wagga Wagga MP Daryl Maguire as something of a curve ball.
"Look, I think it came as a surprise to just about everybody in the NSW Parliament," Mr Speakman told the ABC.
"None of us knew the Premier had this personal relationship with Mr Maguire so it was a surprise."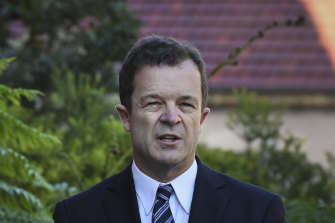 Asked if Ms Berejiklian would be premier at the end of the week, Mr Speakman said: "I believe so. She is, I think, the strongest, one of the strongest government leaders in the world. The record is [that in] a one in 100-year pandemic, we have fought that pandemic and kept numbers relatively suppressed and kept the economy going and people in jobs better than any other government."
He said "I don't think it is going to arise" and he was not going to "jump at shadows" when asked if he would put his hand up for the job if Ms Berejiklian stepped down.
Mr Speakman said that whether MPs should be banned from being involved in business outside of Parliament was an "interesting question".
"Ministers under the code of conduct are not allowed secondary employment and businesses and we can't do anything but [be] ministers of the Crown," Mr Speakman said.
Mr Maguire, whose business dealings have now been laid bare at ICAC, was a parliamentary secretary but not a minister. The corruption watchdog is nevertheless investigating whether he misused his public office for private gain, in conflict with his public duties.
"I imagine ICAC might make recommendations about positions of parliamentary secretaries in particular and MPs more generally when they finish this inquiry," Mr Speakman said.
The Herald's readership has, unsurprisingly, offered many and varied views on the evidence of NSW Premier Gladys Berejiklian and whether she should stay or go in the top job. Here is a selection from the "pro-Gladys" pile, and we will follow up shortly with the less enraptured and those on the fence.
A government MP and close ally of Premier Gladys Berejiklian told the Herald's state political editor Alexandra Smith today that the Liberal leader had "burnt some political capital" but there was widespread support for her within the parliamentary party and the wider community after her stint at ICAC.
It seems that, for now at least, Ms Berejiklian's leadership and moral authority has been shaken but not damaged beyond repair in the eyes of the Coalition.
NSW Opposition Leader Jodi McKay has indicated she will move a motion of no confidence in NSW Premier Gladys Berejiklian and a vote is expected on this tomorrow.
Labor has insisted the premier must resign after ICAC heard evidence she was aware at least of some of former Wagga Wagga MP Daryl Maguire's business dealings while he was still in government. This included text messages from as far back as 2014, in which Mr Maguire told Ms Berejiklian he "should make 5k" after one of his "contacts sold a motel" for $5.8 million.
"Congrats!!! Great News!! Woo hoo," Ms Berejiklian, who was then transport minister, replied.
"Sharing with Chinese business partner so commission is 20k usually it's 50% of that but I will only ask for 25% cause [it is] … such a small sale," Mr Maguire said.
Tapped phone calls in 2017 also suggest Mr Maguire told Ms Berejiklian about prospective business deals, and that in some cases she indicated that she did not "need to know" more.
Ms Berejiklian has insisted she was not aware of any wrongdoing by Mr Maguire and believed he was declaring all financial interests as required, and that her comments about "not needing to know" alluded to the fact her working life was busy.
If you are just joining us now, here are the major developments today.
Outside of the bear pit, where the NSW Labor Opposition has called on her to resign, NSW Premier Gladys Berejiklian has garnered support from unusual quarters following her bombshell admission that she had been in a "close personal relationship" from 2015 with the man at the centre of the corruption watchdog's current inquiry, former Wagga Wagga MP Daryl Maguire.
Among the bevy of unexpected supporters was federal Labor leader Bill Shorten, who said this morning that he had "sympathy for Gladys at the human level" and "she's a smart lady who I think has been punching below her weight with perhaps a much more average guy".
Ms Berejiklian reiterated today that she had done "nothing wrong" and would not resign from office. She responded "no way" when asked if Mr Maguire was her spouse. She ceased contact with Mr Maguire last month, after he resigned following evidence at an earlier ICAC inquiry in 2018.
ICAC heard today from Maggie Wang, one of Mr Maguire's former business associates. ICAC has heard Mr Maguire was involved in a number of prospective business ventures with Ms Wang while drawing a salary as an MP. The corruption watchdog heard today that Mr Maguire had told Ms Wang in 2018, after ICAC took an interest in his dealings, that his phones and iPad had been in a tangle with a tractor. Ms Wang concluded her evidence at ICAC today and left the witness box in tears.
Mr Maguire is slated to appear at ICAC tomorrow from 10am. It is fair to say that his association with the NSW Premier has made his evidence far more interesting than it was before their former relationship became public on Monday.
The Herald's state political reporter Lucy Cormack had her eagle eye trained on Question Time as Premier Gladys Berejiklian was grilled in Parliament for the first time since her five-year relationship with disgraced former Wagga Wagga MP Daryl Maguire was revealed.
In a fiery start, at least three members of the opposition were issued multiple warnings by deputy speaker of the house Leslie Williams.
At times it was hard to hear Ms Berejiklian over the barrage of questions and catcalls across the chamber.
Opposition Leader Jodi McKay repeatedly called the Premier "completely delusional", when she said she acted at all times in accordance with her obligations.
"The Premier no longer enjoys the confidence of this house given she turned a blind eye to corruption by failing to report Daryl Maguire's business dealings for six and a half years," Ms McKay said.
But Ms Berejiklian has vehemently denied turning a blind eye to wrongdoing and insisted both at ICAC and in Parliament that she would have had no compunction in reporting Mr Maguire had she become aware of anything nefarious.
Ms McKay asked Ms Berejiklian why it took eight days in 2018 to sack Daryl Maguire. "Why did you fail to report Daryl Maguire to ICAC?" Ms McKay asked.
The Premier began to answer the question, saying "if at any stage, if at any stage I knew anything was going to happen that was wrong -" but was cut off by repeated calls from the Opposition.
Earlier she reiterated comments made yesterday that "no benefit" was achieved by Mr Maguire.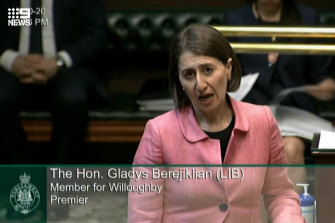 Ms Berejiklian later said to those opposite, "you were in the cabinet room with people found to be corrupt."One member of the opposition shot back: "What were you doing with someone who was corrupt?"
"I think everyone would argue I was full and frank in my evidence yesterday… whether or not they choose to believe me," Ms Berejiklian said.
ICAC has concluded for today but an interesting email was tendered this morning during the hearing.
The corruption watchdog has heard a lot of evidence about former Wagga Wagga MP Daryl Maguire's business association with racing heir and landowner Louise Raedler Waterhouse, including that Mr Maguire gave Ms Raedler Waterhouse the personal email address of Premier Gladys Berejiklian to lobby her directly.
After first telling Ms Waterhouse she could "blame him" for using the Premier's direct email, he said, "the fact is all that stuff is ICAC-able".
In an email on September 10 this year, tendered today, Ms Berejiklian's chief of staff answered questions from a senior ICAC investigator about the email from Ms Raedler Waterhouse, which other records have confirmed was sent on November 15, 2017.
Ms Berejiklian's chief of staff said the email from Ms Raedler Waterhouse had not been located, including in the premier's deleted items folder. He said an "assumption had been made" that the email had been deleted, but the premier had "no recollection of deleting the email".
"To the best of the knowledge of the Premier, during the period 15 November 2017 to 30 November 2017, the Premier is the only person who had access to, and the ability to delete items from the email account."
NSW Premier Gladys Berejiklian has come under pressure from Opposition Leader Jodi McKay in a fiery Question Time in NSW Parliament.
Ms Berejiklian has insisted she has been "full and frank" in her disclosures about disgraced former Wagga Wagga MP Daryl Maguire, with whom she was once in a "close personal relationship" and who is now the target of an ICAC inquiry. Ms McKay appeared to scoff in the background.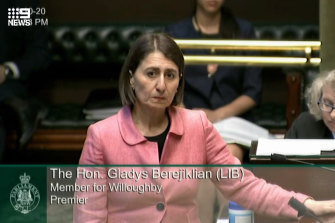 Mr Maguire is due to appear at ICAC at 10am on Wednesday.
A former business associate of the disgraced former Wagga Wagga MP Daryl Maguire has broken down in tears in the final minutes of her evidence at ICAC.
Maggie Wang, who worked with Mr Maguire on a number of prospective business deals as well as a cash-for-visas scheme, has spoken of her distress, panic and shame at being caught up in the inquiry. Mr Maguire is being investigated by ICAC over allegations he misused his public office for the financial benefit of himself and his associates.
Ms Wang's evidence has now concluded. ICAC resumes at 10am tomorrow with evidence from Mr Maguire.