Scott Morrison has been in Queensland for four days now, ostensibly to help out the LNP's state election campaign.
He's attending a fundraiser today in Brisbane with Deb Frecklington, but the pair spent the day apart yesterday and much of the coverage while the PM has been in town has been on federal issues.
What do you think? Has the PM helped or hurt Deb Frecklington's campaign with his appearance on the hustings this week?
Prime Minister Scott Morrison says he knows nothing about a media report claiming the LNP referred Ms Frecklington to the Electoral Commission of Queensland over concerns about a series of fundraisers she attended.
The ABC made the report on Tuesday, prompting a firm rejection from the LNP.
"The ABC's allegation that the LNP has referred Deb Frecklington to the ECQ is false. It has not," a party spokesman said in a statement on Tuesday.
"The LNP regularly communicated with the ECQ to ensure that we comply with the Act."
For his part, Mr Morrison said simply that he wasn't aware of the report, but more generally encouraged all parties to follow the rules.
"All political parties should comply with the laws. The laws are different in different states, they're different at federal level," Mr Morrison said.
"Everyone should comply with the law. It's pretty straightforward."
Queensland Premier Annastacia Palaszczuk has brushed off suggestions federal Opposition Leader Anthony Albanese should join here on the campaign trail.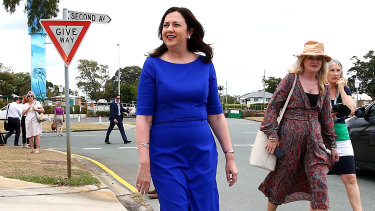 Prime Minister Scott Morrison has been in Queensland for the last few days, ostensibly to help LNP leader Deb Frecklington's campaign, although Mr Morrison has done a number of separate media events as well.
Asked on Tuesday why Mr Albanese hadn't made an appearance on the husting yet, Ms Palaszczuk said she wasn't relying on her federal colleague's support.
"If Anthony Albanese wants to come, I'm more than happy to have him here," Ms Palkaszczuk said.
"If he wants to come, I'm more than happy but I don't need someone to hold my hand for a week."
During the campaign, Brisbane Times is running our Ask a Reporter feature, where we'll endeavour to answer all your questions about the campaign, big or small. All the answers can be found here.
Glenn D Amezdroz asks: Amy MacMahon has a large billboard near the Gabba displaying a slogan that the Greens don't access funding from large corporations. Can this be fact-checked, please? Where do the Greens get their funding?
Brisbane Times PM editor Cameron Atfield answers: According to Electoral Commission of Queensland disclosures, the biggest single contributor to the Queensland Greens over the past four years has been reclusive mathematician (and professional punter) Duncan Turpie, who has forked out at least $200,000.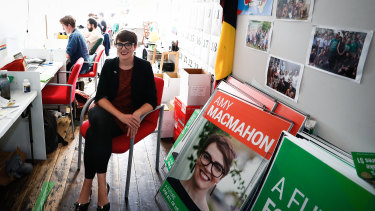 The second-biggest contributor to the Queensland Greens is…. the Australian Greens. They have sent more than $200,000 north in the past four years. So did the national body accept any corporate dollars? Not directly, according to Australian Electoral Commission disclosures, with most money coming from various state branches.
Another notable donor is Wotif founder Graeme Wood, who contributed $40,000 in 2017.
The rest of the party's donations are relatively small, coming from individuals rather than corporations.
The state government has matched the $15 million pledge by its federal counterpart to give Ballymore Stadium in inner-Brisbane a $30 million facelift.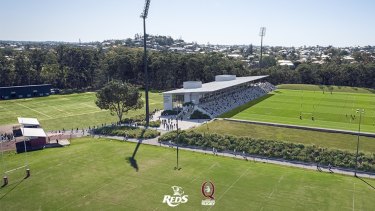 The money will create a new Queensland Rugby Union high-performance centre and see the Australian women's rugby union team – the Wallaroos – move and call Ballymore their home alongside the Queensland Reds.
"It is our intention to put some money into upgrading Ballymore, it is something that has been raised and we are keen to do that," Premier Annastacia Palaszczuk said in Maryborough on Tuesday.
The centre will become the centrepiece of a redevelopment of Ballymore as an elite sports precinct, with the renovation to start in April 2021 and finish in 2022.
Rugby Australia chairman Hamish McLennan said the proposed National Rugby Training Centre for Ballymore was a "major coup for Queensland" and could also be used for cricket and netball.
"We have another British and Irish Lions tour in 2025, which has the potential to bring more than $40 million into the state from touring fans," he said.
"Having a world-class training facility can only help Queensland secure these events."
The redevelopment includes an integrated 3000-seat stand replacing the McLean Stand, which was built in 1968 and extended in the 1970s.
It will be spread across almost 4000 square metres and feature change rooms for up to 100 men and women and cutting-edge sports science and recovery facilities.
Premier Annastacia Palaszczuk has shut down questions from journalists on whether Jackie Trad would be a face in a re-elected Labor cabinet.
The Premier ruled out any return for Ms Trad in the next term of government on Monday, after Ms Trad herself said publicly she would not seek a return to the frontbench.
But the Premier was quizzed during a campaign stop in Maryborough on Tuesday over media reports that the comments on Monday had caused rumblings from union figures, who have a say in the make-up of the cabinet.
"These issues were addressed yesterday and I went through them in quite some detail," Ms Palaszczuk said.
"Jackie said that she had no intention of returning back to cabinet and I made it very clear that she will not be sitting in the cabinet."
Quizzed further by the media pack, a clearly frustrated Premier said simply "next question" and moved on to the next topic.
Labor's internal factional system puts forward candidates for the frontbench based on the numbers of seats it holds, with Ms Trad previously being the highest-ranking MP of the powerful Left faction, while Ms Palaszczuk heads the Right faction.
News Corp reports there have been internal rumblings over the issue, however if Ms Trad has removed herself from frontbench contention the matter likely won't rear its head following a Labor election win, at least in the short term.
In easily the best announcement of the campaign so far, democracy sausages will be a feature of polling day, the electoral commission has confirmed.
The ECQ has announced fundraising activities at voting locations will be allowed, including the democracy sausage.
"Fundraising activities at election time are often an important activity for community organisations and schools," ECQ commissioner Pat Vidgen says.
"During the March local government elections, the emergence of COVID-19 meant democracy sausages and cake stalls were put on hold; fortunately, we are in a much better place now.
"However, the onus is on the fundraising organisers and volunteers to ensure they are following the relevant COVID-19 guidelines."
Organisers will need to follow industry food guidelines and can find more information on the restrictions and requirements on the state government's COVID-19 website.
Deputy Premier Steven Miles has taken aim at LNP leader Deb Frecklington over an ABC report that she was referred to the election watchdog.
"The ABC's allegation that the LNP has referred Deb Frecklington to the ECQ is false. It has not," an LNP spokesman said in a statement on Tuesday.
"The LNP regularly communicated with the ECQ to ensure that we comply with the Act."Mr Miles accused the party of playing semantics.
"Rather than being corrupt, she is simply incompetent and did not know what her office was doing but the statement from the LNP is nothing short of tricky," Mr Miles said.
"It doesn't say whether her office has been referred to the ECQ, whether her involvement in events has been referred to the ECQ or whether those events were referred to the ECQ."
Mr Miles said Queenslanders deserved to know the answers to those questions before they head to the polls, with people beginning to vote as early as this week.
Mr Miles also called on the LNP to release what was referred to the ECQ.
Premier Annastacia Palaszczuk will pump $1 billion worth of manufacturing work to the state's regions, with more Queensland Rail trains to be built in Maryborough and more than 690 local jobs to be created.
However, only $300 million of the commitment will be funded under existing budget estimates, the rest will need to be borrowed, creating further state debt.
A total of $600 million will be used to build 20 new trains while $300 million will fund a pipeline of refurbishment work for the existing QR fleet.
Ms Palaszczuk described her announcement as a "billion-dollar jobs bonanza".
"This billion-dollar investment will ensure the continuation for advanced rail manufacturing here in Queensland. This is bringing Maryborough back to the days when it was the heartland of manufacturing in regional Queensland," she says.
Prime Minister Scott Morrison says it is "a matter for the Queensland government" as to whether it is ever included in the trans-Tasman travel bubble.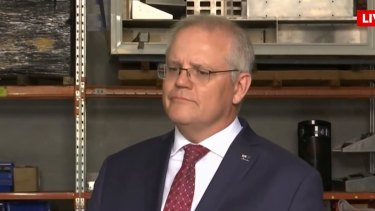 "If Queensland doesn't want to apply two weeks quarantine on Kiwis coming into Queensland they'd be able to benefit from it," the Prime Minister told reporters in Brisbane.
New Zealanders will be able to fly into Darwin and Sydney with no quarantine requirement from Friday, under the long-awaited travel arrangement between Australia and New Zealand.
After previously expressing his support for NSW Premier Gladys Berejiklian in light of her recent ICAC appearance, the Prime Minister said he wanted to thank Ms Berejiklian "again" for her willingness to participate in the bubble.
"It is freeing up spaces in the NSW hotel quarantine for Australians who want to be coming home," he said.
Greens MP Michael Berkman has called for all corporate donations and cash-for-access meetings to be scrapped.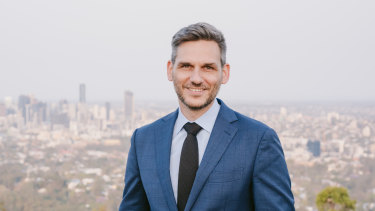 "Regardless of what's going on with the LNP right now, it's a disgrace that both major parties are still selling access to ministers and senior party officials, and taking corporate donations to fund their campaign," he said.
"It should be illegal for a corporation to pay money for access to a government minister, and the only reason it's not is because Labor and the LNP make hundreds of thousands dollars from these cash-for-access meetings.
"Queenslanders are sick of politics because the major parties are more focused on paying these big donors back than doing their job and representing ordinary people."
It comes after the ABC reported today that the LNP referred its leader Deb Frecklington to the electoral watchdog over over a dinner she attended in August which reportedly involved property developers.
The LNP denies there was any referral or any breach of the election funding rules.
Premier Annastacia Palaszczuk also defended a weekend fundraiser at a private residence, saying there were no property developers there.