Political donations are again in the spotlight after a damaging day on the campaign trail for the LNP yesterday.
In the wake of the furore, there are calls to beef up the state's already tough donations laws, while others have called for them to be relaxed again for unfairly targeting a single sector.
What do you think about Queensland's donation laws?
Cameron Dick used Labor's campaign announcement at the Northern Oil Refinery in Gladstone to highlight some numbers related to Queensland's "progress" in coming out of the coronavirus economic downturn.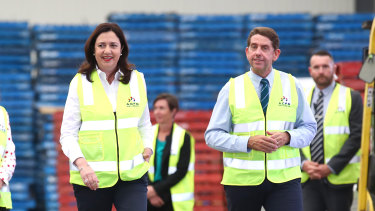 The State Treasurer said the government's economic recovery package and initial response to COVID-19 had supported 3300,000 jobs around Queensland.
"Keeping Queenslanders employed in small businesses, big businesses and across the length and breadth of Queensland," Mr Dick said.
According to the Queensland Treasurer, the economic data supports his boasts:
New loan commitments to households increased by 16 per cent in August, the second-highest growth in Australia
The number of building approvals increased by 12 per cent in August, the national average was 0.6 per cent
Retail sales in Queensland increased by 15 per cent over the year to August, more than twice the national increase of seven per cent
Employee jobs in Queensland up by 6.7 per cent between mid-April and mid-September, well ahead of the Australian average of 4.4 per cent
Employee wages have increased above the national average as well
Prime Minister Scott Morrison claims he doesn't remember the name of Queensland's Health Minister after saying "politics is not a game".
Asked to respond to Premier Annastacia Palaszczuk's comments yesterday that she did not need federal Labor leader Anthony Albanese to "hold her hand", Mr Morrison said he was "disappointed".
"I think that is a fairly offensive thing to say actually. Politics, it is not a game," he said.
"I am actually a bit disappointed…now I see the Premier is chipping in, the other fella [Steven Miles] I can't remember his name.
"What I am here to talk about is our recovery plan from the COVID-19 recession…that is what politics is actually about, it is not about all the rubbish, sledging.
"So if the others want to sledge about it, fine, that is up to them but we are here to actually get people back into jobs."
Queensland Health has now issued a health alert for Brisbane, Townsville and Cairns after a woman travelled through those cities before testing positive for COVID-19 in Melbourne.
Deputy Premier and Health Minister Steven Miles said it's likely the woman caught the virus in Victoria, but they're being "ultra cautious" and ramping up testing in the three Queensland cities.
The woman visited the following locations in Townsville:
-Icon Cancer Centre Townsville on September 28 from 4pm-5pm
-Mater Day Surgery at Hyde Park on September 29
-NQ Vascular at Pimlico on September 30 from 1pm-2pm
-Mater Day Surgery on October 1
She flew from Townsville to Cairns on flight QF2302 on October 3 before taking flight VA 782 from Cairns to Brisbane on October 6.
Chief Health Officer Jeannette Young urged people to not be complacent.
"We are asking anyone who has been to these suburbs at these dates and times to monitor their health," Dr Young said in a statement.
Mr Miles said the woman was a Townsville resident who travelled to Cairns and Brisbane before arriving in Melbourne to be with family while receiving medical treatment.
She had been in Melbourne for three days before she tested positive.
"The team and Queensland Health have asked a number of people who may have been in contact with her to quarantine themselves for 14 days and get tested during that period," he said.
Both the LNP and Labor have backed a pet project of key crossbencher Robbie Katter.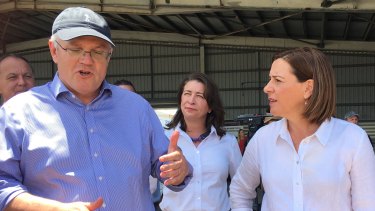 Almost a decade ago, the Federal Government had agreed to multi-million dollar grant to build CopperString – a power line from Cloncurry to Townsville to link north west Queensland to the national energy market.
The project fell through when Mount Isa Mines decided to invest in a local power station instead, which kept the city as an electricity island and inflated power prices for industrial customers.
Mr Katter has spent years calling on the state government to back a renewed version of the project to reduce power bills and boost mining activity in the region.
Premier Annastacia Palaszczuk announced last week that the state government had inked a deal on Copperstring 2.0 to take on some of the financial risk.
The Federal Budget, released last week, signalled funding to "progress to a final investment decision" in the project.
Prime Minister Scott Morrison,joined by state LNP leader Deb Frecklington, took a flight over Townsville on Wednesday to see where the transmission line would hook in.
Mr Morrison said the funding details were still being worked out but it was "a project worth getting behind".
The privately owned transmission line promises to "deliver opportunities for new industrial facilities and large agricultural and renewable energy projects".
If neither major party is able to win 47 seats at the October 31 state election, they may be forced to stitch together a minority government with the support of independents or crossbenchers, such as Mr Katter.
Prime Minister Scott Morrison has joined LNP leader Deb Frecklington in Townsville this afternoon where they are holding a media conference:
The Prime Minister has again been targeted by protesters on the campaign trail, but Wednesday's effort in Townsville was slightly more modest than the last two days.
Just two protesters showed up to greet the PM and LNP Leader Deb Frecklington today.
It follows larger protests on Monday and Tuesday, including on Monday where Mr Morrison had to be whisked away by police from the University of Queensland and had his official car splattered with red paint.
Scott Morrison and Deb Frecklington have linked up on the campaign trail in Townsville today, with a scheduled press conference pushed back so the leaders can have a quick helicopter ride
Once they come back down to Earth we'll bring you all the latest.
John Mickel was a long-service state Labor minister and Speaker of the Queensland Parliament. He is now a respected political expert, and an adjunct Professor with QUT. On Poll Call today, he takes a look at the seat of Whitsunday.
Both the LNP and Labor have had candidate problems in marginal Whitsunday.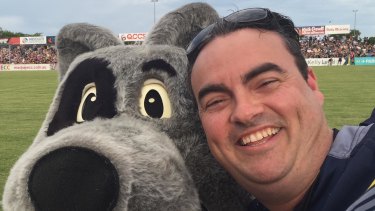 The LNP face their expelled Member, Jason Costigan, and his North Queensland First push whilst Labor has a new Candidate having dumped its pre-selected one.
In an 8-candidate contest, the LNP's Amanda Camm, has high name recognition but is under attack from the right by UAP, Costigan, Katter's Australian Party and One Nation who will exchange preferences.
Labor's Angie Kelly, a local School Principal, has name recognition in parts of the northern end of the seat but faces challenges from the left with the Greens and Legalise Cannabis Party.
There is little to separate the major parties on the primary vote.
Labor does well in Mackay's northern suburbs whilst the LNP are dominant in most of the other polling booths.
The LNP need a win here to form majority Government.
Queensland's leader has hidden behind "nationally-agreed guidelines" to support renters during the coronavirus pandemic, in response to questions over a scathing report released on Wednesday by a rental advocacy group.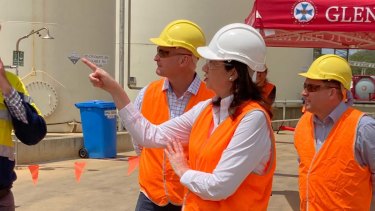 Better Renting, the advocacy group behind the report, described the state government's protections for renters throughout the pandemic as "a too-small serving of a bad-tasting meal".
Outside the Northern Territory, which has not had a scheme in place for months, Queensland was the sole Australian jurisdiction not to extend its residential tenancy eviction ban beyond September.
Better Renting has called for the next Queensland government to boost COVID-19 protections for tenants and overhaul rental laws as financial support dries up amid the pandemic's ongoing economic impact.
In response to the report, Premier Annastacia Palaszczuk said: "We had national guidelines about rental reforms because we knew that during the pandemic there would be a lot of pressure on renters – that was agreed nationally and Queensland adopted those national guidelines."
In response to questions from Brisbane Times on Tuesday, Housing Minister Mick de Brenni said the residential eviction freeze was important "when movement in Queensland was much more restricted", but the state's health response meant it could now shift focus to "supporting businesses".
Mr de Brenni pointed to "critical" measures which remained in place for renters, including protection from being listed in a tenancy database for rent not paid due to COVID-19 impacts, faster lease terminations for those experiencing domestic violence, limited re-letting costs for those who end a fixed lease early.
It comes as a separate report reveals an increase in the number of disadvantaged people competing for every available job in the state, with the unemployment rate reaching 7.5 per cent in August.
Ms Palaszczuk said she would "absolutely like to see that [unemployment rate of 7.5 per cent in Queensland] go down", before she made references to the challenges presented by the pandemic.
The head of Gladstone's Indigenous health service has called on Labor and the LNP not to forget about the region once the campaign moves on and the election is over.
Nhulundu Health Service chief executive Matthew Cooke says there are a range of issues that are important to the region which deserve more attention.
"What's important for me living in Gladstone … is making sure that those sections of the community are not left behind," he said.
"For me, it's about making sure that both sides of the Parliament recognise those particular areas and they have social and economic policy that seeks to address that in the immediate and long term.
"I would like to see earlier discussions about getting that funding around domestic and family violence workers, I think it's important to see that materialise into more long-term funding, so those social issues are not just things that exist during a pandemic, but in the community more broadly.
"Our response needs to have a continuity in that service delivery. Mental health is certainly an area that needs to be invested in, especially out here in rural and regional Queensland."
Mr Cooke said he was happy with the support from the state to date, which has included $250,000 from Queensland Health in COVID-19 response support, as well as $100,000 as part of a joint partnership involving the state government to fund a specialist domestic violence worker.