Mr Barbaro is accused of killing Ms Price, whose body was found inside her townhouse in Park Street, South Melbourne, on May 4.
Detectives believe the 26-year-old mother's body may have been there for close to a week before it was discovered by police.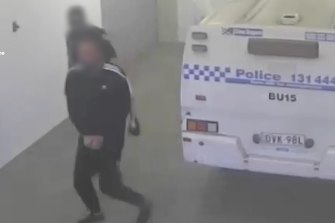 Police previously revealed they believe Mr Barbaro had been in an "on again, off again" relationship with Ms Price, an aspiring dancer, since about October 2019.
The accused was arrested inside a high-end Wentworth Point apartment complex in NSW 10 days after Ms Price's body was found. He was extradited to Victoria, where he was charged with murder.
Loading
On Thursday, Magistrate Dominic Lennon was told that during the medical appointment at Sydenham on April 28, Mr Barbaro appeared well dressed, had no visible injuries, maintained good eye contact and had good insight into his mental health challenges.
The doctor said his patient arrived at the clinic with a blonde woman but he spoke to him alone. Mr Barbaro said he had an anxiety disorder and had been undergoing behavioural therapy to help "deal with people" and to see his children.
Mr Barbaro also reported hearing noises but not voices, Dr Makarious said.
"When I went to the waiting area to call Mr Barbaro there was a lady with him. [She had] blonde hair," he said.
When prosecutor Patrick Bourke asked whether Mr Barbaro had ever discussed domestic violence during his appointments, the doctor said his patient hadn't been specific in the kind of behaviour therapy he had been doing.
In his medical notes, Dr Makarious said he wrote that Mr Barbaro appeared to be able to make rational decisions, had good judgment and was able to come to sensible conclusions.
He said the 33-year-old was an irregular patient but had been to the clinic on March 31, April 16 and April 28 this year, as well as sporadically during previous years.
"The patient was aware he was having anxiety disorder and was trying to fix it … to deal with people and see his children," Dr Makarious said.
"He was willing to fix himself."
Mr Barbaro did not appear at Thursday's hearing but is due to face court again on October 21.
Get our Morning & Evening Edition newsletters
The most important news, analysis and insights delivered to your inbox at the start and end of each day. Sign up here.
Erin covers crime for The Age. Most recently she was a police reporter at the Geelong Advertiser.