Loading
"I think, particularly after coronavirus, everyone is down in the dumps," Ms Lamont said. "We are lucky to be alive, to be able to get dressed up and enjoy it."
Forced to cancel her 100th birthday celebrations in May, it will be Ms Lamont's first chance to properly celebrate.
"We will have brunch here, we will have a sweep. We can watch the races on television, have champagne and enjoy the day," Ms Lamont said.
Ms Redd said races from around the world had kept her mother, who is usually a regular attendee at Mornington Racecourse, occupied throughout the Victorian lockdowns.
"All the rituals and occasions have been taken away from Mum, and everyone else in Victoria, and for someone like Mum who is so active, going out every second day, having the races throughout the year have kept her sane," Ms Redd said.
For Richmond couple, Steph Beckett and Bo Phillips, Saturday afternoon racing on the couch has become a bit of a ritual during lockdown.
Racing veterans of more than 20 years, the couple are disappointed to miss out on this year's meets but said they supported the decision.
"Being such iconic events with incredible atmosphere, it's a bit sad to see them run without a crowd. However, at the end of the day it's about the racing, so I guess we can punt poorly from the couch instead," Mr Phillips said.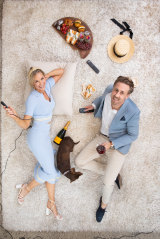 "The carnival epitomises so many things we love about Melbourne. It really is the ultimate celebration of sport, fashion and friends. It's obviously disappointing, but it's mostly for the right reasons," Ms Beckett said.
This year, the couple plan to get dressed up and mark the day with good food, good wine and good company, albeit a little differently.
"We've ordered a feast from Two Pounds in Armadale which we'll enjoy with some family and friends on Zoom, hopefully they have some decent tips," Ms Beckett said.
"Melbourne has so much to offer in terms of incredible restaurants and caterers. We need to support local businesses by ordering in and creating a special race day at home."