"He hasn't done all the work in the two sessions that he's done, so it's not a whole heap of work. But if he pulls up like he did on Tuesday, I think he'll probably play," Bellamy said.
"He gives us a very competitive player with a whole lot of experience. He's played Origin, four or five grand finals. He's a great leader, he's not a great talker, but he's a great leader. He just goes out there and does it.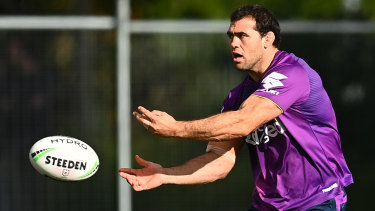 "Having said that, a little bit of that is blunted by missing eight or nine weeks. That's a long time to be not playing, or training to be honest. We think that if he pulls up ok, it's worth that risk.
"We know we are going to have a player that is really experienced and one of the most competitive I've ever coached. You'd like to think he's going to give you something."
Melbourne produced a sharp session as fake crowd noise was piped through the speakers at Sunshine Coast Stadium on Thursday, with five-eighth Cameron Munster training strongly to dispel fears he may be in doubt with a knee injury.
Loading
There had been suggestions that Munster may limp through the final fortnight of the season and break for the Origin series but Bellamy said they had no concerns about his fitness and he had bounced back quickly from a knock to his right knee late in the win over Parramatta.
"We've got not many concerns with him at all, really. He mended pretty quickly. He didn't do anything last week yet he was in our first session this week and he's done everything the other boys have done. We expect him to line up tomorrow [Friday] night," Bellamy said.
Mystery still surrounds the future of Storm captain Cameron Smith, who could be about to play the final game of his career should the Storm lose and the Raiders progress to a second-straight grand final.
Bellamy said what he has said all season; he has no idea what Smith will do next year and won't be asking over the next 24 hours.
"Right at the start, I said I wouldn't expect an answer from him until he's ready to give an answer. We would have liked to make it a little bit more special if it is his last game," Bellamy said. "But I promised I wouldn't put any heat on him. I pointed out the fact that if he's going to retire or go to another club, we'd like to send him out on a good note. I haven't heard anything since that conversation and I'm not going to ask him about it because I told him I wouldn't annoy him."
Sport newsletter
Sports news, results and expert commentary delivered straight to your inbox each weekday. Sign up here.