In an extraordinary defence, the Daily Mail has admitted the imputations Molan complains of and is seeking to establish they are "substantially true". In doing so, it has dug up and filed more than 20 examples from 2017 to 2020 of the show's hosts – including Molan, Darryl Brohman, Ray Hadley and Mark Levy – doing impressions of accents and joking about the pronunciation players' names.
On March 17, 2018, Hadley starts talking about Japanese women being silent during childbirth. Brohman asks: "are they allowed to make a noise during conception?" Molan then contributes an Asian accent, saying: "oh yor soh goo" and "you like raw feesh", the document states.
Loading
It also suggests a common trope in the show is for the hosts to recall and laugh about times when they have tried to pronounce the names of Pacific Islander players.
On April 5 this year, Brohman is said to have recalled a game at Manly where there was a reserve player "with about 30 letters in his name". He said: "Dad thought his name was Chooka-lucka-loo-loo but I said 'No, no, no, Dad, I think it's Chooka-lucka-loo-loo-loo'".
A week later, Molan is cited asking Brohman, "What was the name again? Pooka-pocka-pooka-pa?" His response: "No, You-caca-lootoo-potupo-po".
In August 2017, the team is talking about players with the name Nakubuwai, when Molan starts singing "awimbawe" from the song 'The Lion Sleeps Tonight'.
Molan is employed by Nine Entertainment, which also owns 2GB, in addition to this masthead. The popular sports presenter featured on Sunday's 60 Minutes speaking about online harassment, and revealed how one troll hoped she had a "stillborn". A spokesman for Nine declined to comment on the case against the Mail.
Hadley, who founded The Continuous Call Team show in 1987, but is no longer a host, defended his and his former colleagues' use of accents on his own 2GB show on Thursday morning.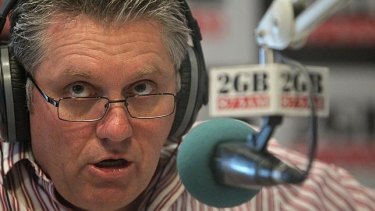 Hadley said accents are a tradition on the show, which all started when Brohman attempted a poor American accent more than two decades ago.
"It was so poor we'd said to him at the time 'what else can you do?' So at various stages over that 20 year period Darryl did American, Scottish, English, Irish, Welsh, New Zealand, Chinese, Dutch, Italian, Greek and Japanese accents. The only problem was they all sounded the same, so we'd go into fits of laughter. It was all predicated on fun," Hadley said.
"It was part of the program for over 20 years. For it to be seized upon in defence of this defamation is a weird, weird circumstance," he said.
Get our Morning & Evening Edition newsletters
Jenny Noyes is a journalist at the Sydney Morning Herald.