Richards had chosen Collett because he liked the way he rode and "had a couple of little wins on him on the punt".
"I couldn't have picked better," Richards said. "He suits my horse; you just have to watch them together."
For Collett, it was the catalyst for a couple of his best months in the saddle since coming to Sydney.
"What it did was give me a lift to start the spring,' Collett said.
"I was riding really well in the winter and had just got some momentum, and then along came Gytrash and the roll has just continued.
"I got a couple of group wins in August, then he won the Concorde Stakes, and it has kept going into the Spring Champion Stakes on the weekend."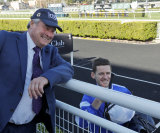 Collett rode a winning treble last Saturday including his second career group 1 on Montefilia in the Spring Champion Stakes. The popular hoop accepted congratulations from friends at the track on Monday morning before going out and working Gytrash with Noble Boy, whic was ridden by his partner, trainer Clare Cunningham.
Gytrash gave his mate a couple of lengths coming to the home turn before picking him as they ran 35.2 seconds for the last 600m.
"That was pretty good. I like the way we made him work late, and he felt strong," Collett told Richards.
Richards said: "That's what I like about Jason – there is no fuss about it. He is a bit like Gytrash," Richards said. "I thought I was casual about things until I met my jockey, but that suits me.
"I feel like he is getting excited now. He knows the horse and knows what he can do. He talks differently about him."
Collett has got to know Gytrash over the past couple of months as he stayed at Cunningham's stable. His only raceday appearance in Sydney was in the Concorde Stakes, where he ran over the top of Nature Strip at 1000m.
"That was good. It was the first time I felt him really let go, and he was very fast," Collett said.
But it has been the day-to-day interaction where Collett has learned the characteristics of Gytrash.
Loading
"He has changed since he got here. He is probably more comfortable in his surroundings now and just likes the work we have been giving him," Collett said.
"He went to the water walker at the Aquagate for 10 days and came back really fresh and ready to go. He is just stronger in his work since that break."
Gytrash was a $6.50 chance on Thursday behind Nature Strip ($4.50) and Classique Legend ($4.60) for The Everest, but Collett's day doesn't stop there on Saturday.
He will team with the unbeaten It's Me, which is favourite for The Kosciuszko, and Attorney in the St Leger.
"I think the only thing that will beat It's Me is her lack of ringcraft. She has only had a couple of starts and is still very raw," Collett said.
Racing writer for The Sydney Morning Herald