Loading
Earlier this month, Mr Lew requested a copy of Myer's share register in order to write to the company's thousands of retail shareholders to seek their support in opposing Mr Hounsell's re-election at the upcoming AGM.
Retail shareholders constitute a majority of Myer's investor base, with Bloomberg data indicating investment funds own just 41 per cent of shares. Only a handful of those institutional investors hold sizeable stakes.
These include Dimensional (7 per cent), Credit Suisse (6.7 per cent), Mitsubishi (6.2 per cent) and Vinva (4.9 per cent).
Institutional shareholders often refer to reports from proxy firms such as CGI Glass Lewis and ISS when determining how to vote at company AGMs, meaning the firms' recommendations could create a significant roadblock for Mr Lew, who requires an additional 39 per cent of shareholders to vote alongside his 11 per cent stake if he is to be successful in deposing Mr Hounsell.
The 7 per cent stake of Wilson Asset Management, Myer's second-biggest investor, will also be key if Mr Lew hopes to get his push across the line. Geoff Wilson, the fund's chairman and founder, is yet to decide how he will vote.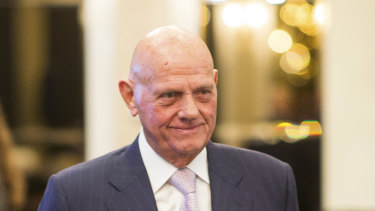 In its voting advice, ISS said the re-election of Mr Hounsell was warranted as no corporate governance concerns had been raised. CGI Glass Lewis found Mr Hounsell was somewhat overcommitted given his other company directorships, but otherwise supported the retailer.
"We also recognise Mr Hounsell's considerable importance to the chair of the board especially given the current circumstances with the challenges faced by the company in relation to the COVID-19 pandemic," Glass Lewis said. "Having regard to those matters, we believe that we can recommend that shareholders support his re-election."
A spokesman for Dimensional, which is the company's third-largest shareholder after Premier and Wilson, said the fund was still evaluating its vote decisions for Myer.
"We do review research and recommendations from proxy advisors including ISS, Glass Lewis and Ownership Matters. But that third-party research is only one of several inputs into our decision on any given proposal," he said. "Ultimately, Dimensional retains final discretion on how to vote."
Dominic Powell writes about the retail industry for the Sydney Morning Herald and The Age.