Disgraced former Wagga Wagga MP Daryl Maguire is being grilled for a third day at the ICAC about his business dealings while in office and his former relationship with Premier Gladys Berejiklian. You can watch it live here.
It's been another big day at the ICAC. Disgraced former Wagga Wagga MP Daryl Maguire has finished a three-day stint in the witness box. At this stage, the inquiry into allegations he misused his position for financial gain will not be hearing more from him, or from other witnesses. Here are the main developments at a glance:
Mr Maguire agreed that Premier Gladys Berejiklian, with whom he was in a secret relationship from about 2015 to September this year, "didn't want to know" some details of his business dealings. He made this admission after he was played a tapped phone call from 2017 in which Ms Berejiklian said "I don't need to know about that bit" in response to Mr Maguire bringing up a potential business deal. Ms Berejiklian has vehemently denied being wilfully blind and told the ICAC on Monday she was often busy or distracted rather than seeking to avoid hearing certain information.
Mr Maguire admitted he asked parliamentary staff members to destroy his records in 2018, at least "partly" to avoid them being obtained by the corruption watchdog. He also admitted telling a business associate that his phones and iPad had been involved in an "unfortunate" incident with a tractor, but said today that this was not true.
The head of the inquiry, ICAC Assistant Commissioner Ruth McColl, apologised to Ms Berejiklian and Mr Maguire after a transcript of his private evidence, given yesterday, was inadvertently published online yesterday for about half an hour. The contents of the transcript are covered by a suppression order. That incident will be the subject of an internal investigation at the ICAC and has also been referred to ICAC Inspector Bruce McClintock, SC.
The ICAC will release a small portion of that transcript publicly to shed light on Mr Maguire's understanding of when the relationship between him and Ms Berejiklian began. He has previously given evidence that it was "on again, off again" but it started around 2015 or 2016 and continued until August or September this year.
That's all for today but we will report on the contents of the transcript as it comes to hand. Thank you for reading.
The ICAC has concluded its questioning of former Wagga Wagga MP Daryl Maguire, at least for now. No other lawyer, including his own lawyer, had any questions for him.
Counsel assisting the ICAC, Scott Robertson, says "a three-page document" has now been prepared that includes portions of a transcript of Mr Maguire's private evidence to the ICAC about his former relationship with Premier Gladys Berejiklian, which he gave yesterday and today. That is expected to be made publicly available later today.
While his evidence has concluded today, Mr Maguire may be required to answer further questions in the future.
Mr Robertson does not propose to call any further witnesses at this stage in the ICAC's public inquiry.
Former NSW Court of Appeal judge Anthony Whealy, QC, the chairman of the Centre for Public Integrity and a former assistant commissioner of the ICAC, has cautioned against the "rush to judgment" about Premier Gladys Berejiklian.
"It is ICAC's job to assemble all this evidence and to make of it what they will," he told the ABC this afternoon.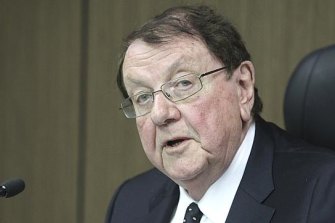 "[W]e have to be careful not to rush to judgment here. The Premier is quite correct in saying that she's not a person of interest in this inquiry; she is a witness. There have been no allegations raised against her. And unless and until that happens, she's quite correct. And I think a lot of these questions from the media are misdirected, quite frankly."
He said it was "politically imprudent" of Ms Berejiklian to remain in a relationship with disgraced former Wagga Wagga MP Daryl Maguire after he left NSW Parliament in 2018 following revelations at an earlier corruption inquiry.
However, he said "there is still no suggestion of any impropriety or dishonesty or lack of probity on the part of the Premier".
Former Wagga Wagga MP Daryl Maguire is recalling the time ICAC investigators executed a search warrant on his home. He says they were "offered tea or coffee" and his electronic devices including phone and iPad were on hand.
But he adds, "I think I was in shock; I actually sat outside and had a cigarette which is terribly unusual for me."
He said he was surprised an armed police officer was in attendance.
Former Wagga Wagga MP Daryl Maguire now tells the ICAC that he sent "old phones and old junk" to the recycler.
Mr Maguire admits he did tell an associate that at least one of his electronic devices had been run over by a tractor but says he was "just being stupid" and an ICAC investigator had in fact seized his iPad.
"It's just a bit of a strange thing to say," counsel assisting the ICAC, Scott Robertson, says.
"Yes it is. It's a weird thing to say," Mr Maguire replies.
He agrees that the purpose of saying that was to encourage his associate to destroy information that might implicate him.
Prime Minister Scott Morrison has once again come to NSW Premier Gladys Berejiklian's defence as the man with whom she was once in a "close personal relationship", former Wagga Wagga MP Daryl Maguire, gives evidence at the ICAC.
"I've worked with the Premier for many, many years," Mr Morrison said at a press conference on Friday.
"Gladys Berejiklian is the Premier that New South Wales needs in these difficult times.
"She has been an extraordinary leader, particularly setting, I think, the right bar, the gold standard, as I've called it, when it comes to contact tracing and testing arrangements here, and outbreak containment."
Mr Morrison said Ms Berejiklian "has very strong support, obviously, from the Deputy Premier and the many members of her team. The Deputy Leader of the Liberal Party, Dominic Perrottet, they are a team just focused on keeping New South Wales safe when it comes to COVID-19 but also keeping New South Wales open."
The reference to Deputy Premier John Barilaro is unusual and perhaps a slip of the tongue, given Mr Barilaro's very recent blow-up at Ms Berejiklian over koalas and planning policy.
Former Wagga Wagga MP Daryl Maguire has admitted that he instructed staff to destroy his records after he first appeared at the ICAC in 2018, after which he quit politics.
"I told them to wipe everything," Mr Maguire said. He says "partly, yes" when asked if he was motivated by a desire to stop the corruption watchdog from obtaining the material.
He said initially he was trying to give clean "machines" and phones back to NSW Parliament, and believed material relating to some private constituent matters should be destroyed.
He told the ICAC he had "lost" another USB stick of contacts and he "must have dropped it" at the farm gate when he got out of his car "and it got run over several times" during the agistment of livestock.
"That wasn't an accident, was it?" counsel assisting the ICAC, Scott Robertson, said.
"I did genuinely drop the thing at the gate … I didn't realise I dropped it," Mr Maguire said. " I don't know that I had a plan to dispose of that."
Former Wagga Wagga MP Daryl Maguire admits he received tens of thousands of dollars from what the ICAC has called an illegitimate cash-for-visas scheme and did not declare that money.
He says he can't recall any other undeclared income, however. In a 2014 text message shown at the ICAC, Mr Maguire told the then transport minister Gladys Berejiklian that one of his "contacts sold a motel" for $5.8 million "so I should make 5k".
"Congrats!!! Great news!! Woo hoo," Ms Berejiklian replied.
Asked if he actually received this money, Mr Maguire said he could not recall. Asked if he received, but did not declare, other commissions from developers, he said: "I cannot for the life of me recall this. I honestly don't know."
The ICAC has resumed its public hearing. Counsel assisting the ICAC, Scott Robertson, says a small portion of the transcript of former Wagga Wagga MP Daryl Maguire's private evidence on Thursday will be tendered, meaning it will be publicly available.
This evidence relates to Mr Maguire's belief as to when his relationship with Premier Gladys Berejiklian commenced. Mr Robertson has just asked Mr Maguire some further questions about that evidence in private, and that evidence is also expected to be tendered.
However, this may not happen until much later today.
Mr Robertson tells ICAC Assistant Commissioner Ruth McColl that he anticipates that he will finish questioning Mr Maguire today.
The ICAC's public hearing was due to resume at 2pm as former Wagga Wagga MP Daryl Maguire returned to the witness box. There's been a slight delay but we'll bring you the latest news as it happens.