G'day everyone, it's Rachael Dexter here to take you through to the end of the blog this evening. I hope your Saturday is going well as can be. Feel free to drop me a line with news tips or comments to rachael.dexter@theage.com.au or find me on Twitter here.
Here's a quick round up of the big news stories today:
VIC:
Seventeen people who travelled from New Zealand to Sydney, then on to Melbourne on Friday afternoon are now somewhere unknown in the Victorian community. One of the 17 who is an Australian resident and spoke to The Age and Sydney Morning Herald on the condition of anonymity today, said he was "relieved" to return to his home in Melbourne, after repeatedly trying to fly back to Australia from New Zealand but being denied a permit.

The man told multiple ground staff at Sydney airport he was planning on travelling through to Melbourne, but he was not stopped or detained after passing temperature testing.
Premier Andrews was furious in his press conference today about what had unfolded.

Staying in Victoria, Melburnians are now less than 24 hours away from learning what restrictions are next to ease, with the state only recording one single case today.

NSW:
NSW has recorded five new locally acquired cases of COVID-19, all linked to known clusters in

south-west Sydney. Four of the locally transmitted cases confirmed on Saturday are linked to the Oran Park cluster. Three of those cases are a family who attend the Greater Beginnings Childcare Centre Oran Park while the fourth is an educator at the centre.

The fifth locally acquired case is linked to the Liverpool Private Clinic cluster. The student attends Oran Park High School.

QLD:


An investigation is under way to determine why viral fragments of COVID-19 have been found in Brisbane's sewage.
Coronavirus fragments were found in wastewater in the Brisbane suburbs of Wynnum and Sandgate as well as Maroochydore on the Sunshine Coast.

Queensland Chief Health Officer Jeannette Young said the results could mean there is undetected community transmission circulating in the south-east but there was not cause to panic.

WORLD:
Meanwhile in France, the health ministry reported 25,086 new confirmed coronavirus cases in past 24 hours on Friday local time, after reporting a record 30,621 on Thursday.

It also reported that 122 people had died from coronavirus infection in hospitals in the past 24 hours, compared with 88 on Thursday. Including deaths in retirement homes – which are often reported in multi-day batches – the death toll increased by 178 on Friday.

The total number of infections since the start of the year now stands at 834,770, the cumulative number of dead at 33,303.
Thanks so much for joining me. I'm done for the day but the live blog will be running for a few more hours with the brilliant Rachael Dexter leading the charge.
Please have a great afternoon and evening and I'll see you all early tomorrow morning for our Sunday live blog.
See you all later!
Three women who thought the five kilometre travel ban was no longer in force in Melbourne were among 53 people fined by police in Victoria in the past day for breaching coronavirus restrictions.
The trio were questioned at Essendon Railway Station and told police they thought the restriction had been lifted.
Two women who were not wearing face masks on Chapel Street in Prahran were also fined after attempting to avoid police.
Of the 53 fines issued, 13 were for failing to wear a face covering and six were at vehicle checkpoints.
Overall there are 148 active cases remaining in Victoria, down nine from yesterday.For some perspective: a week ago that figure was 192.
Exactly a month ago, it was 942.
The highest number of active cases we ever had was on August 7, with 6776 active cases recorded that day.Of the current number of active cases today, 11 are healthcare workers (7 per cent) and 13 are linked to aged care facilities (9 per cent).
The aged care facilities with the highest number of active cases as of today are:
Uniting Age Well Preston with five active cases (no change from yesterday)
Estia Aged Care Facility Keilor with three active cases (no change from yesterday)
and Embracia Moonee Valley Aged Care Facility with two active cases (-1)
And the non-aged care outbreaks with the highest number of active cases:
Chadstone Shopping Centre with 12 active cases (-1)
Box Hill Hospital with 12 active cases (no change)
South-eastern community outbreak with 9 active cases (no change)
The Kilmore outbreak with four active cases (no change)
A bit more detail about today's single case of COVID-19 in Victoria today.
The case is linked to a new 'community outbreak' in Hoppers Crossing, according to the Chief Health Officer's daily report.
The outbreak comprises three cases across two households, and includes what was originally called a 'complex case' linked to Woolworths QV in Melbourne's CBD.
"The new case is a known family close contact of that case. There is no evidence of workplace transmission," states the report.
As we reported earlier in the blog, there one new mystery case has been confirmed in the Melbourne area in recent days in postcode 3128 (Box Hill, Box Hill Central, Box Hill South, Houston, Wattle Park).
The current tally for mystery cases recorded of the past two weeks (recorded between October 1 and October 14) is 17.
Whenever seasoned observers of American politics predict an emphatic Joe Biden victory on November 3, we ought to acknowledge we were wrong last time. Like the pollsters and the betting markets, virtually all the pundits thought Donald Trump would lose to Hillary Clinton four years ago.
True, some of us recognised a Republican path to victory. In these pages in September 2016, I argued Trump could win an Electoral College majority if he suppressed the Democratic base vote and at the same time turned out enough of the "great unwashed", especially white working-class constituencies in the Midwestern rust-belt states. Trump shocked us, but he was helped by Clinton, who demeaned his supporters and took her own for granted.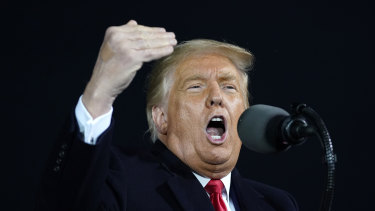 Now, as a campaign that seemed to have started two years ago winds down into its final two weeks, it's a fair bet that, far from scoring another upset victory, Trump really is doomed.
The Indonesian government is "betting the farm" on a successful COVID-19 vaccination campaign, says a former cabinet minister in Joko Widodo's government and key ally of Australia, warning that a vaccine roll-out may fail to match the speed of the disease's spread.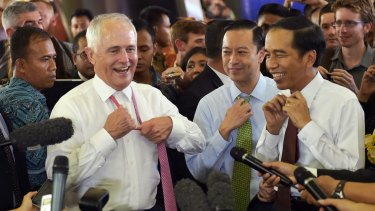 Tom Lembong, a Harvard-trained architect and investment banker before serving in Joko's cabinet, has taken the unusual step of publicly criticising the direction and strategy of the government.
Typically, Indonesian politics is less confrontational than Australia and its main players unwilling to publicly criticise allies.
The economic reformer, who vigorously advocated for the Indonesia-Australia free trade deal while Trade Minister, also expressed deep concern about the timing of changes to workplace laws which significantly reduce protections for minimum wages, severance pay, holiday leave, maternity benefits, health and child care.
It might have snuck under the radar but Victorian Premier Daniel Andrews doubled-down on his pledge to present Sunday's changes to lockdown restrictions before the Melbourne Vixens play their Super Netball Grand Final.
The Vixens will play West Coast Fever in Brisbane at 1pm AEDT and Mr Andrews was asked during the week if he could avoid going head to head with the game as the Vixens look to win their first title since 2014.
Some of the Victorian Government's major Sunday announcements have come in the afternoon due to delays in meetings or the need to finalise details but Mr Andrews wants to make sure the announcements will be done before first pass in the netball.
"We will make some difficult calls about what is possible on Sunday and then, well away from the netball issue, we will try to make some announcements before that very important event," Mr Andrews said.
"It's at that point that we will be able to talk through those announcements."
Channel Nine will show the game live at 1pm AEDT while the Netball Live App will also stream the game.
What's to become of us, Melbourne, this once-humming city so open to the world, now stalled and shuttered?
It's been 215 days since the Andrews government declared a state of emergency to ward off COVID-19 — seven months in which we've locked down and closed off from the world, our country and, even, our countryside.
In a pandemic the main focus, of course, is saving lives. But now we fear for the health of our city, mothballed longer than all the other capitals, and especially susceptible to a curse like COVID.
We'd opened ourselves to the world, embraced globalisation and remade ourselves as a smarty-arty economy based on knowledge and services. We'd reinvented the old CBD as a place to eat, drink, and play in boutique bars and eateries often tucked away in "secret" laneway locations.
We'd built a city on the very things that closed borders and COVID-19 have denied us: people, immigrants – international students in particular – gathering in number in narrow spaces.
One new mystery case has been confirmed in the Melbourne area in recent days, Victoria's Chief Health Officer Brett Sutton has said.
Professor Sutton said mystery case was a resident of postcode 3128 (Box Hill, Box Hill Central, Box Hill South, Houston, Wattle Park).
There were 17 mystery cases confirmed between October 1 and October 14, which is unchanged from yesterday's tally of 17 mystery cases between September 30 and October 13.
On the face of it, that would suggest that number of mystery cases has remained unchanged.
But keep in mind that we have moved one day further along the line, so September 30 has moved out of the reference window that is used in this calculation.
On September 30 there was one mystery case among the 14 people who tested positive for COVID-19 that day.
This number has moved out of the two weeks counted in today's tally, but the new mystery case added has ensured there is no net change in the total.
One of Melbourne's two original targets to move to its third reopening step was for there to be five or fewer mystery cases in the two weeks leading up to October 19, so mystery cases are still tracking considerably above this threshold.
"We are at a point where we only have a tiny handful of cases each day but the mystery cases are still averaging one a day," Professor Sutton said.
"They are making up a bigger proportion of our daily total, in part because they are the hardest ones to find."
Here is a map of the postcodes where at least one mystery case has been recorded in the past fortnight: