Loading
"Even though the animals are decimated and will take decades to rebuild their numbers, the hollows take hundreds of years to form," Joslyn van der Moolen, a Coastwatchers member, said. "They are essential for all the animals that survived the fires as a refugia."
After visiting the logging coupe, Ms van der Moolen last Monday sent the EPA photographs of the latest trees with hollows being felled. The agency say they responded by sending a compliance officer the following day.
"It's patently obvious that logging contractors have learnt absolutely nothing by the initial stop work order and investigation being issued," Nick Hopkins, another member of Coastwatchers, said, adding "We're very grateful to the EPA for recognising the critical nature of the hollows and saying to Forestry, 'now the fires have been through, every single hollow-bearing tree is important to be left'."
Loading
The EPA said it had increased its presence on the ground at all stages of logging operations as part of a "comprehensive regulatory approach" in the wake of the bushfires.
Signs of a shorter leash being given to Forestry Corp include the launch earlier this month of five prosecutions against the loss-making enterprise for allegedly felling trees in protected areas with key koala habitat in northern NSW.
An EPA spokesman told the Sun-Herald the "initial indications are that the trees in question are likely to be compliant, subject to final review", but the agency would remain on the watch for breaches.
A Forestry Corp spokeswoman confirmed the EPA's initial review had found no fresh compliance issues since loggers had resumed work.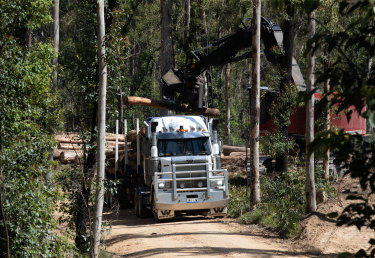 Loading
The operation is conducted by local harvest and haulage businesses and timber supplied to local mills for processing employing staff in regional NSW, the spokeswoman said.
Independent NSW MP Justin Field said it was "totally unacceptable" that Forestry Corp was ignoring expert advice that logging burnt forests will damage their recovery and was "likely against the law without dedicated extra protections".
"We can transition these timber jobs into private forestry and plantations while unlocking the ecological, recreational and economic opportunities from protecting our magnificent state forests," he said.
Coastwatchers members, some of whom took part in a protest at South Brooman on Saturdaysaid their future efforts would include attempting to halt logging in a northern area slated for harvesting after September 2021.
That region includes a monster spotted gum – dubbed "Old Spottie" by the campaigners – estimated to tower more than 70 metres. Even if it were excluded from the felling, removal of trees around it would open the giant to an increased threat of being toppled by strong winds, they said.
Peter Hannam writes on environment issues for The Sydney Morning Herald and The Age.
Most Viewed in Environment
Loading