One new mystery coronavirus case was confirmed in Melbourne today, in postcode 3081 (Bellfield, Heidelberg Heights and Heidelberg West).
This postcode currently has eight active cases and among the highest rate of active COVID-19 infections of anywhere in Melbourne. Five new cases were recorded in 3081 last Saturday, all members of the same household, and last Tuesday there were four new cases in the area.
The mystery case that was confirmed in the area today is the only active case in 3081 that cannot be traced to a known cluster. In total there have been 15 mystery cases confirmed in Melbourne over the past two weeks. This map shows the postcodes where at least one mystery case has been confirmed so far this month:
If you click/tap a postcode, you can see the current number of active cases there as well as the total number of people who have tested positive there since the start of the pandemic. The map defaults to the Melbourne area but using the controls on the right of the window you can zoom into your area or zoom out to show all of Victoria.
The health department is investigating the infection source of three coronavirus cases and all of those could end up being classed as mystery cases.
The two new cases confirmed today were in 3047 (Broadmeadows, Dallas, Jacana) and 3064 (Craigieburn, Donnybrook, Kalkallo, Mickleham, Roxburgh Park).
In 3064 there are currently nine active cases, and the only postcode that has more active cases is 3030 (Cocoroc, Point Cook, Quandong, Werribee, Werribee South) with 10.
Prime Minister Scott Morrison has issued a joint statement with senior Victorian ministers Treasurer Josh Frydenberg and Health Minister Greg Hunt responding the new lockdown conditions
Here's an abridged version of the statement:
We welcome the continued and sustained reduction in COVID-19 cases in Victoria which has enabled the Victorian Government's announcement today of a further easing of restrictions. It has been a very challenging time for Victorians.
We understand the ability to now travel up to 25 kilometres, spend more time outdoors, go to the hairdresser and greater freedom to undertake a range of outdoor activities will be important to the economic and social wellbeing of the community.
As we said at the time, it was regrettable such tough restrictions had to be implemented. It has been to the credit of Victorians that they have managed to adhere to these rules and we commend them for their commitment.
Whilst the Premier's announcement of the Victorian Government's decisions today enable some businesses to return to a limited COVIDSafe operation, many remain closed.
We understand and sympathise with the frustration and concern expressed by businesses about the ongoing cost and impact on their jobs and livelihoods of this second wave.
Victoria's three-day rolling average is now below two cases per day. Maintaining this result will make a strong case for the retail and hospitality sectors to reopen before the next review date in November. This should remain under active consideration.
Every day Victoria remains under restrictions to get the second wave in Victoria under control comes at a heavy cost.
Throughout the lockdown more than 1000 jobs have been lost, on average, every day.
There has also been a 31 per cent increase in mental health services being accessed under Medicare for the same four-week period up to 11 October in Victoria compared with last year, whilst it has been only an eight per cent increase in NSW and seven per cent nationally.
The continued health, mental health and financial impacts of these restrictions will be profound on many Victorians. That is why we encourage Victoria to move safely and quickly towards the NSW model of strong contact tracing and a COVIDSafe but predominately open economy.
Our national health picture indicates we can safely reopen small businesses, retail stores and hospitality venues, as long as we do it with COVIDSafe practices. This involves physical distancing, strong testing, vigilant contract tracing systems and COVIDSafe plans for all businesses.
The national picture is a positive one, we are now seeing a vast improvement in case numbers and where outbreaks emerge, they are successfully being managed, such as we have seen in NSW.
We are confident with the work all states and territories have been putting in place with testing, contact tracing systems and the COVIDSafe plans we are asking all businesses to have, we can continue on our current suppression trajectory.
We look forward to seeing a further opening up of Australia's economy and continuing to work with all our State and Territory colleagues in reopening Australia, and seeing families starting to enjoy all that Australia has to offer.
Geelong's hometown fans will be able to take advantage of new rules on gatherings in pubs and bars when the Cats take on the Tigers in the AFL grand final on Saturday.
From Monday regional hospitality venues will be able to expand their service to seated patrons with up to a maximum of 40 people indoors and 70 people outside, subject to density limits.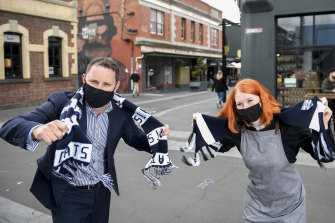 Regional affairs reporter Ben Preiss has had a chat to some pretty happy business operators in Victoria's second city in the wake of the news.
"We really welcome those changes. For a lot of venues and people that will still be restrictive. But I do encourage everyone in Geelong to get out and support those venues that have been doing it really tough," he said.
There will be no such joy for inner-city Richmond where Melbourne rules apply, limiting restaurants, pubs and bars to takeaway only.
Read the full story here.
So we've been getting a few questions about specifics that were not mentioned in the rules and some that have been missed along the way.
One I've promised to look into is when will rubbish tips reopen (I'm also interested in this one after a few iso-projects and the arrival of four kids' birthdays worth of delivery boxes) and another is the timeline for gyms.
We'll come back to you in a bit with some answers and we are going to get some help from our state reporter Sumeyya Ilanbey to do so. If you've got a query, let us know on the form below.
Thanks again to Roy Ward for another big Sunday of restrictions news on the blog.
Thought I would start by giving you a taste of some of the reader feedback we've had on the big news of the day out of Victoria.
Here's a few of the emails we've received after asking how the changes will affect life for people.
---
Husband can get a haircut, we can go to the beach. That's it for us. More needs to open up. – Anonymous
It makes no difference. It's a disgrace. People can have their parents visit from New Zealand but we cannot see ours who live in Portsea. – Anonymous
I'll be able to see family – my parents, sister and her young kids and elderly relatives – again. I don't live within 5kms of any of them, and I live alone… I cried when I heard 25kms. I can now see all of them in local parks. It was my niece's 3rd birthday on Friday – I can surprise her with her present and cupcakes at her park. Absolutely stoked. – CN
I'm very happy with the changes especially the 25 km limit. I agree with premier Andrews that we need to see how these easing of restrictions go before we go to the next stage. A bit more patience is required by everyone so that we don't have to go back into a strict lockdown again. I will now be able to meet up with my grandchildren who live in Diamond Creek. And catch up with friends in Hampton, Altona, Sunshine and Newport. So much better than zoom. – Helen Roche
Great! Very sensible!! We are so close! – Anonymous
It is totally absurd. There will be no restrictions on shops except for density but the faithful cannot gather inside a church? Absolutely ridiculous. The sooner this government is replaced with people who posses common sense the better. – Mary
---
My watch over the blog is done for today but we will still have plenty more coverage to come this afternoon so please stay with Mathew Dunckley who will take over.
Thanks so much for your comments and emails on a busy day. I'll look forward to seeing you all next weekend. Be well everyone!
I recently spoke with a principal in Melbourne's northern suburbs. During the first lockdown, her school worked tirelessly to support students through remote learning. But now, months later, the threat of "lost learning" isn't her chief concern. Instead, what keeps this principal up at night is the prospect that some of her students – as young as primary school children – "may never even return to school".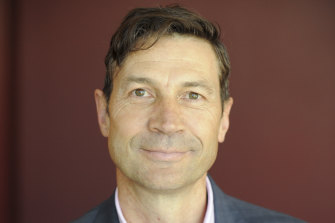 This is as extreme as it sounds – we're talking about primary school-aged kids never returning to school. But this isn't Dickensian London; this is Victoria in 2020 – and for a country as wealthy as ours, it's a prospect I find unacceptable.
When Victoria's lockdown was extended, my thoughts went to a great mother who's been doing it tough all her life. I'll call her Sue. She's a single parent living in Bendigo, and not in paid employment.
Western Australia Premier Mark McGowan has called for better management of the trans-Tasman travel bubble after 25 travellers from New Zealand arrived unannounced at Perth Airport without exemptions, just two days after the arrangement was put in place.
The 24 adults have been placed in hotel quarantine in Perth while one child is with a family member "somewhere in Perth" which Mr McGowan said was a "quarantine arrangement" often made for young children rather than placing them in a hotel room for two weeks.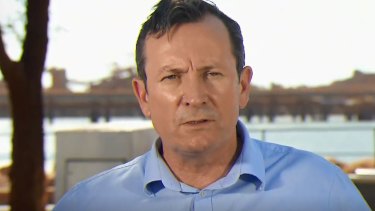 It is unclear at this stage if the travellers are New Zealand citizens, dual citizens or Australian expats.
Mr McGowan said the arrivals were unexpected and called for better management from the federal government with taking in overseas travellers.
"Managing people coming from overseas is difficult, we would like further assistance from the Commonwealth," he said.
"We picked these people up on our app, our G2G app."
I hesitate to write this because Melbourne readers will think me cruel, but here goes: I went away for the October long weekend.
We drove to a remote spot in the Wolgan Valley which has dense bush, a river, an escarpment, wombat holes and, deep in the valley, caves of Aboriginal art older than the pyramids (no one tell Rio Tinto).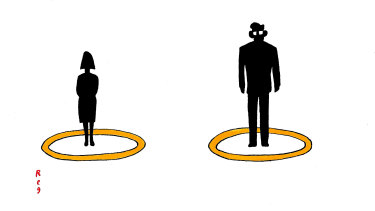 It doesn't have mobile reception or the internet.
When I arrived, I realised that living without these things is the only rational response to 2020, albeit one that is hard to sustain.
On the Saturday, fresh friends arrived to join our group, bringing news of the outside world: Trump had COVID-19.
The news was met with disbelief, and then attempts to explain karma to the kids, who were listening. They always are.
The Melbourne Vixens stopped the Premier's press conference, now they have won the Super Netball title.
The Vixens, who have spent the season camped in Brisbane due to the second wave of the COVID-19 pandemic, beat West Coast Fever 66-64, in a heart-stopping grand final in Brisbane this afternoon.
It's the Vixens first title since 2014 and the second under coach Simone McKinnis. Victorian Premier Daniel Andrews playfully used the 1pm start time as an opportunity to finish his COVID-19 press conference on Sunday after netball fans had requested it not clash with the grand final.
Shooter Caitlin Thwaites made the decisive shot in the final minute and in her final match before retirement.
Age sports reporter Anthony Colangelo will have more on the match this afternoon.