The request was rejected after the club was given less than two hours to meet the government's biosecurity demands.
The families of the Storm have been cleared to fly down on Sunday and will only be permitted to attend the game before flying straight back to Brisbane on Sunday night.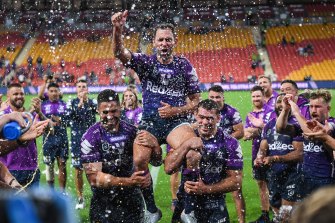 The Storm must stay in the NRL bubble even after the game is finished in order to be allowed back into Queensland.
Players taking part in State of Origin next month will head straight into a new bubble upon their return, while the others will head home.
Similar to the Warriors, each individual player is able to elect where they will travel after exiting the bubble.
Most players have family in Queensland and will remain up north. Some have elected to stay in the Sunshine Coast for an extended holiday to avoid returning to a locked-down Victoria.
At the beginning of the coronavirus pandemic, the NRL only allowed players to leave their homes from training or game.
In June, the NRL relaxed the rules to allow players to go out for coffees, play golf and shop at the supermarket.
To avoid any interaction with the players on game day, Amy Shark is also set to perform behind the goalposts at ANZ away from the field of play.
Loading
The trophy presentation will also happen behind the goalposts in front of the supporter bay of the winning team. The winning side will also complete a lap of honour but are not permitted to have close interaction with fans.
The Storm are hosting a grand final open day on Monday at Sunshine Coast Stadium, with 1000 members and fans able to attend.
The Panthers managed to avoid any charges from the match review committee, with James Fisher-Harris and Zane Tetevano cleared to play in the grand final.
Sarah is a journalist for The Sydney Morning Herald.