A great look at how the coronavirus pandemic has impacted Australia's union movement this year, from Industrial Relations reporter Nick Bonyhady:
---
The name was simple – "Fight 2020". It was supposed to signify a year of industrial action designed to push up wages and secure better conditions at 200 companies across the country. The Transport Workers Union had been planning it since 2017.
"We had had our ducks in a row ready to make some significant structural change," the union's national secretary Michael Kaine says.
But 2020 turned out differently.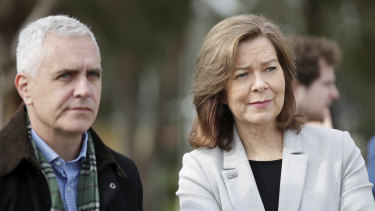 As the coronavirus pandemic began to hit Australia in early March, the union's national committee met to cancel the campaign and push it back to September 2021 at the earliest. With the campaign delayed, the union's Victorian branch foresaw plummeting membership fees and decided "drastic action" was needed. Two organisers were made redundant.
At the docks, the maritime union was in a similar boat. Despite Australia's historically muscular union movement, years of changes to industrial relations laws mean union members are now only allowed to go on strike when they are bargaining for a new enterprise agreement.
To keep within the letter of the law, industry sources who spoke on condition of anonymity said the Maritime Union of Australia had lined up negotiations at all of the country's major dock operators to happen simultaneously in 2020.
Had all gone according to plan, that would have handed the unions the power to slow or even stop cargo going in and out of the country, potentially improving their bargaining positions. If all of the players in the industry gave workers a pay rise at the same time, it would also make it easier for them to pass the costs onto consumers.
On paper the plan seemed sound but industry insiders are divided about how it would have played out.
Thankfully Victoria's active case total continues to decrease. Today 13 cases dropped off the tally, with the total now down to 109. So who's among those 109 cases?
Eight Healthcare workers
There's two fewer infected healthcare worker today than there was yesterday.
Eight aged care-related cases
This is one less case linked to aged care facilities than yesterday.

The aged care facilities with the highest number of active cases as of today are Uniting Age Well Preston with three active cases (no change since yesterday) and Estia Aged Care Facility Keilor with two active cases (-1).
And the non-aged care outbreaks with the highest number of active cases:

The north metro region community outbreak with 14 active cases (+2 since yesterday)
The Chadstone Shopping Centre outbreak with five active cases (-2)
The Box Hill Hospital outbreak with eight active cases (-1)
The south-eastern community outbreak with seven cases (-2)
The Hoppers Crossing community outbreak with three active cases (no change since yesterday)
Victoria's 14-day case average fell to 6.6 today, down from 6.9 yesterday.
It wasn't a particularly big drop today because there wasn't a big difference between the total number of new cases confirmed today (three cases) and that total from exactly a fortnight ago (five cases).
But provided case numbers remain low over the next little while, we should start noticing some further drops in the 14-day average over the next few days.
A little under a two weeks ago, the state was recording daily numbers of around 12 a day, and once these caseloads move out of the 14-day window (and hopefully replaced by new daily totals in the single-digits), that should help to drive down the average even further.
The earliest the state could record a 14-day average under five is on Saturday, provided no more than three cases per day are recorded over the next three days.
The last time the state's 14-day average was under five was during a six-day window between April 28 and May 3.
The number of mystery cases over the previous fortnight currently stands at 10, three fewer than yesterday.
The source of infection is currently two cases being investigated. and both of these may end up being classed as mystery cases if health authorities are unable to figure out where and how these two people contracted the virus.
According to health department data, the infection source for all three of the people who tested positive for the coronvirus yesterday (and who make up today's daily tally) can be traced to a known cluster.
A few people in our (virtual) Melbourne newsroom have just had their phones pinged with text messages from the state government directing them to information about local hotspots.
A quick scour of social media shows plenty of others have received similar messages this afternoon too.
Text messages have been used in larger outbreaks previously such as the Casey and Chadstone clusters, but these exposure site texts seem to be new.
Suburbs that have received the texts so far include Roxburgh Park, Preston, Heidelberg and Dallas.
Many of those suburbs have existing hotspots listed on the DHHS website which we have listed in the up to date exposure list above.
We've asked whether these texts relate to any exposures that haven't already been made public via this list, and I'll let you know as soon as we hear back.
Some sad news for Victorian Year 12 students who were hoping to celebrate the end of a very tough year, with Victoria Police and the Mornington Peninsula Shire council cancelling any official events due to the risk of COVID-19.
There will be no Schoolies Safe Space on the Rye foreshore as usual, and the council are asking young people not to travel to the Peninsula at all during Schoolies period (November 8 to December 12).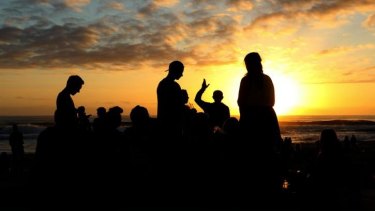 Shire CEO John Baker asked young people to consider celebrating at home in their local areas because limits on group gatherings and social distancing requirements would be in place well into next year.
"My message to school-leavers and their families is this: our beaches will still be here when this pandemic is over, so we are asking you to postpone your Schoolies celebrations for now," Mr Baker said.
"It's just not worth the risk of travelling down here. Look at options in your local area, stay safe and celebrate at home."
Mornington Peninsula Local Area Commander Inspector Bruce Kitchen said Victoria Police would fine young people sneaking down to the Peninsula over the Schoolies period.
"Victoria Police will be proactively policing the Peninsula and anyone found breaching the Chief Health Officer's directions will be prosecuted," he said.
London's Heathrow airport, one of the biggest in Europe, is now giving passengers rapid COVID tests for their outbound flights.
They're designed to return results in an hour – as part of an effort to re-open restricted routes, create travel corridors and provide much-needed traffic for airlines.
With grand final parties not allowed in Melbourne this Saturday, footy fans are figuring out how they'll watch the big game. We'd like to hear from our readers (particularly Richmond and Geelong supporters) on what you've got planned.
Good afternoon readers – it's Rachael Dexter here taking over running the blog from my colleague Hanna for the rest of the day. Whether you're a regular blog reader or just dropping by, feel free to get in touch with news tips or comments rachael.dexter@theage.com.au or on Twitter.
While we're here, there's been 36 fines handed out to those breaching the Victorian Chief Health Officer directions in the past 24 hours.
Police say many of those were handed out to people at train stations – including Southern Cross, Broadmeadows and Footscray – who weren't wearing face masks and refused the offer of one from police and protective service officers (PSOs).
Fines have been relatively low the past two days with just 26 issued yesterday. This compares with 125 fines handed out on Sunday.
Among those fined on Tuesday, 17 were for those not wearing a face mask and five were at vehicle checkpoints.
Across the whole day more than 27,000 vehicles were stopped and checked and 1898 homes, businesses or public places were visited by police.
Victoria's Racing Minister Martin Pakula said his passion for horse racing clouded his judgment on whether it was appropriate to allow a small crowd at Saturday's Cox Plate while indoor gatherings were banned on AFL grand final day.
Mr Pakula said he was sorry for the decision he made to allow 500 people, including horse owners, to attend Moonee Valley this weekend. He reversed the decision five hours later.
Mr Pakula, who said the crisis cabinet of eight senior ministers was aware of the decision, insisted he was not too close to the industry and said he often declined proposals put to him by racing bodies
"I do accept, in my passion for the industry and my enthusiasm for marking the 100th Cox Plate, I should have stepped back and had a broader view about how it would be perceived by the rest of the community," he said.
"It's an error I'm sorry for. I don't think I'm too close to the racing industry at all."
Mr Pakula, who called the Premier's office on Tuesday night to inform them he intended to reverse the decision, said there had been "some discussion" about whether he would attend the event to unveil a statue and promptly leave, but he said his attendance had not yet been confirmed.
Hotel quarantine: it's the headache that just won't go away for the Victorian government. And now Chief Health Officer Brett Sutton is in the spotlight, writes state political editor Noel Towell.
There was a time when Victoria's Chief Health Officer Brett Sutton appeared to be looking forward to the inquiry into the state's hotel quarantine debacle so he could get a few things off his chest.
Now, you would not blame the man for feeling Justice Jennifer Coate's investigation cannot wrap up its work soon enough.
But this quarantine inquiry is a lot like the state's second wave. It keeps going and going and the government is partly responsible for that.
The end of the line got even further away after Tuesday's "extraordinary sitting" of the Board of Inquiry.
If the Department of Health and Human Services had just handed over the emails, seen by Sutton in the early days of the program and clearly canvassing the use of private security, when it was asked for all relevant documents, things would have been a lot simpler.
The Chief Health Officer could have been questioned about their contents, which contradict his evidence that he did not know private security was being used in the hotels until he read media reports in May, when he testified last month.
It would not have been a great look.