The victim's body was found about 10.15am and very close to the spot where the body of 18-year-old student Madison Tam was found in April, after she did not resurface while swimming with friends.
"This area is about 200 metres upstream from the area commonly referred to as the Devil's Pool," Acting Inspector Jenkins said.
"The next of kin have been advised and are obviously very distressed and upset about the outcome. I would like to extend our deepest sympathies to members of the family at this very difficult time.
Loading
"It [the location of the body] was very close to the location where he was last seen … it's straight off a place called the second observation point.
"[This is] an area that is restricted because of the danger of that swimming area, so that area is well signed and there is a five-foot-high fence all the way along the boundaries.
"That whole area is notorious, it is extremely dangerous, there are many … deepwater current areas that can very easily take even the strongest of swimmers underneath.
"It is restricted for good reason because it is just so dangerous … we have to really stress and reach out to people because families are affected when people recklessly disobey the warning signs."
Acting Inspector Jenkins said members of the victim's family had travelled to Cairns and would arrange for the body to be flown back to Brisbane.
"While they were prepared for the worst, this has still come as an incredible pain, it's very traumatic for the family," he said.
Acting Inspector Jenkins said the victim's friend was also heading back to Brisbane "very distressed and very upset".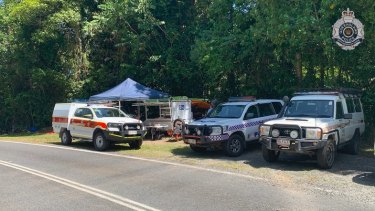 The search involved Queensland Fire and Emergency Services swift water rescue personnel, SES volunteers, paramedics and police officers. Police divers flew from Brisbane and joined the search on Tuesday afternoon.
At least 45 people were involved in the search and rescue operation at any one time.
Acting Inspector Jenkins said a waterhole in the Babinda Boulders area was open to the public for swimming, but no swimming was allowed at any point downstream from the main swimming area.
A report will be prepared for the coroner.
Toby Crockford is a breaking news reporter at the Brisbane Times