The LNP will create 100,000 fewer jobs during the next five years than Labor have since 2015.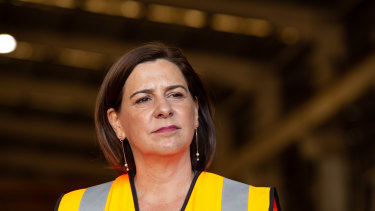 Deb Frecklington said the LNP's economic plan would create 150,000 jobs over the next five years.
Before the pandemic hit, the Labor government created 250,000 jobs since coming to power in 2015.
Ms Frecklington was unable to say what percentage of the 150,000 jobs would be created in female dominated industries, which have been hit the hardest during the pandemic.
"When you have an ambitious 5 per cent unemployment target that means you have a goal to grow the economy," she said.
Queensland's unemployment rate rose to 7.7 per cent in September taking the total number of unemployed to 209,000.
The federal government is seeking more information about Queensland Labor's plan for a "second Bruce Highway" announced on the campaign trail today.
Labor has committed $200 million and expects the Commonwealth to cough up $800 million under the standard 80-20 funding split.
Deputy Prime Minister Michael McCormack said in a media release this afternoon that the federal government has already committed $10 billion to upgrades of the existing Bruce Highway, and he is not sure where the extra funding will come from.
"That federal money has already been committed – it is for Queensland Labor to explain which part of the Bruce Highway it wants to rip money from to fund today's thought bubble," Mr McCormack said.
He said in addition to the Bruce Highway funding, the federal government has already invested more than a billion dollars into Queensland's inland road network.
Police Minister Mark Ryan says the LNP's proposed youth curfew is a "simplistic answer to a complex problem".
LNP leader Deb Frecklington has announced children under the age of 14 will be picked up by the police after 8pm and those aged between 15 and 17 must be at home by 10pm in Townsville and Cairns.
Mr Ryan said the issue of youth crime needs to be addressed, but this isn't the way to do it.
"It is not as simple as saying, we are going to fine parents, because that probably won't make a difference," he said.
"There are still too many young people committing crime but we will continue to work on it and continue to invest in it."
Treasurer Cameron Dick has sought to stem pressure building on Labor to release a detailed breakdown of election pledges by pushing focus back to the LNP's yet to be disclosed funding source.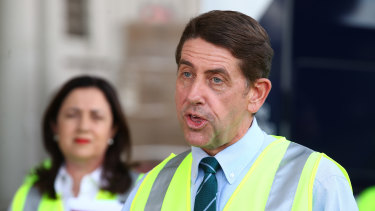 Both major parties have been using economic attacks in their attempts to sway voters, with the LNP criticising government debt levels and aiming for a return to surplus in its first term if elected.
Appearing with the Premier for the first time this week, Mr Dick said it was "not good enough" for the LNP to have not even outlined a source for its multi-billion dollar bill.
Asked whether he would reveal Labor's costings this week or next, Mr Dick only said it would be "very shortly" and before the LNP. He added his party's pledges were now "very close" to the $4 billion in borrowings announced in September.
"The issue is not the costings, it is the funding source," he said. "It's just not good enough [for the LNP] to run and hide."
Ms Palaszcuk also repeated the line, rejecting suggestions it was hypocritical attack the LNP for not releasing its costings until the final week of campaigning when Labor had done so on the second-last day in both 2015 and 2017.
"We have identified our funding sources … the LNP under Deb Frecklington is not telling Queenslanders," she said. "The only way she can reach a surplus is to cut."
The latest Queensland election poll puts Labor with a slim lead over the LNP, with One Nation the big loser.
The Roy Morgan poll sampled 1187 Queenslanders of voting age between Monday and Thursday last week.
It shows Labor leading the LNP overall with 51-to-49 per cent of the two-party-preferred vote, indicating a tighter race than in polls conducted immediately before the election campaign.
Labor is slightly down on its primary figures from the same time in the 2017 election and the LNP is up slightly, but the movement has come almost entirely from One Nation voters, with that party losing nearly 2 per cent to poll 12 per cent of the primary vote.
On the border issue, 53 percent of all people surveyed wanted the border with NSW to remain closed for the time being, however when broken down on gender 51 per cent of men wanted the border to reopen, while only 43 per cent of women wanted the change.
A majority of women – 53.5 per cent – favour Labor two-party-preferred, while a more narrow majority of 51.5 per cent of men favour the LNP.
Main Roads Minister Mark Bailey has brushed off suggestions the proposed "second Bruce Highway" is just overdue upgrades for the existing inland route.
Fronting media at the site of ongoing flood mitigation upgrades of the first Bruce over the Haughton River, south of Townsville, Mr Bailey said shifting freight inland was needed.
"The Queensland trucking association and RACQ have advocated strongly for this because they know it makes economic sense," he said. "What we're seeing is this highway needs bolstering."
The $200 million commitment, which would rely on a further $800 million in federal money, would largely come from existing budget allocations as well as an amount from Labor's $4 billion in borrowings.
Mr Bailey said the upgrade freight route would allow an alternative when the Bruce Highway is cut off during extreme weather events and shave "four to five hours" off a trip to Melbourne. Truck movements on the existing Bruce would also drop by up to 49 per cent.
Asked if it was less building a second Bruce and than overdue upgrades along the Gregory and other highways, Mr Bailey said: "It's effectively a network to other states. That's why we call it a second Bruce."
Mr Bailey added the federal government would have no issues with money allocated for the Bruce Highway being used elsewhere because it had been done before.
"This principal is very much locked and loaded," he said.
South Brisbane Greens hopeful Amy MacMahon says civil disobedience such as Extinction Rebellion protests is "end result of a political system that is no longer connected to people on the ground".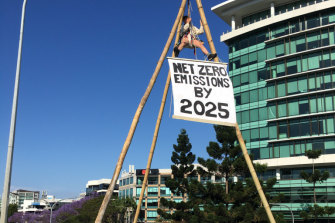 "What we've seen from this government is the opening up of new coal mines, new gas expansion, and they've been making the argument that the only way to create jobs in this state is through coal mining which is patently false," she said during a Sky News South Brisbane debate.
"No one is being listened to. People on the ground feel let-down by both Labor and the LNP who've been taking millions of dollars from fossil fuel companies who are directly contributing to climate change.
"And what do people do when they feel desperate, when they're not being listened to when their local members are defending opening up new coal mines or secret royalty deals with Adani, what are they going to do?"
South Brisbane Labor MP Jackie Trad said the Greens had a "split personality" on policies.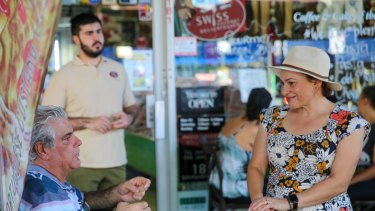 "Quite frankly here they are putting forward free everything in Queensland – free transport, free hospitals, free lunches and breakfasts at schools, and we're going to pay for it with mining taxes," she said.
"But we want to close down those mines? It's honestly just really simplistic university politics here."
The Premier's high-vis road trip has made another stop at Townsville's port on Wednesday afternoon, to inspect progress on upgrade works as part of the 2016 city deal.
The $193 million channel upgrade, into which both the state and federal governments each poured $75 million and the port itself $43 million, will allow larger cruise, commercial and defence vessels up to 300 metres long to enter.
But there was only pointing and walking for the cameras as Townsville MP Scott Stewart – who holds the state's most marginal seat on just 0.38 per cent – showed Annastacia Palaszczuk, the Treasurer, Main Roads Minister and a number of his regional colleagues and running mates around.
A recent milestone has seen a 750,000 tonne rock wall joined for the first time at the port, which is a major exporter of zinc, lead, sugar, fertiliser and molasses.
The LNP has proposed a curfew for young people out and about after dark in Townsville and Cairns in an effort to reduce youth crime rates in those cities.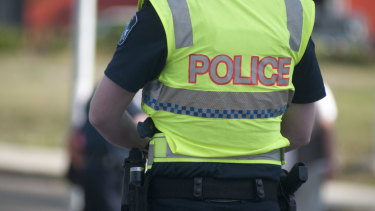 But police and government data, along with criminologists and expert bodies, paint a picture that goes far beyond growing groups of "young thugs" roaming the streets.
READ MORE: What is youth crime, and is it on the rise in Queensland?
It comes as LNP Leader Deb Frecklington cited figures in her media conference this morning which she later admitted were overall crime figures, not specifically figures on youth crime.
Deb Frecklington has been heckled during a press conference in Cairns.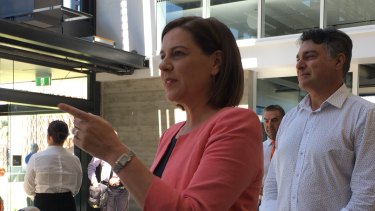 Ms Frecklington visited the James Cook University campus to announce funding for the first stage of the proposed Cairns University Hospital.
The LNP leader launched into an attack on the Labor government when she was heckled by an onlooker.
"Typical Labor, they don't back jobs and they don't back North Queensland," she said.
The onlooker told her to "get real".