That's all from us today.
Thanks very much for reading and for your comments throughout the week. Lucy Battersby will be back with you on Monday.
For those tuning in to the AFL and NRL grand finals, enjoy the big weekend of sport ahead and stay safe.
Good night.
The local share market sputtered to a stop for the trading week, with the ASX 200 closing Friday's session down 0.1 per cent to 6167.
There was plenty of business news for investors to digest despite a public holiday in Victoria, including the global spectacle of the final presidential debate between President Donald Trump and former vice president Joe Biden.
The bourse trended 0.3 per cent lower prior to the debate, at midday Sydney time, but had closed the gap to 0.1 per cent by mid afternoon after proceedings, which were more policy-focused than the first debate, concluded. Senior investment advisor at Shaw and Partners Adam Dawes said the market took the debate "in its stride" throughout the afternoon.
However, it was clear many investors were putting off any big decisions for now.
"I do have a lot of investors sitting on the sidelines and just waiting for November 3," he said.
Gains from all four big banks pushed the financials sector 0.5 per cent higher, but this was offset by falls of 1 per cent in the materials sector, with BHP losing 1.3 per cent to $36 on Friday.
Blood plasma giant CSL lead healthcare lower, closing down 0.5 per cent to $294.82.
The day's trade leaves the sector 10 points lower, or 0.2 per cent, compared with the start of the week, with the ASX200 continuing to toy with the 6,200 mark but failing to stay above it.
Qantas shares finished the day ahead 2.7 per cent to $4.45, with management revealing at the company's annual general meeting that border closures had cost it $100 million in the first quarter of 2021.
Prime Minister Scott Morrison flagged on Friday afternoon that national cabinet had agreed to a "reopening" framework by Christmas.
ASX debutantes Adore Beauty and personal protective equipment maker CleanSpace both had strong first days on the boards. Online beauty retailer Adore opened up nine per cent on its offer price to $7.40 before settling more 2.5 per cent ahead, while CleanSpace gained more than 60 per cent to $7.42.
The ASX 200 has ended Friday pretty much where it was two hours ago – down 6.75 points or 0.1 per cent to 6167.
Six sectors finished the day behind, with materials losing close to 1 per cent while healthcare lost 0.4 per cent.
Financials were the brightest spot, with the sector ending the day up 0.5 per cent with all big banks ahead.
Today's session leaves the market 0.2 per cent lower for the week.
After 47 years on the board of natural health company Blackmores former executive chairman and major shareholder Marcus Blackmore has today stepped down from its board.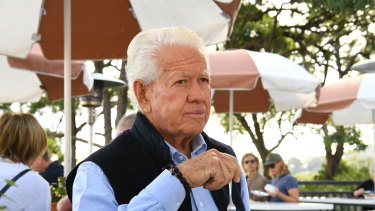 "It is now appropriate that as part of the renewal of the board that I also move on. I have been with this company 57 years. It's been my life. I am confident that the newly refreshed board will support our excellent management team to achieve the strategic goals of the company," Mr Blackmore said in a company statement to the ASX.
The Blackmores veteran, who is the son of its founder, praised chief executive Alastair Symington as an "outstanding" leader and said he was surrounded by the company's best executive team ever.
In a later personal statement Mr Blackmore said the company founded by his father Maurice was a great company with a great future, and that the business was bigger than any individual.
"It's time now to spend more time with my family, waste more money on my boats, after all, Caroline will kill me if I don't slow down," he said.
Mr Blackmore, the company's top shareholder with close to an 18 per cent stake, also addressed the question of whether he would stay on Blackmores' register, when he said: "At this time, it is my intention to remain a significant shareholder of Blackmores."
Blackmores chairman Brent Wallace thanked Mr Blackmore, saying he had a passionate commitment to build the company's reputation in the field of complementary medicines.
Mr Wallace is also leaving the Blackmores board, but will do so on October 27, the day of the company's annual shareholder meeting.
Anne Templeman-Jones, currently a non-executive director of CBA, Worley and G.U.D. Holdings, has been appointed a non-executive director of and will succeed Mr Wallace as chairman.
"I am delighted and honoured to be appointed chairman of Blackmores, an iconic Australian company with a rich heritage in natural health and complementary medicine," she said.
Blackmores shares were down 0.3 per cent to $62.82 in late afternoon trade.
Hong Kong's brokerages are readying billions of margin-lending dollars to tap an expected surge in retail demand for China's fintec giant Ant Group's likely $35 billion dual-listing in Hong Kong and Shanghai in the next few weeks, industry officials said.
Margin lending, or the amount brokers can lend to individual investors to purchase shares, has been a big business in Hong Kong in recent years with a large number of equity floats luring retail buyers.
Hong Kong had 851,157 margin lending accounts with total loan volume of HK$161.8 billion ($21 billion) in the first half of 2020, according to the city's Securities and Futures Commission (SFC), up sharply from 601,842 at the same time last year.
The expected surge in demand for margin financing for the Hong Kong tranche of Ant's initial public offering (IPO), poised to be the world's largest ever, underscores robust retail interest in the deal due to be launched next week.
Ant, which operates China's biggest mobile payments platform Alipay, is backed by Chinese e-commerce group Alibaba Group Holding.
Bright Smart Securities, one of the city's largest brokerages, said it would lend up to HK$50 billion – one of the firm's largest offerings – for the Ant IPO despite looming markets uncertainty due to the approaching U.S. election.
"We will make sure our interest rate will be the lowest among our peers," chief executive Edward Hui told Reuters, adding retail investors would only have to put up 5% as a deposit to take on a margin loan to buy Ant shares.
Reuters
Bell Potter analysts have backed their speculative buy rating for cancer-fighting biotech Immutep after the company became the latest ASX listed operator to announce a COVID-19 trial.
Shares in Immutep gained 12 per cent this morning, going as high as 28c before settling ahead 4 per cent to 26c, after the company told investors it would run a phase 2 study of its Efti product in the Czech Republic.
The company hopes the product, which is currently being trialled for cancer and autoimmune diseases, will boost the immune systems of patients hospitalised with COVID-19 and could prevent serious symptoms that require intensive care.
In a note this afternoon, Bell Potter's Tanushree Jain said the trial was expected to complete recruitment quickly as the region has a large number of coronavirus cases.
"This is an exciting announcement which further highlights the increasing clinician interest in its lead drug efti," she said.
Bell Potter has a 60c price target on the stock.
Donald Trump and Joe Biden presented starkly different visions of how they would lead America through the coronavirus pandemic in a debate that proved far more coherent and substantive than last month's chaotic clash.
The second and final presidential debate in Nashville, Tennessee, on Friday (AEST) came with just 12 days remaining until the election and with Biden maintaining a solid lead in the national polls.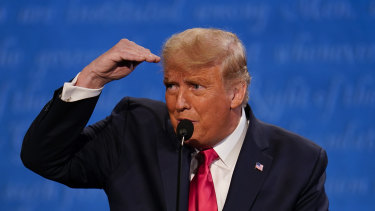 The previous debate was marred by Trump's constant interruptions and Biden labelling his opponent a "clown".
While Trump was less aggressive than the previous debate, he hit Biden hard over his son Hunter's business dealings in an effort to paint him as corrupt, reprising his attacks on Hillary Clinton four years ago.
On the pandemic that has claimed over 220,000 American lives, Trump said America needed to prioritise rapidly re-opening the economy.
"We have to recover, we cannot close up our nation," Trump said. "We have to open our schools, we cannot close up a nation or we're not going to have a nation."
He continued: "People are losing their jobs, they are committing suicide, there is depression, alcohol, drugs, at a level that nobody has ever seen before.
"I have said it often, the cure cannot be worse than the problem itself and that is what is happening."
Biden said the country needed to prioritise public health and re-opening the economy safely.
Beverages giant Coca-Cola Amatil appears close to a deal to secure at least some of a parcel of alcoholic drinks being put up for sale by Japanese brewer Asahi, after the company's shares went into a trading halt on Friday morning.
Coca-Cola Amatil might be best known for its soft drinks, but the ASX-listed company is keen to expand its presence in the alcohol market, where it already has the local rights to a number of drinks including the popular US beer Miller Genuine Draft.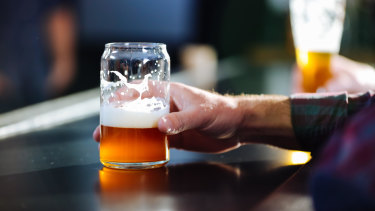 Coca-Cola Amatil told the market it had requested the trading halt because of "a potential material transaction" involving the business, and provided no details of what the possible deal might involve.
The trading halt is in place until the earlier of the company updating the market, and the commencement of trading on Tuesday October 27.
The local drinks rights for sale are for the beers Stella Artois and Beck's, and the cider names Strongbow, Little Green and Bonamy's. They were acquired by Asahi as part of its acquisition of beer giant Carlton & United Breweries.
But Asahi confirmed earlier this year it would dispose of the five labels, after the Australian Competition and Consumer Commission expressed serious concerns about market concentration when the labels were combined with other drinks Asahi already owned in the same categories.
Coca-Cola Amatil would not comment on the matter beyond the statement to the ASX, and nor would Asahi comment.
Industry speculation has suggested that international brewer Heineken has also been interested in the drinks.
Coca-Cola Amatil shares last traded at $10.75.
The ASX is down just seven points, or 0.1 per cent, to 6166.7 at 2:10pm, creeping ever so slightly higher after the Prime Minister started his update on the national cabinet meeting, confirming premiers are largely supportive of the plan to re-open borders by Christmas.
The moves have been minor for the session but you can see the moments the market is holding its breath – slight dip just before the presidential debate kicked off, and a sigh of relief afterwards.
Four sectors and up and seven are down just after 2:00pm. Here's are the most influential laggards this afternoon –
BHP is down 1.3 per cent to $36.01.
Newcrest has lost 2.1 per cent to $30.92
Iluka Resources is down 13.7 per cent to $5.13
Coles Group has lost 1.5 per cent to $17.13
CSL has dropped 0.3 per cent to $295.62.
Prime Minister Scott Morrison has emerged from the national cabinet meeting to update Australians on what was discussed and agreed upon.
First up, Mr Morrison said the cabinet had "agreed in-principal" with the reopening framework for internal borders by Christmas, with the exception of Western Australia.
"Premiers and Chief Ministers reiterated their support for that goal today," he said.
The cabinet also agreed to increase caps on international arrivals in certain states to allow more Australians to return home from overseas. An extra 140 will be allowed to arrive in Western Australia next month and an additional 150 in Queensland.
Mr Morrison also said the cabinet had discussed trialing new forms of quarantine.
"Whether that's quarantine at home, on farm, on camp at a mining camp, on campus," he said.
Mr Morrison said there was agreement to "identify and trial some of these options" on a small scale, before a larger-scale reopening of international travel.
The Prime Minister is continuing to address the media – get updates from our live coronavirus blog here.