This Queensland election campaign, Brisbane Times is not only reporting on the news of the day, we're also asking questions on your behalf. Directly.
Is there something you need to know to help you decide how to vote on October 31? Is there an issue you believe has been ignored?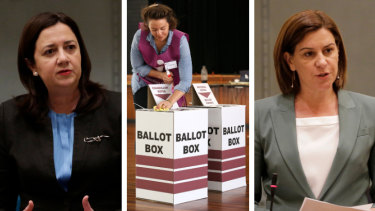 Simply fill in the form to submit your questions and we'll direct them to who we believe can best give an answer.
We're going to try to keep the political spin to a minimum in this space, at least as much as it can be avoided in the heat of an election.
Please note that we may not be able to get answers to all of your questions.
Tammy Smith asks: My husband is returning from Papua New Guinea and will be in hotel quarantine on election day. How does he vote?
An Electoral Commission of Queensland spokeswoman answers: Overseas electors and those in hotel quarantine are eligible to telephone vote.
Please see the fact sheet Telephone voting for overseas electors for details and instructions.
Harry asks: I have a question for Deb Frecklington: Will you, if you become Premier, change the date for the Labour Day public holiday again, just like Newman, the man who trained you, did?
Brisbane Times PM editor Cameron Atfield answers: I put this question to the Opposition Leader's office and received a simple answer to this question: "No."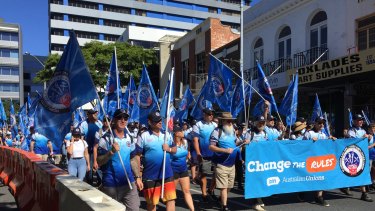 That said, the LNP did support moving it to October at its 2018 state convention.
The most vocal proponent of the controversial date change is Jarrod Bleijie, the Member for Kawana and the state's attorney-general during the Newman government years, who spearheaded the move to October in 2012.
It's a particularly hot-button issue for the Labor Party and the labour movement in general, given the first Labour Day was held on May 1, 1891, in Barcaldine. They say there's a historical reason for it to be observed on that date.
While moving Labour Day to October, Bleijie moved the Queen's Birthday holiday from October to June to keep it "consistent with all other states and territories with the exception of Western Australia". But not consistent with the Queen herself, who was born on April 21.
The Palaszczuk government wasted no time in restoring May Day when it came to office in 2015.
Fred asks: The Electoral Commission of Queensland web site doesn't answer my question at all anywhere. "Can I early vote in an adjoining or a more remote voting centre, if it's more convenient to me?" Would be then be an absentee vote (getting a hand written voting slip)?
An ECQ spokeswoman answers: For the state general election, electors can vote at any early voting or election day polling booth.
QldPol enthusiast asks: I haven't seen any information on this topic yet but will there be a debate between Palaszczuk and Frecklington before the election?
Perri asks: Will there be a leaders debate between the Premier and Frecklington?
Brisbane Times PM editor Cameron Atfield answers: Yes. At this stage there is one, but it might not be seen by many.
Sky News will hold a leaders' forum next Wednesday, three days before the election, for those with pay television subscriptions.
There are rumours of another debate before election day, but there has been no confirmation as yet. I will update this post if that changes.
Harry asks: I have a question for Jackie Trad, who says "I'm not seeking a return to cabinet": Will you, if you were asked nicely/could get the numbers, "offer your services" again as a minister ?
Brisbane Times PM editor Cameron Atfield answers: I put your question to Trad's campaign team, but did not receive an answer.
But she has been asked about this again since the comment to which you are referring. Last Friday, she walked out of an interview with Sky News after being pressed on whether she would return to the cabinet.
Trad said she was simply focused on winning her South Brisbane seat, which she is under real threat of losing to the Greens.
"I said quite clearly I wasn't going to return. I'm totally focused on making sure that I've got a fighting chance regardless of the odds stacked against me, and that Labor's got a fighting chance in South Brisbane," she said.
Trad then cut the interview short, saying "thank you very much" as she walked off.
So, that seems to be a pretty firm "no", at least for now.
Brian asks: Given an anticipated deluge of postal and pre-poll votes in the Queensland election, why can't the Electoral Commission of Queensland start counting these earlier? Even on the morning of election day but revealed when polls close? And under strict quarantine, like the "budget lock-up" in Canberra?
An ECQ spokeswoman answers: Great question!
It's a legislative requirement that we can't count any votes at all until polls close at 6pm on election day.
As we receive postal votes, we will check them to see if we can admit the ballot paper to the count. Ballot papers admitted are placed in a ballot box (uncounted) to wait for 6pm on polling night.
On election night, the following votes will be counted:
all election day polling booth votes
all available early voting centre votes (some material may still be in transit)
all available postal votes (many postal votes will still be in transit and can be received up to 10 days after election day)
electronically assisted votes (telephone votes) for electorates where large volumes of votes have been cast (to be determined during the early voting period based on the number of votes cast in particular districts), and
all votes taken during early voting and on election day at Brisbane City Hall for all electorates.
There's a fact sheet here that tells you a little more about the count.
A reader (name not supplied) asks: Is Labor 'running dead' in Maiwar to send their votes to the Greens and stop the LNP getting a seat on preferences? I live in the electorate and Labor are keeping a very low profile with barely a sign to be seen. Most of my friends couldn't even name the Labor candidate, two weeks out.
Brisbane Times PM editor Cameron Atfield answers: If they are, they'll never admit it.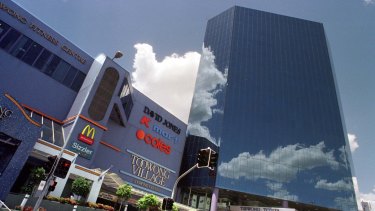 Maiwar was a new electorate at the 2017 election, taking in large chunks of the former Indooroopilly and Mount Coot-tha electorates. Indooroopilly was a Liberal/LNP stronghold, held by Denver Beanland from 1992 to 2001 and former transport minister Scott Emerson from 2009 to 2017. Ronan Lee captured the seat for Labor in 2001, but lost the seat after defecting to the Greens in 2008.
Mount Coot-tha was just as reliably red, having been held by Labor from 1989 to 2017, save for the Newman government period. Former members include ex-treasurer Andrew Fraser and Deputy Premier Steven Miles, who's now the member for Murrumba.
In 2017, the Greens' Michael Berkman (8850 votes) only just shaded Labor's Ali King (8772) to claim second place behind Mr Emerson (13,352) and win Maiwar on Labor preferences.
Despite how close it was, Berkman now has the electoral advantage of incumbency and Labor may feel its resources could be better spent elsewhere in the state. After all, it's the Greens' seat to lose and a Greens victory wouldn't be the worst outcome for the Palaszczuk government — it's hard to imagine Berkman backing an LNP government.
In a previous Ask a Reporter post, both Griffith University political expert Paul Williams and QUT political analyst (and former Labor minister) John Mickel tipped a Greens win in the seat.
Oh, and if your friends want to name the Labor candidate, it's Palani Thevar.
Barbara Hart asks: Why are northern New South Wales local areas excluded from the Queensland/NSW bubble zone that have been COVID-19 free since April, for example, Armidale Regional Council, that abuts Glen Innes Shire? Why not exclude Queensland entry to only people living or working in postcodes with COVID-19 cases in the last 28 days, and who cannot travel through COVID-19 free zones to Queensland? My husband and I are Queenslanders working in northern NSW who need to come home for medical appointments in early November. Under the current rules we would have to go into hotel quarantine.
A Queensland Health spokeswoman answers: These are difficult decisions, however these restrictions are in place for the protection of Queenslanders.
We understand there will be some communities close to, but not immediately neighbouring the border, that won't fall into these border communities and maybe inconvenienced by these restrictions.
The border zone decision balances the health and safety of Queenslanders with preventing the need to put back in place more restrictions.
The border zone was decided based on the location of key services for border towns. This includes both sides of the border – people who live in Queensland but work or go to school in their neighbouring border town, or people who live in New South Wales but come to work or school in their neighbouring border town in Queensland.
A reader (name not supplied) asks: Has NSW Premier Gladys Berejiklian got any financial interests in tourist companies in Queensland? What is NSW's ongoing interest in Queensland's border policy really about? Given the LNP appear to have to same policy as the Premier, why does the NSW Premier just attack the caretaker premier? Why isn't this daily barrage from NSW considered an interference in Queensland affairs and indeed in an open election campaign?
Brisbane Times PM editor Cameron Atfield answers: To borrow a phrase, I'm going to have to take a lot of that as a comment.
However, I can address the question as to whether Gladys Berejiklian has any financial interests in Queensland tourism. The answer, according to her parliamentary interests disclosure, is "no".
But I can tell you it took me a very long time to get this answer. Finding the disclosure file on the NSW government website is like finding a needle in a haystack. Then, when you finally find the PDF, it is not searchable. So you have to scroll through hundreds of pages to find what you're after.
Anyway, if you're interested in having a look yourself, Ms Berejiklian's return can be seen here, on page 170. Now excuse me while I put my scrolling finger on ice.
Nick asks: How many seats could the Green Party win at the next election? I know there are a few tight races.
Brisbane Times PM editor Cameron Atfield answers: The Greens are often bullish about their chances, but I do know they are targeting three seats in particular — Maiwar, which is already held by the Greens, and the Labor-held South Brisbane and McConnel.
As for their chances in those seats, I will defer to the experts.
Queensland University of Technology political analyst, former Labor government minister and former Speaker John Mickel answers: The Greens have always overinflated their chances.
Their best chances are in retaining Maiwar, winning South Brisbane off the back of LNP preferences, and in McConnel, possibly from Labor preferences if the Greens overwhelm Labor in that seat or from LNP preferences if the LNP is relegated to third place.
The Greens poll well in LNP-held Moggill and Clayfield, but not enough to win.
In the absence of public polls, my best guess is the retention of Maiwar.
Griffith University political expert Paul Williams answers: Goodness! "Could"? Technically, every seat they contest, as is the case for every party.
Likely to win? Two — Maiwar and South Brisbane.
If the LNP runs third in McConnel, and enough LNP voters want to dump Grace Grace, McConnel is also an outside chance.