"That report will come back to me and members of my cabinet if, Mr Speaker, there are issues to be addressed with board members, then they will be addressed then," Mr Morrison said during question time.
Ms Holgate admitted to a Senate estimates hearing earlier on Thursday that her office had purchased Cartier watches worth $3000 each for four senior employees as a reward for brokering an agreement with Australian banks.
But she defended the purchases, claiming no taxpayers money had been used.
"I have not used taxpayers' money. We are a commercial organisation. We do not receive government funding," Ms Holgate said.
"It was a recommendation from our chair that these people get rewarded."
Ms Holgate said the watches were given to senior employees Gary Starr, Deanne Keetelaar, Anna Bennett and Greg Sutherland for their work on the Bank@Post deal with Commonwealth Bank, Westpac Bank, and the National Australia Bank to provide access to banking services at Australia Post offices.
"There were a small number of senior people who put in an inordinate amount of work and they did receive a reward from the chair, myself, and on behalf of the board," Ms Holgate told the committee.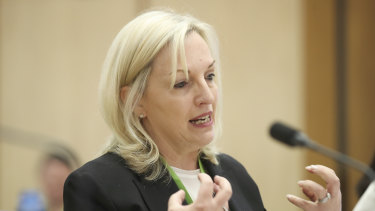 Asked by Labor Senator Kimberley Kitching what the reward was, Ms Holgate said: "They were a Cartier watch of a value of $3000 each".
Mr Starr, executive general manager for business, government and international, who was also called to give evidence to the hearing, told the committee he was not presently wearing the watch.
Chief financial officer Rodney Boys said he did not know which corporate credit card was used to purchase the watches.
"I cannot [tell you], because I haven't had that question today. Australia Post has $7.4 billion worth of expenses. We look after those expenses and take great care of those expenses," Mr Boys said at the hearing.
Labor communications spokeswoman Michelle Rowland said the gifts were "unacceptable" and said the Australia Post board was "incapable of executive oversight and must be cleaned up".
Ms Holgate was also grilled about her decision to take One Nation leader Pauline Hanson on a VIP tour of a Brisbane parcel facility in July, 11 days after a debacle around the delivery of Senator Hanson's stubby holders to a locked-down Melbourne public housing tower.
She said there was no connection "whatsoever" between the two events, saying "it was a coincidence".
Loading
The tour occurred at the same time as the organisation was trying to win One Nation's critical vote to stop a temporary relaxation in daily postal services being overturned by the Senate. Earlier that month Senator Hanson had attempted to send 114 parcels to the public housing tower who she had labelled "drug addicts" and "alcoholics".
The parcels were intercepted by Melbourne City Council, prompting Australia Post's general counsel and corporate secretary Nick Macdonald to write to the council threatening to contact "the Police or other relevant authorities" unless the 114 parcels were delivered "without further delay".
Ms Holgate told the hearing she did not personally contact Senator Hanson or her office about the delivery, and that the organisation resolved the issue with the council later that day.
Get our Morning & Evening Edition newsletters
Lisa Visentin is a federal political reporter at The Sydney Morning Herald and The Age, covering education and communications.