WA Premier Mark McGowan has responded to calls from NSW Premier Gladys Berejiklian for the state to cough up for the cost of quarantining West Aussies by asking if he should send a bill for the Ruby Princess and "all the trauma that caused other states".
He said WA was taking the most overseas returning Australians per capita of any state in Australia.
"We're doing our bit," he said.
Two people from NSW were being looked after in Perth hotel quarantine after arriving positive to COVID-19 in the last 24 hours.
"If I was unkind I'd say maybe we should send a bill to the NSW government for the Ruby Princess and all the trauma that caused other states, or maybe we should send a bill to the NSW government for the billions upon billions of dollars we gave them in GST over the course of the last decade, or maybe this is just a diversion from the NSW government for the serious corruption that has been exposed at senior levels there."
The Premier said National Cabinet made an agreement that each state would look after any Australians who arrived from overseas.
"Clearly what the NSW government is doing is outside the national agreement that was reached at National Cabinet."
There was a moment of levity at the end of Victorian Premier Daniel Andrews' press conference today regarding the all important issue of whether Halloween will go ahead this year or not.
With Halloween just nine days away now, plenty parents are keen to know whether their little ones will be able to trick or treat or not.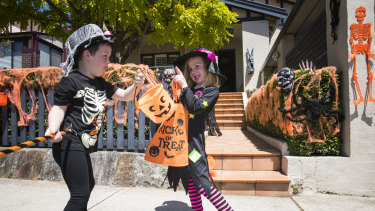 "I've never directed the Chief Health Officer, but I'm simply I am going to direct the Chief Health Officer to come up with a Halloween plan," Premier Daniel Andrews laughed.
"Alex, you could have joined sign off," he joked, responding to a journalist in the room who brought up the topic.
Mr Andrews said given the the fact the holiday falls at the end of the month, there would like be some Halloween festivities allowed.
"It's apparently it's a big thing for many families," he said.
"We'll be out on Sunday with some announcements and hopefully that will clarify this message for the benefit of of all, who are very interested in that."
As we've been reporting all day, any residents of the Dallas, Roxburgh Park, Broadmeadows, Preston and West Heidelberg who are experiencing cold of flu symptoms are being urged to be tested for coronavirus immediately.

Authorities are racing to find out how far infections may have spread after a child who should have been isolating attended a school in East Preston on Monday and Tuesday. As a consequence there's been cases identified a social housing complex in Broadmeadows and has caused Dallas Brooks Primary School to close. There are now 11 testing sites available if you're in those areas:
Testing in the northern suburbs is available at:
Broadmeadows Central Shopping Centre at north carpark 1099 – 1169 Pascoe Vale Rd, Broadmeadows from 9am – 5pm.
Coolaroo Respiratory Centre at 512 Barry St, Coolaroo from 9am – 5pm.
Melbourne airport, Terminal 4 Level 2 (Mercer Dv exit off Tullamarine Fwy) from 9am – 5pm.
Craigieburn Health Service, 274 – 304 Craigieburn road from 9am – 5pm.
Highlands Hotel at 301 Grand Boulevard, Craigieburn from 9.30am 4.30pm.
Austin Hospital at 145 Studley Rd, Heidelberg from 8am – 8pm.
Banyule Community Health at 21 Alamein Rd, Heidelberg West from 10am – 4pm.
Banyule Community Health at 14 – 32 Civic Drive, Greensborough from 9am – 4pm.
Northland Shopping Centre at Target carpark via Murray Rd, Preston from 9am – 5pm.
CB Smith Reserve at 79 Jukes Rd, Fawkner from 9am – 4pm.
Millions of Australians on JobSeeker benefits won't know how much income support they'll receive next year until December, sparking concerns this will be too late for a Christmas spending recovery.
Finance Minister Mathias Cormann said on Thursday the federal government would be in a better position to decide whether elevated JobSeeker payments would continue by the mid-year budget update after reviewing the labour market.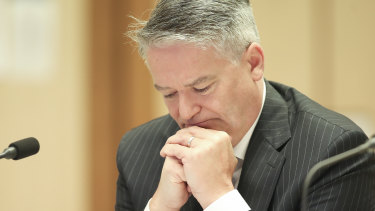 The timing has frustrated Labor and retail groups who want an earlier assurance there won't be a drop back to the pre-coronavirus $40-a-day unemployment benefits.
"Clearly we didn't think we had sufficiently reliable data in the lead-up to the [October] budget to make final judgement about ongoing arrangements … We will be in a better position to make that judgement at the half-yearly budget update later this year," Senator Cormann told Senate estimates on Thursday.
It's unclear whether this would mean a change to the base rate, which is currently $565.70 a fortnight for singles, or any extension of the coronavirus supplement, which is also received by those on a range of benefits including partner, widow and youth allowance, Austudy and parenting payments. The supplement was cut at the end of September to $250 a fortnight until December 31, from $550 a fortnight at the height of the pandemic.
There are five fewer cases of COVID-19 in Victoria today that there was yesterday – with 102 cases remaining. Below is a graph showing the curve of active cases since late March, and below that a smaller snapshot of the month so far. As you can see it's steadily tricking down.
Hopefully tomorrow we will drop below 100 active cases for the first time since June 18 (more than four months ago!)
So what do we know about the remaining active cases?

102 are in metropolitan Melbourne and three are in regional Victoria as part of the Shepparton outbreak.

Eight are healthcare workers (no change from yesterday).
Five are linked to aged care facilities (-4 since yesterday). Those five are spread across Estia sites in Keilor, Ringwood and Heidelberg and Uniting Age Well in Preston.
16 are part of the Northern metro region community outbreak (+2).
Eight are part of the Eastern Health Box Hill Hospital outbreak (no change since yesterday).
Six are part of the south-eastern community outbreak (-1).
Four are part of the Chadstone Shopping Centre outbreak (-1).
An expert health panel is relying on genomic testing to determine whether or not the coronavirus detected in a Victorian in July and then again on Tuesday is a lingering infection or a rare case of reinfection.
On Wednesday, Premier Daniel Andrews revealed a new case of COVID-19 recorded this week could be a person who has contracted the virus a second time.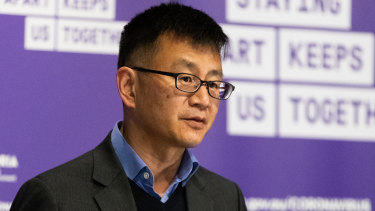 Extensive medical testing and an investigation into the details surrounding the case are being examined by an expert panel, Deputy Chief Health Officer Allen Cheng said.
Professor Cheng said cases of COVID-19 reinfection were incredibly rare – only a handful have been recorded in the world – and that the panel was taking into account factors such as the length of time between the two bouts of COVID-19, the severity of symptoms, and whether or not the person had received a negative test in between the two positive tests.
"People who test positive having had an infection previously do represent quite a difficult issue and the debate is whether they are persistently shedding viral fragments or do they actually have a new infection," Professor Cheng said.
"We have an expert panel to look at these and some of the factors we take into account are the clinical details of the first and second infection. Whether they have symptoms and how sick they are.
"Obviously, if it is very close, it is less likely to be reinfection but if it is a long period of time, and particularly if they have had a negative test in between, it is more likely to be reinfection."
Professor Cheng also said the panel would look at whether the person had a compromised immune system and close contacts with the virus. "And then finally," he said, "we can also look at the genomic testing to see if the first and second strains are the same."
Similar genomic testing by Melbourne's Doherty Institute revealed that Melbourne's catastrophic second coronavirus wave originated in two of the city's quarantine hotels for returned travellers.
Australia Post boss Christine Holgate will be forced to stand aside after the federal government ordered an investigation into the purchase of $12,000 worth of luxury watches for senior employees.
Communications Minister Paul Fletcher said he had informed the chair of Australia Post that an investigation would be opened, saying he was "shocked and concerned" by the revelations.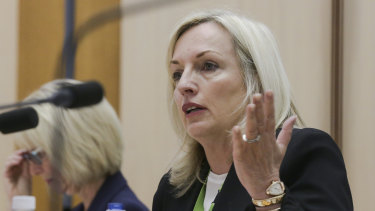 "I've also asked the chair to inform the chief executive that she will be asked to stand aside during the course of this investigation," Mr Fletcher said during question time on Thursday.
Ms Holgate revealed during a Senate estimates hearing earlier on Thursday that her office had purchased Cartier watches worth $3000 each for four senior employees as a reward for brokering an agreement with Australian banks.
Ms Holgate was also grilled about her decision to take One Nation leader Pauline Hanson on a VIP tour of a Brisbane parcel facility in July, 11 days after a debacle around the delivery of Senator Hanson's stubby holders to a locked-down Melbourne public housing tower.
She said there was no connection "whatsoever" between the two events, saying "it was a coincidence".
The tour occurred at the same time as the organisation was trying to win One Nation's critical vote to stop a temporary relaxation in daily postal services being overturned by the Senate.
Earlier that month Senator Hanson had attempted to send 114 parcels to the public housing tower who she had labelled "drug addicts" and "alcoholics".
Deputy Premier and Health Minister Steven Miles has defended the Palaszczuk government's border closures, as it appears increasingly unlikely the NSW border will be reopened at the end of this month
Queensland recorded no new cases today and just four active cases, as more cases are detected in NSW and Victorian authorities scramble to get the jump on a potential new outbreak there.
Queensland government figures have all repeatedly said they will review the border situation before the end of the month with an announcement due before October 31.
Mr Miles said today that decision is still pending, with Queensland's Chief Health Officer Dr Jeannette Young still reviewing the situation in NSW.
Mr Miles said the NSW situation remained concerning, with four cases of unlinked transmission in the past week.
"That's twice what they had in the seven days before that. So there is still live outbreaks there," he said.
"There are still cases they are unable to link to existing clusters."
Mr Miles took the opportunity to defend Queensland's border measures, saying "the figures speak for themselves".
"We stuck to our guns when everyone else was stacked up against us. The LNP Deb Frecklington… Scott Morrison, Peter Dutton, Pauline Hanson, Clive Palmer, they all lined up to criticise us," Mr Miles said.
"And in the end it's been proven that we made the right decisions for Queenslanders – we kept them safe."
Premier Annastacia Palaszczuk said she would have more information on the border situation before the rescheduled meeting of national cabinet tomorrow morning.
"I'll be having a briefing, as I do, before National Cabinet tomorrow morning, so I'll be speaking with the Chief Health Officer then about National Cabinet matters."
"We've said very clearly that decision will be made at the end of the month. I'll get an update on that."
Happy Thursday readers – Rachael Dexter here back again to take the reins of the blog until the end of the day. There's a lot going on out there – especially in Melbourne – so if you want to get in touch with any news tips you can drop me an email on rachael.dexter@theage.com.au or message me on Twitter.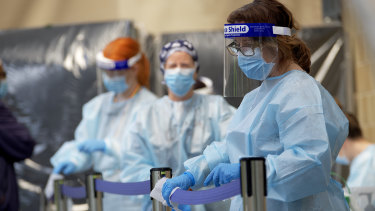 Victoria Police will be out in large numbers "setting the tone" in Richmond and Geelong over the grand final weekend, as they reminded fans not to get "caught up in the moment" and break coronavirus restrictions.
Assistant Commissioner Luke Cornelius said this weekend's policing operation will be focused on communities in Richmond and Geelong and will involve the mounted branch, road police and highway patrol and other specialist capabilities such as the air wing.
"The grand final is being played in the middle of a pandemic and it's critical in our own last quarter before moving towards opening up again as the second wave eases, we do everything we can to maintain that momentum," he said.
"Every year the grand final brings lots of people together: families, mates and friends. And the temptation and desire for people to get together to celebrate such an iconic occasion is just so tempting.
"Here we are in our own last quarter, we can see the finish line in sight and just need to hold the line to make sure the weekend doesn't becomes a spreading event and undo the work and sacrifice people have made over the course of lockdown."
He said that all bars and clubs on Swan Street will be closed, except for takeaway services, but police will be patrolling the area and "setting the tone".
"We of course have rostered police on to be ready to respond to public gatherings in whatever context so that includes Swan Street. We are anticipating having a visible presence so people understand police are out and about."
One of the key challenges police will have to deal with is the potential for emotional fans to let their guard down and break the rules, he said.
"Sadly we have to take steps to manage that risk and the only way we can manage that risk in this critical juncture is take action and that means taking enforcement action," he said.
"Police always have discretion but here's the thing. If we cut people slack around 'I got caught up in the moment', we would hear that excuse all the time. We have to take action in the name of the vast majority of Victorians who are doing the right thing and owe it to people doing the right thing."