Some $36 million will go to develop a new so-called first-responder mental health strategy covering all emergency service workers, the largest single block of funds announced on Thursday.
The inquiry had recommended all Rural Fire Service members had access to in-house mental health support, and that the state government work with the Commonwealth to ensure a free health screen to firefighters post-fire event and that any gap payments for additional required treatment be waived.
On the equipment front, the government will spend $23 million for additional personal protective equipment for frontline crews and $17 million to retrofit RFS and National Parks &Wildlife Service vehicles and to replace Fire & Rescue NSW tankers.
Ross Bradstock, who as Director of the Centre for Environmental Risk Management of Bushfires at the University of Wollongong helped compile the research assessed by the inquiry, said it would have been good to see complementary efforts that "radically increase community resilience".
Loading
"Minor incremental change will not be adequate to deal with fire seasons approaching an order of magnitude above what was once considered extreme," Professor Bradstock said, adding that "maybe there will be more to come" with regard to bolstering communities.
A senior RFS volunteer who spoke to the Herald said the spending while welcomed would not go very far.
He noted that clothing for alone those likely to enter burning buildings cost in the order of $2000 each, and more standard gear about half that. Active volunteers would need two sets.
Similarly, new fire trucks cost about $300,000 each, so the funding would be stretched thin, the volunteer, who requested anonymity, said.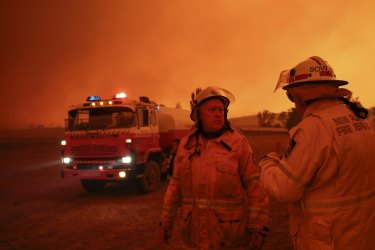 Loading
The inquiry report noted that the RFS operated more than 6300 vehicles, while FRNSW had 706 fire-fighting trucks and NPWS 398 ground appliance.
Other new expenditures include $8.3 million on the integrated dispatch system for the RFS, $9.5 million to fund initial fire trail network priorities, $5.4 million to enhance the RFS aerial fleet and training facilities, $2.85 million to deliver critical equipment for 31 multi-agency Emergency Operations Centres and $2.5 million to improve the RFS's Fires Near Me phone app.
The senior RFS volunteer said the money earmarked for the Fires Near Me app "won't solve its problems" but it could support it while a new national emergency phone app is developed – as may be recommended by the Royal Commission into National Natural Disaster Arrangements when it releases its findings.
Rob Rogers, the RFS Commission, said the "government's been extremely supportive to us, whether it's aviation assets we're the only state in this country that has a large air tanker, we have helicopters".
"We are absolutely better equipped than anywhere else," he told a media conference.
Senior RFS spokesman Ben Shepherd said the service had already received more than $45 million, including – $34 million for trucks and $10.7 million for crews – since the fires.
Of the $192 million, the RFS is set to receive a total of about $114 million additional funding, with some $31 million allocated for this financial year, Inspector Shepherd said.
Get our Morning & Evening Edition newsletters
Peter Hannam writes on environment issues for The Sydney Morning Herald and The Age.
Most Viewed in Environment
Loading