It was a rare day when LNP Leader Deb Frecklington busted out the hi-vis, and Premier Annastacia Palaszczuk did not.
Ms Palaszczuk would have been hard pressed to declare a hard hat opportunity during her visit to beautiful Fitzroy Island off the coast of Cairns, although she did also reject an offer to go for a swim.
"I don't think people need to see me in a swimsuit at this stage of the campaign," she said.
Ms Frecklington got out the fluoro vest for a quick visit to a factory on the Gold Coast but then got rid of it for subsequent appearances including her media conference.
The day brings the leaders back to equal on the hi-vis measure, but the Premier is still the clear frontrunner on the Hard Hat Index.
A re-elected Labor government would build three new drug and alcohol rehab centres in key locations across the state.
Deputy Premier and Health Minister Steven Miles announced today that if Labor wins on October 31 they will spend $51 million to build a rehabilitation facility in Bundaberg as well as Ipswich, and would also build a centre in Cairns focused on youth rehab.
The LNP have already announced plans to build a series of rehabilitation centres targeting Ice addicts at several locations around the state including Wide Bay, but Mr Miles said they had identified Bundaberg as the best location for a centre.
"Bundaberg is the health hub for the [Wide Bay] region … it was identified as the location with the most need as well as the most connection to other health services," he said.
"Sorry, isn't he from the National Party?"
That was Premier Annastacia Palaszczuk's response after a question about Deputy Prime Minster Michael McCormack's description of her so-called second Bruce Highway as an unfunded "thought bubble".
That criticism came on Wednesday, after Ms Palaszczuk's pledged $200 million towards the $1 billion project to create a second viable north-south freight route through central Queensland – which would also require $800 million from the federal government.
"There has already been work that has been happening and discussion between both – my understanding is – the Deputy Prime Minster and [Main Roads] Minister Mark Bailey," Ms Palaszczuk said.
Pressed further on whether the state could go it alone if the federal government did not come to the table, she said she would fight to get the "fair share" of roads funding and added that the state worked "very co-operatively" with the Commonwealth.
"I can't understand why they would not support an alternative route for freight in our state," she said.
Ms Palaszczuk then took aim at Mr McCormack's barbed comments and position as federal Minister for Infrastructure, Transport and Regional Development, and leader of the party whose stated aim is supporting regional Australia.
"I mean, honestly, this is about freight, this is about freight being taken off the Bruce Highway, making sure that it can get from a destination and saving four hours of travel time," she said.
"Now they [federal government] want us to support their inland rail, it's about time they support us on the second Bruce which is about freight and logistics and saving people's lives."
Premier Annastacia Palaszczuk has refused to say if she would support the laws required for a youth curfew trial proposed by LNP leader Deb Frecklington and which justice advocates warn could be in breach of international law.
Asked if Labor would support legislative amendments Ms Frecklington said would be needed to put the trial in place, Ms Palaszczuk for a second day did not give a concrete answer.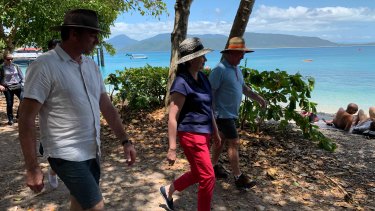 "That's a good question. Look, let me say this – when Deb Frecklington can explain her policy to the public, I'm happy to make a comment," she said.
Pushed further on whether Labor supported the broad idea of a curfew, which many in the sector says do not work, Ms Palaszcuk repeated the answer: "She can't even explain the policy. I'm not commenting on a policy that she can't explain."
Ms Frecklington announced the policy plan on Wednesday in marginal Townsville, which has long been at the centre of claims of a crime wave that experts suggest are overblown.
Under the proposal, children under the age of 14 would have to stay home after 8pm unless accompanied by an adult, with those aged 15-17 barred from being out after 10pm.
Those caught out would be taken by police to community "refuges" for supervision and their parents fined $250.
Amnesty International has warned repeatedly such a measure could go against the UN Convention on the Rights of the Child.
During the campaign, Brisbane Times is running our Ask a Reporter feature, where we'll endeavour to answer all your questions about the campaign, big or small. All the answers can be found here.
Harry asks: I have a question for Deb Frecklington: Will you, if you become Premier, change the date for the Labour Day public holiday again, just like Newman, the man who trained you, did?
Brisbane Times PM editor Cameron Atfield answers: I put this question to the Opposition Leader's office and received a simple answer to this question: "No."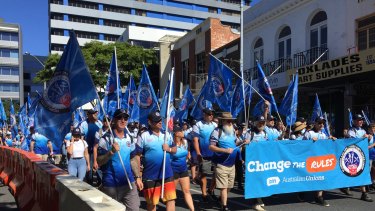 That said, the LNP did support moving it to October at its 2018 state convention.
The most vocal proponent of the controversial date change is Jarrod Bleijie, the Member for Kawana and the state's attorney-general during the Newman government years, who spearheaded the move to October in 2012.
It's a particularly hot-button issue for the Labor Party and the labour movement in general, given the first Labour Day was held on May 1, 1891, in Barcaldine. They say there's a historical reason for it to be observed on that date.
While moving Labour Day to October, Bleijie moved the Queen's Birthday holiday from October to June to keep it "consistent with all other states and territories with the exception of Western Australia". But not consistent with the Queen herself, who was born on April 21.
The Palaszczuk government wasted no time in restoring May Day when it came to office in 2015.
Treasurer Cameron Dick has greeted the Premier's press pack unloading at the Cairns Marina to take a swipe at LNP leader Deb Frecklington over her shifting job target, but repeatedly refused to give one of his own.
Mr Dick said Ms Frecklington was now up to her fifth jobs figure after last week naming both 50,000 and 100,000 on the same day.
"Yesterday Deb Frecklington said she would create 150,000 over 15 years and in the same press conference she said she would create 150,000 jobs over five years," Mr Dick said.
"And today we have heard yet another jobs target, 73,000 — which is what she said in a press conference today.
"And you pick any of those numbers … [and] they are all lower than the number of jobs created by the Palaszczuk Labor government prior to COVID."
Asked repeatedly what his own party's job target was, Mr Dick would not say and pointed to the government's economic recovery plan — which he carried with him, of course.
"We've made it very clear," he said.
Premier Annastacia Palaszczuk held her campaign media conference today on Fitzroy Island off Cairns – a beautiful spot, but not great for getting an internet connection.
Despite holding her media conference at 10:30 this morning, Ms Palaszczuk's Facebook account is currently feeding the event out "live" if you want to watch the whole thing.
Queensland Attorney-General Yvette D'Ath says the LNP's proposed youth curfew for Townsville and Cairns is "a half-baked idea".
Under the proposal, which is similar to one the party floated in its failed 2017 campaign, police would be given the power to pull children off the street if they're out after a designated time.
Asked about the plan today, Ms D'Ath said the LNP had not explained several key details including exactly which laws would be changed, and how proposed $250 fined levied at parents would work.
"This is a half-baked idea. Deb Frecklington's idea of [being] tough on crime is certainly just a complete furphy," she said.
"She has not looked at the evidence around this, there is no evidence that this has worked, it didn't work in Western Australia [where a similar scheme was trialled]"
Ms D'Ath said the LNP's plan would "turn police into babysitters" and she was also worried about parents refusing to pay fines and clogging the court system.
Deb Frecklington almost swore during her press conference about the exorbitant cost of child care for working parents.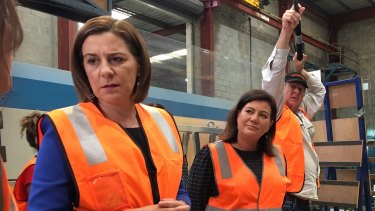 "With long-day centres you have to pay for 7,8,9 hours, irrespective of the hours that your kids are in care," she said.
"And that is a very expensive..I was going to swear then…it is a very expensive process, it really is."
Before subsidises, the average cost of a day of child care in Australia is $111.70.
Ms Frecklington has pledged $80 million to increase the number of spaces in before and after school care programs in state primary schools.
Deputy Premier and Health Minister Steven Miles has defended the Palaszczuk government's border closures, as it appears increasingly unlikely the NSW border will be reopened at the end of this month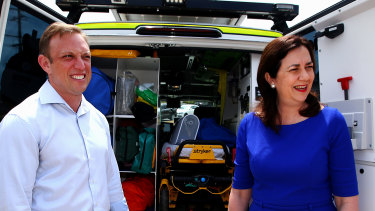 Queensland recorded no new cases today and just four active cases, as more cases are detected in NSW and Victorian authorities scramble to get the jump on a potential new outbreak there.
Queensland government figures have all repeatedly said they will review the border situation before the end of the month with an announcement due before October 31.
Mr Miles said today that decision is still pending, with Queensland's Chief Health Officer Dr Jeannette Young still reviewing the situation in NSW.
Mr Miles said the NSW situation remained concerning, with four cases of unlinked transmission in the past week.
"That's twice what they had in the seven days before that. So there is still live outbreaks there," he said.
"There are still cases they are unable to link to existing clusters."
Mr Miles took the opportunity to defend Queensland's border measures, saying "the figures speak for themselves".
"We stuck to our guns when everyone else was stacked up against us. The LNP Deb Frecklington… Scott Morrison, Peter Dutton, Pauline Hanson, Clive Palmer, they all lined up to criticise us," Mr Miles said.
"And in the end it's been proven that we made the right decisions for queenslanders – we kept them safe."
Premier Annastacia Palaszczuk said she would have more information on the border situation before the rescheduled meeting of national cabinet tomorrow morning.
"I'll be having a briefing, as I do, before National Cabinet tomorrow morning, so I'll be speaking with the Chief Health Officer then about National Cabinet matters."
"We've said very clearly that decision will be made at the end of the month. I'll get an update on that."