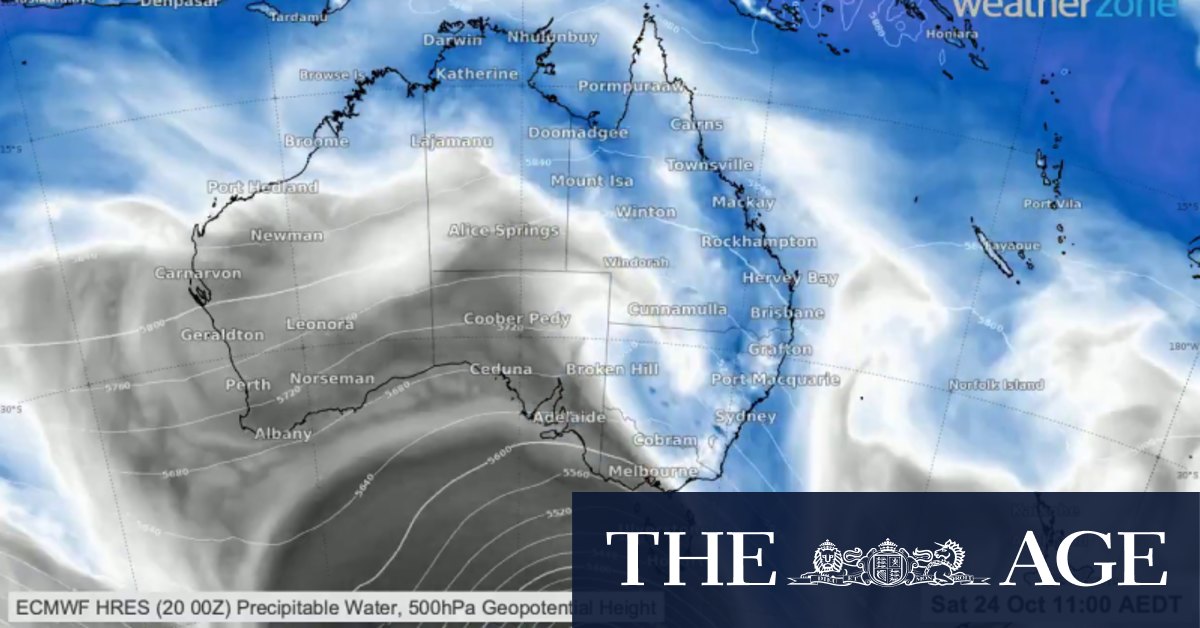 The chance of a thunderstorm is highest on Friday, when the rain will begin in the evening, and Saturday.
The rain comes after the Bureau of Meteorology officially declared a La Nina last month, a weather cycle associated with wetter than average conditions and mild minimum temperatures in south-eastern Australia.
"You can't attribute [the La Nina] to just one weather event, [but] you can see it as priming weather events along the eastern coast," Mr Majchrowski said.
"We've got a lot of moisture being fed in by weather systems at the moment, and then on Saturday we've got a cold front coming through the state from the west that is going to drive underneath and help lift the moisture."
Mr Majchrowski compared the process to starting a lawnmower: "With the moisture, you're priming the lawnmower, then when the cold front comes you are pulling the cord."
It will be a muggy day on Saturday, with highs of 29 degrees forecast. The temperature will drop significantly on Sunday to a maximum of just 19 degrees before settling in the early-to-mid 20s for the week.
The Australian Reptile Park issued a spider warning for Sydney, the Central Coast and Newcastle on Thursday morning, saying the wet weather at this time of year will create a "perfect" environment for funnel-web spiders in the area.
"When found inside homes, Sydney funnel-webs prefer cool, damp places like the laundry, garage or in shoes left out on the ground," the park's spider keeper Jack Meney said.
"It is best to ensure you are not leaving washing and clothing on the floors [and] if you leave your shoes outside, make sure you give them a tap on the ground before putting your foot in blindly, as shoes can be the perfect little burrow for funnel-webs.
"Pool filters should also be checked and cleaned regularly."
Although this week's Sydney rain is expected to be the heaviest in recent weeks, much heavier falls are forecast in southern parts of the state.
Rainfall in the western Snowy Mountains and western ACT regions could total up to 80 millimetres on Saturday. It is possible a warning for heavy rainfall will be issued by the bureau on Friday.
Get our Morning & Evening Edition newsletters
Mary Ward is a reporter at The Sydney Morning Herald.
Most Viewed in Environment
Loading