A police officer was kicked in the kidneys during a confrontation between police and protesters at a petrol station on Kings Way in Melbourne.
A Victoria Police media spokesperson said the male protester was arrested and taken into custody but most people processed at the United fuel station would be fined for either being more than 25km from home or not wearing a mask without good reason in breach of lockdown restrictions.
Relative order is now restored, with outbound traffic moving again and the riot squad leaving the scene.
By 5.40pm there were just one or two protesters still having their details taken.
That looks to be the end of the protest for the day.
The number of cases in New South Wales that were acquired overseas by returning travellers now comfortably exceeds the number of local cases in the past fortnight.
Over the past two weeks there have been 42 local cases with either known or unknown sources but the state has been averaging just one local case a day since Monday.
In that same two-week time period, there have been 59 cases over international travellers returning back to NSW, with 28 of those coming in the past five days.
Nearly 14,000 tests were carried out in the past 24 hours, with the department encouraging anyone with even mild symptoms to come forward. It was the second time this week that the state had reported zero local cases.
There are chaotic scenes on Kings Way, one of Melbourne's main arterial roads into the city, as protesters swarm the road holding up lanes of traffic.
Police are moving in but it's hard to see what the method of containing the protest is. Here's some footage to illustrate the scene.
Protesters are intentionally moving erratically yelling "disperse, disperse". The rain is also getting heavier.
As the crowd snakes through the South Melbourne streets, residents are coming out to show their support and disgust. The crowd stopped traffic as it crossed the normally busy Kings Way.
While there are some claps and cheers from high rise balconies, one female resident of 35 years told a young male protester she thought the rally was "shameful".
"They should be down on their hands and knees thanking the Premier for saving their life," she said after giving a piece of her mind to the young man.
Another lockdown protest a few weeks ago followed a similar pattern starting at the shrine before working through South Melbourne and Albert Park.
The Age photographer Chris Hopkins has been down covering the protest in Melbourne and here is a selection of some of the shots he has filed.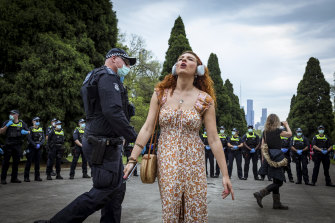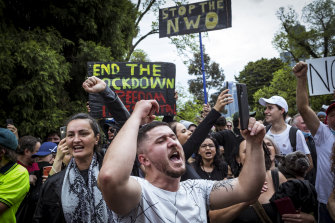 Things are moving quickly at the protest.
A large line of police pushed the group back from the Shrine and they're now headed towards major road Kings Way.
Flares have been set off but it's not clear where they came from.
There are 52 active cases of COVID-19 being monitored by WA Health, with six new cases detected in the state overnight.
All of these new positive cases are men aged between 26 and 54 who returned to Perth from overseas.
One man is receiving treatment in hospital.
Two more crew of the livestock ship Al Messilah were taken off the vessel overnight after becoming symptomatic and are in hotel quarantine. One crew member remains in hospital and there are 14 crew on-board the vessel.
Eight Key Integrity crew remain in hotel quarantine with two of these confirmed COVID-19 cases, and 12 crew remain on-board as essential crew.
The Department of Health continues to work with the shipping agent, Fremantle Ports and the Australian Maritime Safety Authority on the management of both vessels.
Hello readers, it's Mathew Dunckley here taking over the blog for a while.
We have sent Rachael from her post down to cover the protest at the Shrine of Remembrance where there's still several hundred people.
Hundreds of anti-lockdown protesters remain in Melbourne's Botanical Gardens with a large police presence currently holding back from intervening.
A police helicopter is hovering overhead as they walk back towards to the Shrine of Remembrance where the protest began at 2pm.
There are plenty of young people in the crowd but overall it's a mixed group.
Many people are not wearing masks.
The protesters in Melbourne are marching along St Kilda Road away from the Shrine of Remembrance towards Federation Square.
Police have set up a line to block the protesters from getting through to the city.