"They walked through an open gate … The staff's excuse was that they didn't know the gate was open and didn't know where the babies were.
"The police have been contacted and dashcam footage made available."
The Department of Education said it was investigating "the serious incident" and departmental officers visited the childcare centre on Friday to investigate further.
"As the regulatory authority of early childhood education and care services in Queensland, the Department of Education places the highest priority on the health, safety and wellbeing of children attending these services," a department spokeswoman said in a statement.
"The Department is aware of the serious incident that occurred at Okeedokee Early Learning Centre – Coomera Rivers … and has immediately commenced an investigation.
"The service's last assessment and rating were in September 2016 and the quality rating was determined as meeting standards.
"As the investigation has only just commenced it is too early to identify potential breaches and relevant penalties."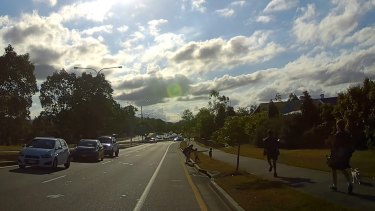 Okeedokee Early Learning Centre is located on the corner of Foxwell Road and Finnegan Way and sits overlooking the roundabout Ms Nicol mentioned.
A Queensland Police Service spokeswoman confirmed police were also making inquiries into the matter.
Okeedokee Early Learning Centre at Coomera Rivers has been contacted for comment.