The Electoral Commission of Queensland is investigating reports the seals on voting ballot boxes have been "accidentally cut or came loose" at five polling booths.
The voting centres involved are in the electorates of Bancroft in the Moreton Bay Region, Mulgrave in the state's far north near Cairns, Glasshouse in the Sunshine Coast hinterland, Redcliffe in the Moreton Bay Region, and Springwood/Waterford within Logan City.
"Action being taken includes quarantining the ballot boxes until the close of polling and taking witness statements from all involved including scrutineer who were present," an ECQ spokeswoman said.
"Based on current information available, there is no evidence the ballot papers have been dealt with improperly nor is there a reason why the ballots should not be included in the count."
Labor leader and Premier Annastacia Palaszczuk said she was not aware of the incident.
"If there have been any issues, I hope the ECQ does address it very quickly," she said.
LNP leader Deb Frecklington said she was "very concerned about the reports".
"I would be demanding a full investigation into this matter."
It comes as record numbers of people vote early in this election due to coronavirus concerns, with hundreds of thousands of ballots already cast across the state.
Deb Frecklington was working hard to sell her pitch to build bigger boats on the Golf Coast to a worker on Friday morning.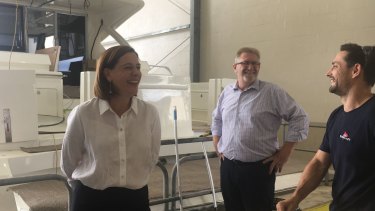 "I'm voting Labor sorry," the worker told her.
"My grandad would roll over in his grave if I voted any other way."
Ms Frecklington was undeterred and talked up her latest announcement to funnel $20 million into a superyacht maintenance hub.
"We are going to get Queensland working again," she told him.
The LNP's announcement on Friday is the second ship lift they've promised this campaign, with a larger lift already promised for north Queensland to allow Cairns to bid for defence ship contracts.
Treasurer Cameron Dick has pointed to peak unemployment levels under the Newman government in his continued attempts to link leader Deb Frecklington to her former role.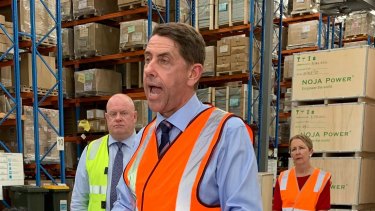 The LNP has leaned heavily on the economic impact of the pandemic, with unemployment now at 7.7 per cent and the Palaszczuk government's further descent into debt – a move also considered necessary by the federal government.
Ms Frecklington refused to outline her role in the budgeting decisions made as assistant finance minister and later assistant minister to then-premier Campbell Newman in 2014, whose government oversaw 14,000 public service job losses.
"[I] heard her talk about her very modest role in the Newman government today, which of course she said a couple of days ago was a good government and she just said she was just the hard working member for Nanango," Mr Dick told reporters at a Murarrie campaign stop.
He said the contrast between her language at the time the 2012 budget was handed down and the unemployment rate peak at 7.2 per cent as "Orwellian".
"Can I remind you that unemployment now, in the middle of a pandemic and the worst economic crisis since the depression, is 7.7 per cent," Mr Dick said.
This figure is up from a seasonally adjusted rate of 6.3 per cent in January.
Although the polls remain tight, voter approval for Labor's measures to contain the spread of the pandemic remains strong, QUT academic and former Labor MP and Queensland Speaker John Mickel says.
Professor Mickel says Premier Annastacia Palaszczuk's personal approval rating has soared on the back of her performance through the pandemic, and it appears to have also dragged up Labor's overall primary vote to be even with the LNP on 37 per cent in the latest Newspoll.
"The rise in voter support seems to result from many Queenslanders being impressed with how the Premier has stood her ground on borders in the face of heavy criticism from the LNP and the Federal Government," he said.
In particular, Professor Mickel said, older voters who might otherwise vote for the LNP may have been convinced to vote for Labor dur to their pandemic measures, and that was being reflected in the campaign.
"Both the Premier and Opposition Leader Deb Frecklington have been spending time a large amount of time on the southern and outer northern Gold Coast," he said.
"Similar visits have occurred around Bribie Island and the southern end of the Sunshine Coast.
"Areas where there are significant numbers of low-income retirees could be vulnerable for the LNP and represent opportunities for Labor."
There will be no Queensland specific renewable energy target under an LNP government.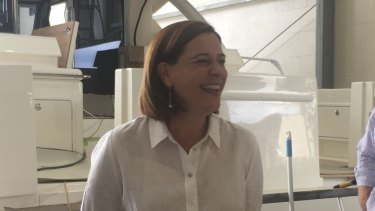 In 2015, Annastacia Palaszczuk committed to generating 50 per cent of energy from renewable sources by 2030.
Renewables have jumped from about 7 per cent to 20 per cent since then.Ms Frecklington said: "The Palaszczuk Government doesn't have a legislative target in Queensland either".
"I support the federal government's target… 23 per cent by 2030."
The federal government does not actually have a renewable energy target.
It had already met its aim of producing an extra 33,000 Gigawatt hours from large-scale clean energy by 2020.
Ms Frecklington went on to clarify she supported the federal target to reduce emissions by 26-28 per cent by 2030.
The Queensland Greens have a target of 100 per cent renewable energy by 2030.
Deb Frecklington will be watching the AFL grand final at a pub in regional Queensland while Annastacia Palaszczuk plans to be at the Gabba on Saturday night.
The two leaders will be barracking for opposing sides when the Gabba hosts the AFL show down for the first time in history.
"I will be watching the AFL grand final with ordinary Queenslanders in the front bar of a pub somewhere in regional Queensland," Ms Frecklington said.
"I know there is no Queensland team left in the grand final but my husband is a very big Geelong supporter so I suppose I will be supporting Jase and possibly going for Geelong."
Asked if she would be attending the match, the Premier said "I hope so".
"I will be supporting the Richmond Tigers," Ms Palaszczuk said. "I wish the Lions had been there.
"The reason the AFL grand final is actually happening in Brisbane and in Queensland is because of our strong response."
Conservative think-tank the Institute for Public Affairs has dusted off a call for Queensland to reinstate its upper house.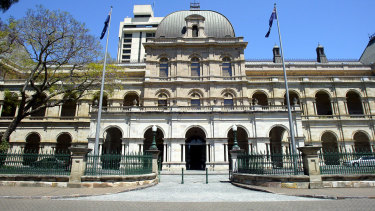 Queensland is the only unicameral state in Australian, meaning it only has a lower house, and doesn't have an upper house to review legislation before it is passed, like the federal Senate or the Legislative Council in NSW and Victoria.
The upper house in Queensland was abolished in 1922 (by the Ryan Labor government) and the state has ticked along without one ever since.
Instead, Queensland legislation is reviewed by a series of committees made up of relatively equal numbers of MPs from the different parties that make up the Queensland Parliament.
Daniel Wild, Director of Research at the Institute of Public Affairs, says a report they have commissioned shows an upper house would correct a perceived imbalance in influence between regional Queensland and the southeast corner.
"Issues of concern for regional Queenslanders, such as jobs, small business, and freedom of speech, are too often drowned out by the niche preferences of a small metropolitan elite in the state's South East," Mr Wild said.
"Queensland has a long and proud history of decentralisation and regional autonomy. Making north Queensland its own state remains very popular. The Regional Council model provides a circuit breaker to this debate."
Under the IPA's proposal the upper house would be weighted to the regions with more than half of the seats available allocated to regional areas.
The idea is likely to fall on deaf ears, with both Labor and the LNP rejecting calls to reintroduce an upper house in the past, with the usual line being that Queensland has enough politicians as it is.
Minor parties are usually in favour of it because they are more likely to gain seats in an upper house with proportional representation as opposed to the lower house which is made up of MPs who are each put forward by individual electorates.
Both major parties have stumped up the funds to create new jobs in the recycling industry in the Moreton Bay region, north of Brisbane.
The LNP is proposing a $15 million investment to build a new Visy factory within the Moreton Bay region, if elected on October 31.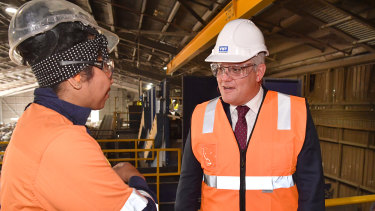 The state opposition says Visy is assessing alternative sites in New South Wales and Victoria for its new plant – but says it will invest in Queensland if the LNP wins power.
Ms Frecklington says the new Visy factory will create 300 construction jobs and 140 ongoing manufacturing jobs.
According to the LNP, Visy already employs 950 Queenslanders at factories across the state and will invest $135m in the new corrugated box factory.
It says construction of the new factory could begin in mid-2021.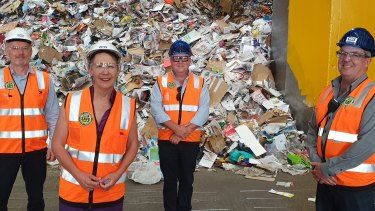 Meanwhile, a re-elected Palaszczuk-Labor government will invest $16 million and partner with company Visy to install a state-of-the-art recycling technology at Visy's Gibson Island site.
The new technology would be capable of turning mixed paper collected from the kerbside into cardboard grade paper for use in local Visy Box plants across the state.
It has the potential to create up to 80 construction jobs and six ongoing jobs, according to Labor.
The Visy site is in the safe Labor seat of Bulimba – held by the Child Safety, Youth, Women and Prevention of Domestic & Family Violence Minister Di Farmer with a margin of almost 11 per cent.
Deb Frecklington refused to clarify what say she had over budgeting decisions made during Campbell Newman's controversial three-year reign.
Ms Frecklington was appointed assistant finance minister in the Newman government in 2012 and was promoted to assistant minister to the Premier in 2014.
Senior Labor Minister, including Mark Bailey and Steven Miles, have been playing up Ms Frecklington's positions in the Newman government in an attempt to link her to the 14,000 public service cuts.
Ms Frecklington refused to explain what, if any, role she had over budgeting decisions between 2012 and 2015.
"I am going to let the Labor party run their fake news and their lies," she said. "I oversaw the reduction of red tape reduction.
"What I am focused on is the future of Queensland."
After refusing to say much about the LNP's youth curfew plan for the past two days, the Premier has now described it as a "thought bubble" and acknowledged it has had a "mixed reaction".
The comments come after Cairns MP Michael Healy suggested crime rates in the region were the result of parents conceiving children to benefit from the Howard government's baby bonus.
"I don't, no I don't," Ms Palaszczuk said when asked if she supported that view. "I've spoken to Michael about that. I've made it very clear I don't support those comments and he completely understands."
Responding to further questions about LNP leader Deb Frecklington's denial the planned trial in Townsville and Cairns would unfairly target Indigenous children, she broke from her blanket refusal to share a view.
"It has mixed reactions across the board – I understand police don't like it, I understand community organisations don't like it," she said.
"She needs to explain how it would work, how this thought bubble came about and how it would actually work in practice."
The Premier refused to say on Thursday whether she would support the legislation Ms Frecklington said would be needed to enact the policy, which is almost identical to one announced by then-LNP leader Tim Nichols in 2017.
Amnesty International has said the curfew could breach international law, while others in the social services sector have pointed to the large body of evidence which shows curfew do not work to reduce crime.
LNP Leader Deb Frecklington has again picked up the larger share of overall media coverage during week three of the election campaign, but Premier Annastacia Palaszzuk still has a slight lead due to her massive week one.
The data, compiled by media analytics company Streem for Brisbane Times, looks at the number of times the respective leaders are mentioned across media, and then compares their "share of voice".
That measures the percentage of the total media coverage of the election snapped up by each candidate.
Ms Frecklington's share of voice jumped again this week, but unlike last week when it was due to a scandal outside of her campaign, and the extra attention brought by the visiting Prime Minister, this week it was reaction to an LNP policy.
The LNP's plan to add a youth curfew to Townsville and Cairns if elected saw a huge amount of reaction from a range of community and legal groups up to an including Amnesty International.
As a result, while Ms Palaszczuk had a larger share of the coverage on Monday, Ms Frecklington has led for the rest of the week.
While much of the coverage has been negative, the fact that the LNP has sparked such a major discussion from one of its announcements is noteworthy, and could have an effect in the very areas around Townsville and Cairns where they are hoping to flip seats from Labor.
Probably as a result of the discussion around the curfew policy, the number one topic connected to both camps was "Law & Order" this week, just edging out "COVID-19".
In fact for the LNP, "COVID-19" came third, pipped for second spot by "Jobs".