Joe Biden is not a particularly fluent communicator, but he was passionate, well prepared and kept his cool when under attack. He didn't make any catastrophic errors that could have haunted him for the remainder of the campaign.
Trump was at his best when painting Biden as a career politician who has spent most of his life working in Washington – "all talk and no action" in Trump's words.
Biden was at his best when speaking directly to the American people, expressing empathy for how their lives have been upended by the COVID-19 pandemic.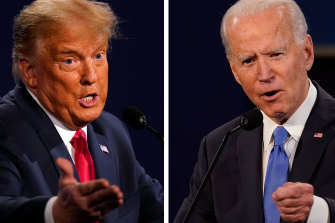 A telling exchange came when Trump went after Biden over his son Hunter's business dealings in China and Ukraine.
Aware this line of attack was coming, Biden turned the issue to Trump's failure to release his tax returns, saying: "Release your tax returns or stop talking about corruption."
Speaking directly to the camera, Biden said: "It is not about his family and my family. It is about your family. And your family is hurting badly."
'It is not about his family and my family. It is about your family.'

Joe Biden
Trump dismissed Biden's answer as the scripted remarks of a veteran Washington insider.
"I'm not a typical politician," Trump said. "That's why I got elected."
He was also quick to seize upon Biden saying that he wanted to transition away from the oil industry, a snippet Republicans are sure to feature in their attack ads in energy-producing states such as Texas and Pennsylvania.
The debate began with a lengthy section on the coronavirus, an issue that remains a big weakness for Trump. Seven months after the pandemic began, 1000 Americans are still dying a day from COVID-19.
"Anyone who is responsible for that many deaths should not remain as President of the United States of America," Biden said. He delivered an effective line in response to Trump's claim that Americans were learning to live with the virus.
"Learning to live with it?' Biden asked. "Come on, we're dying with it."
Biden also benefited from a section on raising the minimum wage. The Democratic nominee wants to increase it to $US15 ($21) an hour – an overwhelmingly popular idea with American voters – but Trump could not commit to doing so, citing concerns about the impact on business profits.
Loading
After pulling out of the second debate, this was Trump's last chance to make an impression in front of a big national audience before November 3. Almost 50 million Americans have already voted and just 11 days remain until the election. Biden is leading by an average of eight points in the polls.
Trump is rapidly running out of time to change the trajectory of what has been a remarkably stable contest. More than just improving on the past debate, he needed Biden to spectacularly implode. That didn't happen.
Matthew Knott is North America correspondent for The Sydney Morning Herald and The Age.