Hiscock added that the Tigers had ultimately taken on just about every recommendation made by the dissenters.
"When we challenged, I said 'we've got to stop kicking it sideways and stop kicking it backwards, and run in numbers and go to war for the coach.' And that's what Richmond's done ever since," Hiscock said on Sunday.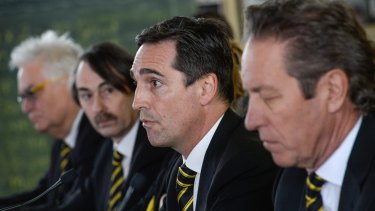 "I honestly think bringing Neil Balme to the club was instrumental. Neil said to us 'don't mention at the press conference [in 2016] that you've spoken to me.' We said we'd bring him to the club and [reporter] Tony Jones says 'well have you spoken to him?' and I said 'no.'"
Dr Hiscock said he was happy with the decision to challenge the board, which prompted a long meeting with O'Neal.
"Very glad. It's not an easy thing to do. We had people ringing up my hospital looking for dirt. I knew that was going to happen. I knew I was going to be sledged in the media," he said.
"I have no regrets. It needed to be done. We wouldn't have won the 2017 flag without a challenge. We forced a lot of other changes. Basically everything we suggested, Peggy did.
"People thought it was an attack on the club. It was never an attack on the club. For us it was an attack on the board. We didn't think that their focus had been on football. I'm very proud of where the club is now and I'm also very proud of what Peggy and Brendon and the board have achieved. Damien [Hardwick] has turned out to be an amazing coach."
Hiscock also said supporters of other clubs could learn something from what transpired at Richmond.
"Yes. You need to be accountable. A lot of clubs are lingering."
Loading
He floated Collingwood as a club that would benefit from a challenge.
"But who's going to challenge Eddie McGuire with all that power and media influence?"
At the time of the challenge, O'Neal strongly condemned the ticket's move.
"Instability and change equals chaos and I refuse to let that happen to my club," O'Neal said in 2016.
"We believe there are more constructive ways of effecting lasting change than those outlined today by those seeking to take over this board."
Real Footy
Keep up to date with the best AFL coverage in the country. Sign up here to our Real Footy newsletter delivered to your inbox on Mondays and Fridays.
Daniel is an Age sports reporter