Police also believe the man has been detaining people and identifying himself as a police officer since 2017 in Brisbane and Gympie.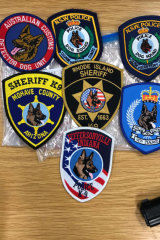 Detective Sergeant Robert Lowry said police were conducting inquiries to an unrelated property crime that led to them discovering a recording on a 15-year-old boy's phone.
"It was concerning because the content of the recording initially indicated that a police was detaining the two 15-year-olds in a language that was quite colourful, very threatening and quite concerning and was damaging to the QPS brand."
Sergeant Lowry said the 36-year-old man was then identified.
"That man appears to have some industry knowledge in the security providing industry," he said.
"During the investigation on the weekend, we have identified that it is highly likely that young people in this community have been threatened by this person and also have been subjected to very intimidating behaviour and appears to be using a very aggressive and intimidating dog that he has with him.
"They're very traumatised, these people. Some of them have been reduced to tears, trembling, and shaking."
Sergeant Lowry said in a separate incident, the accused had indicated he was a returned serviceman while speaking with a 68-year-old veteran at a school in Brisbane.
The 36-year-old Jones Hill man has been charged with two counts of assuming designation or description of a police officer, and one count of falsely representing to be a returned soldier.
He has also been charged with 15 counts of deprivation of liberty, four counts of common assault, two counts of possessing restricted items, and one count each of threatening violence and unlawfully possessing a weapon.
The man has been remanded in custody until next month after appearing at the Gympie Magistrates Court on Monday.
Investigations into the endangered animals are continuing with Queensland Parks and Wildlife and the Department of Fisheries.
Police are appealing to anyone who may have had similar interactions to come forward.
Jocelyn Garcia is a journalist at the Brisbane Times, covering breaking news.