"No I am not going to resign as the member for Inala. That is a ridiculous question."
-Premier Annastacia Palaszczuk ruling out resigning if Labor lose the election.
Many of you will know that when I became the Leader of the Opposition, I went on an Ice tour across Queensland.
-Deb Frecklington reminding reporters of the action she took on the drug issue when taking up her current position.
After going all weekend without either Annastacia Palaszczuk or Deb Frecklington donning a hard hat or hi-vis gear, the Opposition Leader has broken the streak today with a flying visit to a Cairns steel mill.
The lack of safety gear for the leaders over the last few days is still noteworthy however.
Is it a sign the campaign is slowing down? Are they worried voters might be blinded by the constant reflective surfaces presented to them?
Are the major parties starting to pay attention to outside criticism that their campaign events are focused on big, male-dominated industries compared to smaller but just as important female dominated ones?
We may never know.
Premier Annastacia Palaszczuk has been forced to rule out forming a minority government with any of the minor parties under repeated questioning during a media stop today.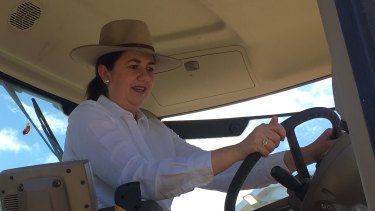 Ms Palaszczuk has repeatedly ruled out doing deals with minor parties to form government, insisting she needed a majority to govern in her own right for the next term in office.
The Premier was challenged to rule out forming an alliance with the Katter party, after yesterday urging Queenslanders to choose between "a majority Palaszczuk Labor government or a One Nation, Palmer, LNP rabble."
"Katter's as well, there we go," Ms Palaszczuk confirmed.
The Premier also again ruled out any deal with the Greens, who may take at least one more Labor seat with Jackie Trad facing an uphill battle to retain South Brisbane against Greens challenger Amy MacMahon.
"I said no deals," the Premier said.
Ms Palaszczuk previously had a minority government from 2015 to 2017 with support on supply and confidence motions from independent MP Peter Wellington.
In the event of a minority government situation, where neither the LNP nor Labor has the numbers to form government outright, both major parties are expected to try to get the support of one of the minor parties to form government.
Premier Annastacia Palaszczuk could not give voters in South Brisbane one reason why Jackie Trad should be re-elected as their local member.
Asked specifically why South Brisbane voters should back Jackie Trad, not the Labor party in general, Ms Palaszczuk said: "this election is on a knife edge".
"It is up to the people of this state to decide will they stick with me and our strong health response and our clear path on economic recovery, or will they risk all of that with Deb Frecklington and the LNP."
When pressed further on what made Jackie Trad a good local member Ms Palaszczuk said: "I am asking Queensland to back all of our Labor candidates".
"Jackie is an important member of my team".
Treasurer Cameron Dick has used his costings press conference to single out Clive Palmer and LNP leader Deb Frecklington over long-denied "death tax" claims.
Releasing the breakdown of election promises on Monday, Mr Dick reiterated his commitments there would be no asset sales or leases, no job cuts or "new or increased taxes".
He then turned his attention to repeated claims made by Mr Palmer's United Australia Party in advertising and campaigning that Labor "could" introduce a death tax.
"There is no death tax, there never has been a death tax and there never will be a death tax," he said.
"[It's] a big fat lie".
Mr Dick added Deb Frecklington had been "completely silent" on the matter and called on her to "denounce" the claims.
The Labor campaign has rolled into the tourist town of Airlie Beach this afternoon after visiting Townsville and Bowen.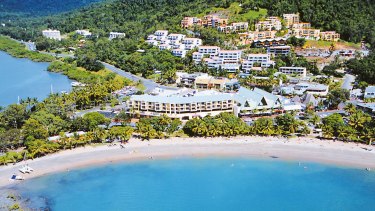 The town lies in the marginal electorate of Whitsunday where both the LNP and Labor have had candidate problems.
At the beginning of the campaign, QUT political expert and former state Labor MP and Speaker John Mickel gave Poll Call this assessment of Whitsunday-
The LNP face their expelled Member, Jason Costigan, and his North Queensland First push whilst Labor has a new Candidate having dumped its pre-selected one.
In an 8-candidate contest, the LNP's Amanda Camm, has high name recognition but is under attack from the right by UAP, Costigan, Katter's Australian Party and One Nation who will exchange preferences.
Labor's Angie Kelly, a local School Principal, has name recognition in parts of the northern end of the seat but faces challenges from the left with the Greens and Legalise Cannabis Party.
There is little to separate the major parties on the primary vote. Labor does well in Mackay's northern suburbs whilst the LNP are dominant in most of the other polling booths.
The LNP need a win here to form majority Government.
LNP state leader Deb Frecklington will not endorse a fresh push from the Katter's Australia Party for Queensland to be split in two.
KAP Queensland Leader Robbie Katter produced fresh polling on Monday which he says shows voters in regional Queensland support creating a new state.
The polling, conducted by the KAP and published in the Townsville Bulletin, shows 57 per cent of respondents "strongly agree" or "agree" with a push to split north Queensland into a separate state.
A combined 26 per cent "disagree" or "strongly disagree" with the suggestions, while 17 per cent of people polled were "indifferent".
In response, Opposition Leader Deb Frecklington says she wants to bridge the divide between south-east Queensland and the state's north – but she will not endorse the Katter's plan for a state split.
"The reason why north Queensland has an issue is because of the Palaszczuk-Labor government," she says.
Labor has labelled the LNP's announcement of a dedicated Ice Taskforce a "nothing announcement" saying it's another promise without detail from Deb Frecklington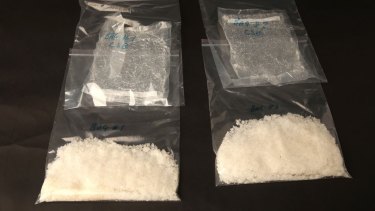 Ms Frecklington today announced $8 million for a dedicated "Ice Taskforce" within the Queensland Police service.
However when asked where taskforce will be based, how many officers will it consist of and which areas of the QPS the taskforce officers will be drawn from, Ms Frecklington said that detail still needed to be worked through.
Deputy Premier Steven Miles said the money, which was part of a $12 million package to address drug use in Queensland more generally, would not be enough.
"It was a nothing announcement because [Ms Frecklington} couldn't say what it was, she couldn't say what it would be, she couldn't say what it would do," Mr Miles said.
"It was an announcement of $8 million – to put that in context, the annual police budget is $2.6 billion. This announcement will mean nothing to them."
LNP candidate for Mundingburra Glenn Doyle endorsed the idea as a former drug squad detective himself.
"I know how important it is to get Ice off our streets. It is destroying a lot of our young people and we need to address it," he said.
"These sort of partnerships and commitments we're making – to have an Ice taskforce to work with the Australian Border Force and Australian Federal Police – is exactly what we need to get on top of the Ice epidemic and stop offending here in Townsville."
During the campaign, Brisbane Times is running our Ask a Reporter feature, where we'll endeavour to answer all your questions about the campaign, big or small. All the answers can be found here.
Adrian asks: Are there any rules about restrictions on soliciting for votes by candidates or supporters of a candidate when a voter walks into the polling centre?
Brisbane Times PM editor Cameron Atfield answers: There are strict rules about where party or candidate volunteers can interact with voters (and by "interact" I mean handing out how-to-vote cards and generally telling you why their candidate is the bee's knees).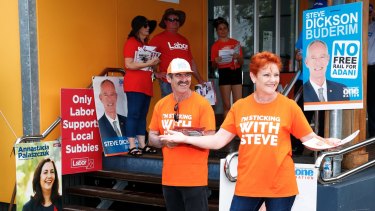 All political election material — be it T-shirts (and the volunteers within), corflutes or how-to-vote cards — must be at least six metres from the entrance of a voting place. If it's a school hall well within the grounds, for example, then candidates and their supporters are entitled to canvass votes up until their six metres away from the hall entrance. At other locations, they might have to stay out on the street.
An added rule this year, due to the pandemic, is that all how-to-vote cards can only be used once. Which brings me to the reminder that your vote is your own — you are under no obligation to follow the preferencing suggestions of your preferred candidate.
The Electoral Commission of Queensland has a handy fact sheet here.
LNP Leader Deb Frecklington has criticised Labor's announcement it would slash the water bills for Queensland farmers if re-elected.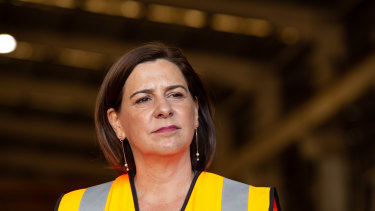 Premier Annastacia Palaszczuk at a campaign stop on Monday promised $50 million to provide cheaper irrigation water for a range of farming activities across the state.
But Ms Frecklington says the announcement shows Labor has been over-charging for water.
"Labor's announcement today is a clear admission they have been ripping off farmers for years. It shows the desperation from the Premier, who has been ripping off farmers for years when it comes to water costs and when it comes to electricity costs," she said.
"This is a Premier who doesn't get regional Queensland. At five minutes to midnight, it's a bit late to come in and say you're the farmer's friend."
The LNP has already announced it's signature campaign promise – the "New Bradfield Scheme" to build a massive dam and irrigate northern Queensland, although the plan relies on a large portion of federal funding