Quite frankly what Clive Palmer is doing right now is bullshit
-Outgoing Labor Minister Kate Jones tells us what she really thinks about Mr Palmer's attack ads.
No I wake up very happy every morning.
-Annastacia Palaszczuk when asked whether she was angry to wake up and read comments from former Labor Premier Peter Beattie urging Queensland to follow NSW's example in dealing with the pandemic.
I spend a great deal of time in Brisbane, people in my electorate probably think I spend too much time there.
-Deb Frecklington insisting she can be a Premier for all of Queensland when asked about her regional focus.
The leaders were both in the orange fluoro again today with miscellaneous factories again forming the backdrop to their major campaign announcements.
Hard hats weren't required despite the political bricks being hurled, mostly by former Premiers.
The index is now likely to stay static tomorrow with the leaders due to face off in the first debate of the campaign, but you never know, one or both of them might don the hi-vis at the podium just for fun.
Fearing voters may become complacent with their ballots, Annastacia Palaszczuk has ramped up her rhetoric about how tight she believes this election result will be.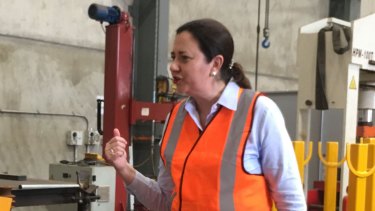 A Labor source close to the campaign told Brisbane Times earlier this week, there was concern people believed Ms Palaszczuk had already won because she was ahead in the polls so may decide to vote for minor parties.
"This is going to be a very, very close election," Ms Palaszczuk said today.
"Be under no illusion, it is going to be very, very tight."
Ms Palaszczuk visited a steel fabrication factory in Mackay to announce a Labor government would top up the state's hydrogen development by $10 million, taking the total to $25 million.
Deputy Premier Steven Miles says he continues to stand by his tough comments directed at the Rockhampton aged care nurse who sparked a COVID-19 scare in May after working while infectious.
The comments come after a complaint lodged with the Queensland Human Rights Commission by the woman's union, the new Nurses Professional Association of Queensland, alleging she was vilified and shamed throughout the incident.
Asked about the new development on Tuesday, Mr Miles said he was only aware of the complaint via media reports and brushed it off as grandstanding from the new industry group.
"You have an association there who is trying to use this one individual to pursue new members to get publicity. That's a shame, I think," Mr Miles said.
"What I have said consistently is that it is absolutely imperative we do not undermine the public health messaging. Which is: if you are sick, get tested, do not go to work until you have the result of that test."
Mr Miles said it was important for all Queensland to follow the advice but especially those working in health and aged care.
"And in this case, it was an individual who worked for Queensland health and in aged care," he added.
Asked if he stood by his actions, Mr Miles replied: "yes".
As United Australia Party founder Clive Palmer continues to claim Labor will introduce a death tax if re-elected – which Labor has strenuously denied – the mining magnate also claims he has been speaking to senior LNP figures.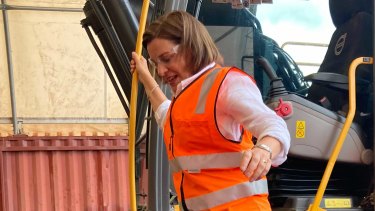 Mr Palmer claims to have spoken to former LNP president Dave Hutchinson and Federal National Party president Larry Anthony – all members of the LNP state executive.
While it is unclear what the topic of conversation was, or even if the discussions actually happened, Mr Palmer says he did not speak to them about preferencing deals.
In response, Ms Frecklington distanced herself from Palmer's death tax campaign, but would not criticise it.
"He hasn't spoken to me, I'm focused on my campaign and not interested in other parties," she says.
Ms Frecklington also side-stepped a question in response to State Development Minister Kate Jones describing Mr Palmer's death tax campaign as "bullshit".
"That's a matter for Kate Jones, but I definitely try hard not to swear in my press conferences and I proved that the other day when I said I was nearly going to swear," she says.
Suggestions Queensland Health would need to find $1 billion in savings to allow a re-elected Labor government to meet one of its key health staffing pledges is simply "amateur accounting", Deputy Premier Steven Miles says.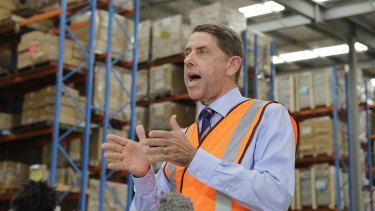 The questions around how a 2 per cent efficiency and productivity dividend which sat as a caveat to the total of 9000 new nurses, doctors and allied health professionals the Labor government said it would hire came after fine print in the party's costings document revealed it was in part "subject to" the $270,000 annual saving measure.
But Mr Miles said the arrangement had been in place since 2015 as a way to "do more" with the growing budget which now sits at more than $19.2 billion – or about a third of the state's annual spending.
He said this had been achieved in the past by implementing more services "closer to home" to reduce the number of transfers, allowing nurses to practice at their full capacity, new care models, telehealth and electronic medical registers.
"All of those things allow us each year to deliver more health care over and above our budget increase, and that is precisely what the costings outlined yesterday." he said.
"Nothing different to what we have done the last 5 or 6 years, increased the budget but then sought to do even more on top of that. That's what we do."
He had earlier turned attention to the LNP, which has yet to release its own costings or outline how it would fund them.
"There are just five days left before people vote, and people are voting without knowing what Deb Frecklington will cut in order to pay for her unfunded promises and to achieve her reckless rush to surplus that she has announced," Mr Miles said.
"How can she face the people's forums tomorrow night and not have told the people how she will be funding her promises? The time is running out for her to be honest about that."
Opposition leader Deb Frecklington has indicated details on her party's plan for get Queensland back to surplus within four years and cut the state's unemployment rate from 7.7 per cent to 5 per cent, will be revealed on Thursday.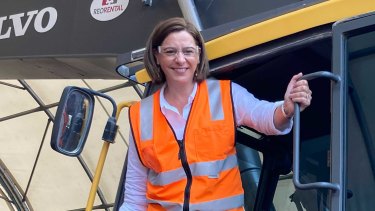 That is the day the LNP state leader has locked in to reveal her party's costings for their election promises, to show voters they can achieve what they have pledged if they are elected into government.
When asked when she would provide Queenslanders with a detailed path back to surplus, Ms Frecklington said:"We will be releasing our costings on Thursday and we have the best economic plan to get Queensland working again …. What I'm [also] aiming towards is a five per cent unemployment rate."
On the issue of the 14,000 public servant jobs cut under the Newman government – when the LNP was last in power – and whether it would be repeated if her party returns to power, Ms Frecklington says "there will be no forced redundancies".
Labor has promised to introduce an independent environmental protection agency in the state if elected, with Queensland the only Australian state without one.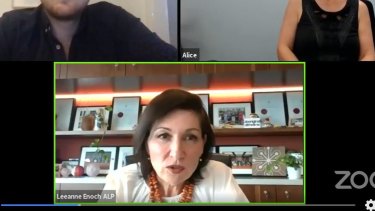 READ MORE: Qld is the only state without an independent EPA. Labor says it will change that
Environment Minister Leeanne Enoch unveiled Labor's commitment at a debate between the parties' environment representatives hosted by the Queensland Conservation Council earlier this month.
"We are the only state in the country that doesn't have an EPA and I think it would allow us to strengthen our ability to regulate the strongest protections that we have here," she said.
The move has the backing of the Greens, while the LNP's environment spokesman David Crisafulli said he is "yet to form an opinion" on the need for an EPA in Queensland.
Although a huge number of Queenslanders have already cast their vote, one expert says the politicians are not wasting their time out on the hustings in the final week of the campaign.
The Electoral Commission of Queensland says as of yesterday more than 740,000 people had already voted, while nearly 900,000 have requested postal ballots which could be completed and returned at any time.
Griffith University political expert Paul Williams says that is a big segment of the population, but that still leaves millions of Queenslanders yet to decide.
"I think it is still worth campaigning because at least half the electorate, as of the end of last week, is yet to cast a ballot," Dr Williams said.
"Many of those, you might say a disproportionate number, have not yet made up their mind."
Dr Williams said that while the global pandemic is mostly behind the record number of pre-poll votes, pre-polling in general has been rising for the last few elections, and campaigns were starting to adapt to take advantage of that.
"This time, even before the writs were issued, Labor and the LNP were making really big policy announcements on infrastructure and spending, to catch those who want to pre poll," he said
But he said both campaigns would know that they still have to put in the effort right up to polling day.
"It wouldn't surprise me that we still have several hundred thousand Queenslanders who are yet to make up their mind, who might only settle on their choice as they are driving to the polling booth," Dr Williams said.
"It's a small number but absolutely, campaigning right up until the last minute, pollies will be literally pressing the flesh at the gates on the day because every vote counts."
Deputy Premier Steven Miles has brushed off criticism of the border closure with NSW from former premier Peter Beattie as another example of southerners who have "ganged up" on the state government.
While Premier Annastacia Palaszczuk maintained that she wasn't worried about her predecessor's comments, Mr Miles, who has been Labor's designated attack dog during the campaign, was far more pointed in dismissing the comments.
"Southerners have ganged up on us on this issue right throughout the whole year," he said.
"So we won't be listening to Peter Beattie just as we didn't listen to Scott Morrison or Clive Palmer or Pauline Hanson, we will be listening to the chief health officer, our health advisors and also the premier, because it's their decisions that have kept Queenslanders safe, it is their decisions that have allowed business to be open right now."
In stories printed in News Corp papers on Tuesday, and a round of interviews that followed, Mr Beattie said Australia had to adopt the NSW model for handling the pandemic or "go broke".
Speaking to reporters in Townsville, Mr Miles also hit out at the federal government's COVID Safe app as "useless" when asked why it had only found 17 cases not identified by contact tracers nationwide – and none in Queensland.
"We still encourage people to use it but it was Scott Morrisons app," Mr Miles said. "He said it was going to be the answer to everything, it hasn't worked, and so questions about it should be directed to him."
He added that no further easing of restrictions such as wedding and funeral limits were currently being looked at, with the only element of the roadmap to be considered on November 1 the border restrictions