The growing confrontation is raising political tensions between France and some Muslim-majority nations and could put pressure on French companies. Other European countries have also entered the fray in support of France.
The teacher, who was killed by an 18-year-old Moscow-born Chechen refugee, has been heralded at home as a national symbol of France's dearly held secular ideals and its rejection of any whiff of religious intrusion in public spheres.
Macron has vigorously defended cartoons of the Prophet Muhammad as protected by the right to free speech. At a memorial for the teacher last week, Macron said: "We won't renounce the caricatures."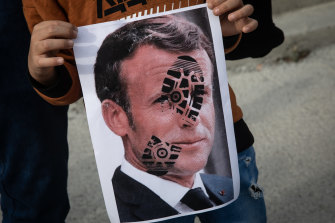 On Sunday, he appeared to double down. In tweets published in both Arabic and English, he wrote: "We will not give in, ever." He added, however, that France does not accept hate speech and respects all differences.
His government plans a bill aimed at rooting out what Macron calls "Islamist separatism", which he contends has created a parallel culture, one that rejects French laws and norms.
Erdogan's call feeds into a campaign to boycott French goods that began rippling across the Arab world on social media over the weekend.
Loading
Kuwaiti stores pulled French yoghurt and bottles of sparkling water from their shelves, Qatar University cancelled a French culture week, and calls to stay away from the Carrefour grocery store chain were trending on social media in Saudi Arabia and the United Arab Emirates.
France said the "baseless" calls were being pushed by "a radical minority," and that French websites has suffered a wave of cyberattacks. France has called Erdogan's personal sleights on Macron unacceptable, and withdrew its ambassador to Turkey.
Backlash across Muslim nations
The owner of Carrefour stores in the Middle East issued a statement saying that, in the region, the brand is a fully owned and operated by United Arab Emirates-based Majid al-Futtaim. The company noted that it employs 37,000 people and is "proud to be from the region and for the region".
Egypt's top cleric, Sheikh Ahmed al-Tayeb, who is also the Grand Imam of al-Azhar, Sunni Islam's highest seat of learning, accused those who "justify insulting the prophet of Islam" of hypocrisy.
Jordan and Pakistan have summoned the French ambassador in their countries to express their displeasure. Iran's Foreign Ministry on Tuesday rebuked the French charge d'affaires. Pakistani Prime Minister Imran Khan accused the French leader of choosing to encourage anti-Muslim sentiment.
Amid the political barbs, neither Erdogan nor Khan has publicly condemned the killing of the French teacher.
It's unclear how widespread the boycott will be. Early responses suggest countries are dividing along contentious regional lines, with Turkey and its allies on one side and Saudi Arabia and its supporters on the other.
Ali Shamkhani, director of Iran's Supreme National Security Council, said on Twitter that "#Macron's irrational behaviour in public #AntiIslamism shows his crudeness in politics," while the Qatari Ministry of Foreign Affairs put out a statement condemning "the great escalation of populist rhetoric inciting the abuse of religions".
By contrast, Saudi Arabia and the United Arab Emirates have so far remained largely silent.
The region split about three years ago when Saudi Arabia, the UAE, Bahrain and Egypt cut all ties with Qatar over its links with Iran. As Qatar drew closer to Turkey, the rivalry spilled out beyond the Persian Gulf. The countries now find themselves on either side of a proxy war in Libya and it's contributed to deepening tensions in the horn of Africa and the eastern Mediterranean, where Turkey has clashed with Greece, the European Union – and France – over its energy ambitions.
Bloomberg, AP