If found guilty, the department would face a substantially lower maximum penalty in the lower court than if the case went before a County Court judge.
WorkSafe Victoria, which is prosecuting, opposes the application for the case to stay before the lower court.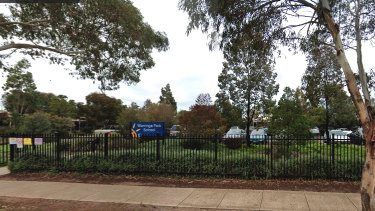 Charge sheets allege the boy was immobile and in a wheelchair when left unsupervised by staff as he was being moved from a classroom. The charge sheets say another student was helping the seven-year-old at the time.
Warringa Park is a school for students with disabilities, but WorkSafe alleges the boy was left unsupervised because teachers were not trained in any policies or procedures about students' mobility requirements.
It was reasonably practicable, WorkSafe says, that all staff, aides and trainee teachers were trained in that area.
WorkSafe alleges that the department should also have had construction plans for the school's ramps professionally assessed and that all ramps should have been maintained.
If ramps were poorly constructed and not maintained, they posed a safety risk to children in wheelchairs or with physical disabilities, the regulator says.
The department is charged with three counts of failing to ensure, as far as was reasonably practicable, that people other than employees were not exposed to risks to their health or safety.
The department is yet to enter a plea.
Each of the charges carries a maximum penalty of 9000 units, which equates to a $1.49 million fine.
However, if the case remains before a magistrate then the maximum penalty would be 2500 penalty units, which equates to $412,500 per charge.
In charge sheets, WorkSafe alleges the department failed to assess and maintain the ramps at the school, that the school should not have allowed another student to supervise the seven-year-old being moved from the classroom and that the failure to instruct and train teachers of students' mobility requirements placed the boy "at risk of death or serious injury".
The department said in a statement: "This was a tragic incident and the department has provided ongoing support to the school since it occurred. The department has also been in touch with the family about any support it can provide."
But a spokesman said it was inappropriate to comment further with the case before the court.
The case is due to return to court on December 11.
Get our Morning & Evening Edition newsletters
The most important news, analysis and insights delivered to your inbox at the start and end of each day. Sign up here.
Adam Cooper joined The Age in 2011 after a decade with AAP. Email or tweet Adam with your news tips.