At this morning's press conference, NSW Premier Gladys Berejiklian said she had received economic advice on whether it was worth risking reopening her state border with Victoria.
Speaking earlier at the Australian Financial Review's CFO Live summit, she gave some more details about what that advice said.
The Premier told the summit her economic advice was it would be better to reopen to all of Australia, New Zealand and other global markets than to reopen with Victoria before the risk of an outbreak was proven to be low.
"At the moment our biggest concern has to be jobs and job growth and economic stimulus," Ms Berejiklian said.
"That has to be our focus: the opportunity costs of opening too soon to Victoria … it would be an economic disaster for Australia."
The Premier said at her press conference health authorities would be monitoring the case numbers in Victoria for two weeks before making a decision.
Earlier this week, she said she was more inclined to reopen NSW to Victoria as a whole rather than beginning with regional Victorians and extending it to metro Melbourne, due to the difficulty in policing complicated border permits.
NSW Health has announced that a confirmed case of COVID-19 frequented an F45 studio in Sydney's south-west over the past two weeks.
Anyone who attended F45 Leppington at the following times over the past fortnight is considered a close contact, and must isolate immediately and get tested.
Thursday 15 October, 5.15pm – 6pm
Saturday 17 October, 8.10am – 9.10am
Sunday 18 October, 8.55am – 9.40am
Monday 19 October, 5.50am – 6.35am
Tuesday 20 October, 5.50am – 6.35am
Wednesday 21 October, 5.15pm – 6pm
Thursday 22 October, 6.45am – 7.30am
Friday 23 October, 9.35am – 10.20am
Saturday 24 October, 7.10am – 8.10am
Sunday 25 October, 8.55am – 9.40am
Monday 26 October, 5.50am – 6.35am
Tuesday 27 October, 6.45am – 7.30am
Wednesday 28 October, 5.50am – 6.35am
The department also said that anyone who attended a class either before or after any of the ones at the above times should consider themselves a casual contact and monitor for symptoms.
Additionally, anyone who attended Ali Baba Charcoal Chicken in Auburn on Sunday October 18 from 4 to 5pm is considered a casual contact.
The Melbourne truck driver who inadvertently spread COVID-19 into regional Victoria when he unlawfully stopped to eat at a cafe in Kilmore and travelled to Shepparton without telling contact tracers has been fined for his actions.
Victoria Police confirmed today that a $1652 fine has been issued to the man.
The truck driver, a family member of an employee infected in an outbreak at The Butcher Club in Chadstone, sparked a cluster in Kilmore after dining in a cafe there at the end of September.
Under his permitted worker status, the man was allowed to travel outside Melbourne but not sit in a cafe to eat.
The man, who had a worker permit to travel regionally, originally told contact tracers he had only travelled to Kilmore on September 30.
But when he was reinterviewed more than a fortnight later on October 13, he only then told contact tracers he had also gone to Shepparton and Benalla.
"It is obviously hugely concerning that the information about the Shepparton stop wasn't divulged at the time that we were dealing with Kilmore 10 to 12 days ago," Victoria's testing commander Jeroen Weimar said at the time.
"Had we had that information at the time we could have jumped on the Shepparton situation much more quickly."
The Kilmore outbreak grew to six cases in total, while there were three cases linked in Shepparton.
As of Wednesday there are no longer any active cases of COVID-19 in regional Victoria.
Premier Daniel Andrews has previously stated that fining people retrospectively may dissuade people from being truthful with contact tracers.
The company contracted to provide essential firefighting and emergency services on Barrow Island at energy giant Chevron's $US54 billion Gorgon LNG plant has warned staffing issues blamed on WA's border restrictions could "close down" the operation.
Giving evidence at an unfair dismissal hearing on October 13, a human resources manager at emergency and medical response contractor Parabellum International told the Fair Work Commission the company was having roster difficulties due to employees reporting in sick, and COVID-19 border arrangements.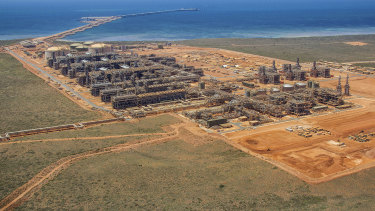 Any shutdown of Gorgon, one of Australia's largest resource projects, could see tens of millions of dollars of revenue lost each day depending on the price of LNG at the time.
Fiona Sammels told the commission quarantining had become an issue for their largely eastern states-based workforce and if she was unable to backfill the roster, the island would not have the legally required number of emergency services officers which meant the entire project could be forced to close.
"I have 60 per cent of my workforce coming in from the eastern states," Ms Sammels said.
"Coming in, they have to self-isolate for 14 days then go into a four-week roster pattern, so people are now starting to report in sick and, most recently, four out of five of my [emergency services officers] have reported in sick, so I needed to recruit people from Western Australia to be able to backfill that roster.
"If I don't backfill that roster, that project will close down and I will be in breach of contract."
When asked why Gorgon would close down, Ms Sammels said the project was required under law to have a certain amount of ESOs on site at any one time to continue operations.
ESOs are privately contracted firefighters and medical staff tasked with responding to incidents at resources project sites.
The COVIDSafe app helped uncover two COVID-19 cases, senate estimates has heard. The app has been a hot topic of discussion at the hearings all week.
Earlier in the week, estimates heard the app and related advertising cost $6.95 million. Since its launch, 7.13 million people have downloaded and registered to use the app, and it has identified 17 contacts in NSW that had not been uncovered by the state's contact tracing team.
Today, chief executive of the Digital Transformation Agency Randall Brugeaud said of those 17 contacts, one was related to the Mounties outbreak in western Sydney.
"That one case, then related to 544 close contacts and two of those subsequently tested positive to COVID-19," he said.
Mr Brugeaud said the benefit of the app was that it could identify a significant number of close contacts "without needing to work through an interview process".
"It has had a positive impact, based on the feedback we've had from the Department of Health, and it's the speed of contact tracing that has allowed Australia to respond so effectively to the pandemic."
To give you a broad picture, there have been more than 27,500 cases of COVID-19 so far in Australia, with potentially hundreds of thousands of close contacts.
A quick re-hash of Melbourne's exposure sites:
Today the Commonwealth Bank at Northland Shopping Centre in Preston was added to the list. A person carrying COVID-19 visited the bank on October 21 (last Wednesday) between 10am and 10.30am.
If you have any symptoms at all please get tested as soon as possible.
We've got this nifty live map of testing locations across the state, just pop your suburb in and find your nearest test site:
Contact tracing is really the buzz word of the day… even across the country in Western Australia.
My Perth-based colleague Nathan Hondros reports that a contract to expand WA's ability to contact trace COVID-19 cases has still not been finalised, despite the health department saying it needs to be in place by January.
At the beginning of September, the government called for expressions of interest for companies to develop a new system capable of hosting 1000 contact tracers and examining 10,000 active cases and their estimated 50,000 close contacts.
The revelation comes as AMA WA president Andrew Miller questioned the state's preparedness in the event of an outbreak, and ahead of a decision expected this week to keep the state's strict border restrictions in place.
"There's a lot of defensiveness on the part of the government where it's, 'Of course we're prepared, we're the best place in the world'," Dr Miller said.
"But [they] haven't proven anything when it comes to finding and testing and tracing and isolating people at all, and the target is to find all contacts within 24 hours and then find their contacts as well.
"There's not a lot of thought going into all of this and there's a lot of posturing for the election.
"On all these things, we need to be saying to them, 'You've had plenty of time, you've had plenty of latitude, you now need to start proving to us that you actually know what you're doing'. It seems like way too much spin over the preparation, basically."
The system that should be in place by January would be required to deliver quicker contact tracing to prevent the spread of infection, according to Department of Health documents.
In a written statement, the department did not answer questions about whether the system would be in place by the January deadline, but said the "procurement process is ongoing".
We've just received the daily Chief Health Officer's data release, which shows that the additional 'mystery' case with no known source is in postcode 3081.
That postcode captures Bellfield, Heidelberg Heights and Heidelberg West.
There are currently four mystery cases recorded over the past two weeks (measured between 13 Oct 2020 – 26 Oct 2020).
The three existing cases on the tally are located in postcodes 3029 (Truganina, Melbourne, Hoppers Crossing, Tarneit), 3128 (Box Hill, Box Hill South) and 3152 (Wantirna South, Wantirna).
COVID-19 and personal protective equipment are topics of debate in question time at parliament today.
Following questioning from Opposition Leader Anthony Albanese about rejecting requests for masks from aged care providers, Health Minister Greg Hunt stressed all providers going through an outbreak had been helped.
"The government during the course of this year has acquired over 500 million masks in what has been a global shortage," he said.
"At a time of extreme global shortage and a spike in demand, we were able to maintain that air bridge for the nation and engage in domestic production."
The government distributed 78 million of those masks from the National Medical Stockpile, he said.
Minister Hunt said he was not aware of any instances where complying requests for supplies to the National Medical Stockpile were not accepted.
"The provision of PPE has been one of the most significant and important achievements of this government," he said.
"These provisions have been consistent, they have been done on the basis of rules set by the medical experts, and we have met all of those requests which meet those requirements."
Premier Daniel Andrews says he is confident international flights will be allowed into Victoria before Christmas, despite a six-week delay to the hotel quarantine inquiry's final report.
The inquiry said on Thursday its final report – containing a full set of recommendations and findings – would be handed down by December 21.
But an interim report is now due to be handed down next Friday, the date the final report was originally supposed to be finalised, and will contain recommendations on a proposed new quarantine program.
The Premier told the daily COVID-19 press conference on Thursday morning the return of the interim report meant the government should be able to hit the agreed target set at national cabinet to have international flights return by Christmas.
"We will get [the interim report] next Friday and consider it in some detail and make announcements shortly thereafter about the model we are going to put in place," Mr Andrews said.