Retno, for her part, stressed Indonesia's desire for an Indo-Pacific that is open, inclusive, transparent and rules-based.
"We discussed the situation in the South China Sea. For Indonesia, the South China Sea should be maintained as a stable and peaceful sea. International laws, in particular UNCLOS 1982, must be respected and implemented."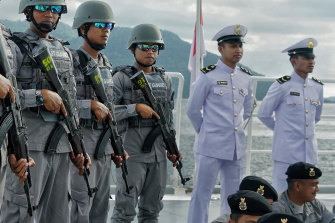 This statement is similar to ones made by the foreign minister many times before and gives no indication that Indonesia is likely to disengage from its deep trade and investment relationship with China.
"I encouraged US businesses to invest more in Indonesia, including for projects in the outer islands of Indonesia, such as Natuna Island," she said. The call to invest in Natuna is not new but is significant because of the island's strategic importance.
China does not include the Natuna Islands as part of its claim to more than 90 per cent of the South China Sea – a claim disputed by Vietnam, the Philippines, Malaysia, Brunei and Taiwan – but it does claim part of what Indonesia calls the North Natuna Sea.
In December and January Indonesian naval and coast guard vessels faced off against Chinese ships which had encroached on the territorial waters.
In an opinion piece in the Jakarta Post on Wednesday, China's ambassador to Indonesia Qiao Xian stressed the close ties and "true friendship" between the two countries, China's position as Indonesia's top trade partner and – most significantly – the joint work they are doing on a COVID-19 vaccine, which will "make Indonesia among the first countries to gain access to [a] vaccine".
The visit to Jakarta comes after Pompeo stopped in India, Sri Lanka and the Maldives to drum up support for a pushback against China's expansionist ambitions and to caution against over-reliance on Chinese investment, which has already left Sri Lanka and the Maldives indebted.
Pompeo has added Vietnam to the end of his swing through south and south-east Asia, which comes on the eve of the US election.
Loading
He is due to speak to Ansor, the youth wing of the country's Nahdlatul Ulama organisation, a moderate Muslim movement which claims 90 million members, on Thursday evening about the importance of religious freedom and plurality.
Indonesia is a secular majority-Muslim nation but has sizeable Christian, Buddhist and Hindu minorities.
Yenny Wahid, the director of the Wahid Institute and senior member of the organisation's women's wing, said the visit was strategically important but cautioned against reading too much into it.
Wahid is the daughter of the deceased religious leader Abdurrahman Wahid (commonly known as Gus Dur), who Indonesia's president from 1999 to 2001.
"Of course we are honoured that Secretary Pompeo decided to visit Indonesia and address our organisation. I hope that this will create more understanding between the Islamic community and President Trump's administration.
"Some people read this visit as a way to counter the China's growing influence in Indonesia's NU community. We remain committed to having to open relationships with both the US and China and to foster understanding with all nations," she said.
James Massola is south-east Asia correspondent based in Jakarta. He was previously chief political correspondent, based in Canberra. He has been a Walkley and Quills finalist on three occasions, won a Kennedy Award for outstanding foreign correspondent and is the author of The Great Cave Rescue.
Karuni Rompies is Assistant Indonesia Correspondent for The Sydney Morning Herald and The Age