The White House coronavirus task force is singing a very different tune from the president, warning of a persistent and broad spread of COVID-19 in the western half of the United States.
Reuters have produced this report:
National Australia Bank has instructed employees to start returning to the office, aiming to have buildings at 40 per cent capacity within coming weeks.
The big four bank sent an email to its 34,000 workers this week outlining plans for all staff outside of Victoria to "safely" return to their offices, after introducing work from home arrangements in mid-March as COVID-19 restrictions were introduced nationwide.
NAB is one of the country's first major employers to encourage staff to return to the office after months of working from home.
The email, sent by NAB executive Susan Ferrier, told staff the plans were dependent on the bank's ability to maintain social distancing within buildings.
"By returning to the office, we want to start again unlocking the benefits of in-person collaboration, such as better innovating for customers, learning from each other, problem solving together, mentoring and building our high-performance culture," Ms Ferrier said.
"But importantly, we will not be returning to the way things were before the pandemic. COVID-19 has challenged us all to think, work and act differently and we want to ensure that we retain the best of what we've learnt – and get back to something even better."
NAB has developed an online booking system in which specific desks are reserved ahead of time and information about the amount of time employees spend at the office is recorded to help with contact tracing efforts "as required".
Hot desking will be ditched and limits placed on the number of people permitted to ride in lifts as the bank encourages staff to remain 1.5 metres apart as recommended by health authorities.
Much of the blog today has been focused on the very much alive border wars. Our World Editor Michelle Griffin has penned this opinion piece in response …
---
When my son calls and says hey, maybe soon we'll be able to visit him in Brisbane, it's a little awkward.
I haven't seen him since February and I miss him terribly. But I'm hoping he might come down here some time because really, I don't want to go to Queensland.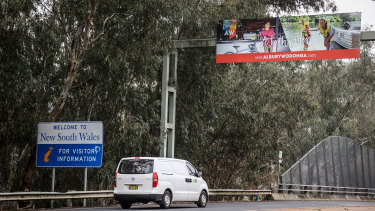 I'm one of the lucky ones who has kept their job in tough times and I do have holidays owing next year. But I don't feel like spending my discretionary income in a state that exploited the sufferings of my own for political gain.
This rules out Queensland – and New South Wales too, even if they ever deign to let me in.
Of course other states had to seal off borders in July as coronavirus infection numbers bolted in Victoria. Containment works.
But those ads the Queensland Labor Party spread through social media in July about how their fair state would be "FLOODED with Victorians" if the Liberals were in power made it clear that they'd be amping up fear and hostility rather than offering words of support.
It must have paid off as Annastacia Palaszczuk is still using Victorians as figures of dread in the final week of her campaign.
And now New South Wales Premier Gladys Berejiklian is determined to keep the borders closed in the south while hammering for the roadblocks to the north to be removed.
While it's reasonable to consider cautious benchmarks for reopening, she seems awfully keen to go on about how she doesn't trust the numbers and the standards, drawing it out as an opportunity for another slanging match that keeps families apart. Regional Victoria has lower numbers than Sydney. Is there something else she doesn't want to talk about?
According to Berejiklian, "it's easy not to spread the virus when people have limited mobility".
No, it wasn't easy. It was bloody hard, often dreary and sad and sometimes scary and eventually rather emotional.
"Everyone right to go?"For 120 consecutive days, from July 3 (66 new cases) to today (four new cases) Victoria's Premier Daniel Andrews has delivered the state's daily coronavirus update.
This calendar marks every day since July 1 that the Premier has spoken at these press conferences:
Mr Andrews said on Friday that he would be stepping away from the dais for a day on Saturday."I will not see you tomorrow, the Minister for Health will conduct the daily briefing," he said.
"I'm sure you're all very pleased to hear that."
There were four new coronavirus cases confirmed in Victoria on Friday, and the state's 14-day average is currently 2.6.
There have been two mystery cases confirmed over the past two weeks in Victoria and the infection source of six cases is currently being investigated.
There are a number of conditions to the easing of Western Australia's borders.
Premier Mark McGowan's Twitter account has just released this graphic to try lay it all out:
WA Premier Mark McGowan has announced the imminent demise of WA's controversial 'hard border', which bans travellers entering the state unless they meet strict exemption requirements.
From November 14, WA will move to a "controlled interstate border regime", Mr McGowan said at a media conference on Friday.
This would mean travellers coming from states with no community transmission for 28 days would be allowed to enter the state, but be required to have their temperature tested at Perth Airport and a COVID-19 test if necessary.
This includes all jurisdictions except NSW and Victoria. In those states, if they continue to have fewer than five local transmissions of the virus on a rolling 14-day average, travellers would be allowed into WA, but would still need to self-isolate for 14 days.
Mr McGowan said: "Behind our hard border we began to safely ease restrictions within our state to open up our economy."
"This resulted in a strong economic and social recovery unique to Western Australia. Our economy is once again the engine room of the nation and Western Australians are back to work with confidence," he said.
"Western Australia's hard border has and will only ever be in place to protect the health of all Western Australians. I cannot stress that enough."
Chief Health Officer Andy Robertson delivered fresh health advice to the government this week, which was considered by the state's disaster council on Friday morning.
He said the decision to turn WA into "an island within an island" was unthinkable, but necessary.
Western Australia's hard border is finally easing up.
From November 14, travel will be permitted from states and territories that are deemed "very low risk".
A child who attended Goodstart Early Learning in Bundoora in Melbourne's north-east while potentially infectious last week sparked 117 primary close contacts and secondary contacts to be tested yesterday, according to the Department of Health.
None have so far tested positive to COVID-19, with 63 negative results and 54 pending on Friday.
All 40 primary close contacts will be required to isolate for 14 days, while secondary contacts can leave isolation once they test negative, in line with Victoria's more cautious approach to outbreak management adopted earlier this month.
The government was continuing to monitor an outbreak in the northern suburbs on Friday, with almost 3700 tests in the area processed from Thursday to Friday morning.
One of Friday's cases under investigation has been in the Deer Park area, in Melbourne's west, with those in the area urged to get tested if experiencing any symptoms.
Well, Qantas CEO Alan Joyce isn't beating around the bush in his response to the news that Queensland's borders will remain shut to residents from Greater Sydney.
Mr Joyce has slammed the announced by QLD Premier Annastacia Palaszczuk this morning as irrational.
"Sydney is the biggest city in Australia and it probably has one of the best track record globally of managing a virus that is clearly going to be with us for a very long time," Mr Joyce said in a statement issued a short time ago.
"Keeping the doors bolted to places that you can't reasonably call hot spots makes no sense from a health perspective and it's doing a lot of social and economic damage as well.
"Compare this to the far more rational approach of Tasmania, Northern Territory and South Australia.
"Queensland may find that by the time it does open up to Sydney, people have made other plans."
The company was scheduled to run more than 1000 flights between Sydney and Queensland for the month of November had the borders opened, the statement says.
Ms Palaszczuk announced this morning that Queensland will reopen to all of NSW bar the Greater Sydney area from November 3, but the borders will remain closed to Victorians for the forseeable future.
Anyone who has visited 32 local government areas across Greater Sydney in the past 14 days will be prevented from entering Queensland, as coronavirus clusters and unlinked community transmission cases in south-west Sydney continue to cause concern.
However, any NSW resident can stay outside the greater Sydney area for 14 days and then enter Queensland.
In a leaders' debate on the eve of the Queensland election, Opposition leader Deb Frecklington has been asked if the Chief Health Officer Jeannette Young has been "too cautious" in the long-standing border closures.
"I certainly have called for more consistency, compassion and definitely more commonsense when it comes to the exemptions that have been granted," Ms Frecklington responds, citing the conflicts of the number of sporting stars and celebrities welcomed into the state while grieving families could not enter for funerals and family farewells.
Ms Frecklington said: "people really matter, and people really have been hurting".
"What I would have said … if I were Premier, I would have asked the Chief Health Officer to establish COVID safe plans for people who were at the end of their life, and who could attend a funeral.
"Ms Palaszczuk responds that the exemption system is in place to manage the borders, citing Queensland's zero community transmission.
The Premier says Queensland has provided more exemptions than any other state or territory. "I recognise that is an extremely difficult time for people … so I say to the leader of the opposition, you have to, in this position, as Premier, you have to be guided by the expert advice.
"If you don't stand by the expert advice, you cannot lead this state."