"Keeping the doors bolted to places that you can't reasonably call hot spots makes no sense from a health perspective and it's doing a lot of social and economic damage as well."
Virgin Australia said the announcement was "disappointing for many of our customers and team members who we now want to return to work, do business and reconnect with family and friends".
The decision would deliver another hit to the tourism and hospitality industries, Business Council of Australia chief executive Jennifer Westacott warned.
Ms Westacott said there was "no reason" why states couldn't fully reopen with contact tracing, containment and quarantine.
"The cost of this border closure has been monumental," she said.
"Reduced flights between Brisbane and Sydney airport alone have cost Australia's economy $1.2 billion.
"The impact has been particularly acute in Queensland's tourism and hospitality industries."
Queensland will reopen to all of NSW bar the Greater Sydney area from November 3, Premier Annastacia Palaszczuk announced on Friday.
But Queensland's borders will remain shut to Victoria for the foreseeable future.
Anyone who has visited 32 local government areas across Greater Sydney in the past 14 days will be prevented from entering Queensland, as coronavirus clusters and unlinked community transmission cases in south-west Sydney continue to cause concern.
However, any NSW resident can stay outside the greater Sydney area for 14 days and then enter Queensland.
Ms Palaszczuk made the announcement on Friday morning, a day before the state election, saying she was making the decision on the basis of advice from Chief Health Officer Jeannette Young.
"Dr Young has stood Queensland in really good shape. We've had no community transmissions now in a long, long time," the Premier said.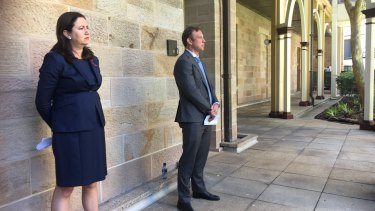 Ms Palaszczuk still warned that "anything can happen" and community transmission still needed to be monitored across Victoria and NSW.
A proposed opening date of November 1 was pushed to November 3 on the advice of Queensland police, to ensure all border passes could be updated in time.
Dr Young said the decision would strike the right balance between opening up and managing the risks of outbreaks in Queensland.
She urged Queenslanders to get tested if feeling at all unwell, noting a positive COVID sewage test in Ipswich earlier this week, and a new positive wastewater result in Wynnum in Brisbane's bayside.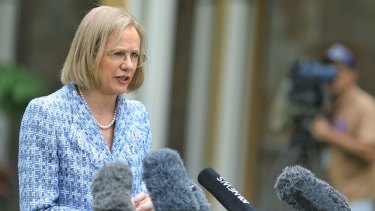 "I have reviewed the situation in NSW. Prior to yesterday they had four local government areas in Sydney that had cases of community transmission that NSW was unable to link to any known clusters, which means they have transmission and they don't know where it's coming from," Dr Young said.
NSW recorded four cases with unknown links on Thursday, she said, and based on those cases and earlier information, she said she believed it was important Queensland remain closed to Sydney's 32 local government areas.
"Outside those 32 LGAs, there have not been any cases in the previous 28 days, so that is really good news," she said.
"NSW has done really exceptionally well."
Dr Young said NSW's biggest risk was still the south-west part of Sydney, prompting her decision to block Sydney visitors from entering Queensland.
Greater Sydney local government areas barred from entering Queensland
Bayside, Blacktown, Burwood, Camden, Campbelltown, Canada Bay, Canterbury-Bankstown, Cumberland, Fairfield, Georges River, Hornsby, Hunters Hill, Inner West, Ku-Ring-Gai, Lane Cove, Liverpool, Mosman, North Sydney, Northern Beaches, Parramatta, Penrith, Randwick, Ryde, Strathfield, Sutherland Shire, Sydney, The Hills Shire, Waverley, Willoughby, Wollondilly, Woollahra.
Anyone who visited those 32 areas in the past 14 days will not be allowed to enter Queensland. However, people can travel through Sydney to the airports to travel into Queensland, Dr Young said.
Queensland Police Deputy Commissioner Steve Gollschewski said there would be border controls in Queensland as long as there were coronavirus hotspots in Australia.
Mr Gollschewski said the delayed border reopening to 1am on November 3 would help smooth out problems with people forgetting to update their border pass or not realising they had an outdated version.
"The messaging that will go out, through the website and through Queensland Health, will be very specific so people understand what the exemptions are," he said.
About 1000 Queensland police are working on the state's borders, including roads, airports, and hotel quarantine.
Loading
Earlier on Friday morning, NSW Premier Gladys Berejiklian said she would be "disappointed" if her Queensland counterpart did not announce a reopening to all of NSW.
Ms Berejiklian said she understood Ms Palaszczuk's news "might be an announcement [just] regarding regional NSW".
"I'm disappointed. There's no reason why NSW residents shouldn't be allowed in every part of Australia," she said.
NSW recorded no new community transmission cases overnight to Friday morning. The state has 55 total active cases and Victoria 76. Queensland has five active cases, all in hotel quarantine.
More than 1 million votes have already been cast in the state election ahead of Saturday's poll, of which 440,000 were postal votes.
Anyone who enters Queensland by false declarations or lying on their border entry pass about their movements in the 14 days prior faces a $4003 fine.
– with Lydia Lynch and Mary Ward
Lucy is the urban affairs reporter for the Brisbane Times, with a special interest in Brisbane City Council.