Mr Haritos replied: "Done, yes."
Mr Bollas also told Mr Haritos several times to charge extra for services that would involve cleaners wearing hazmat suits and materials being burned. Without discussing the specifics of the job, Mr Haritos agreed it would cost "twice as much".
"Get your f—ing pumps and sprays ready, because these people say you're gonna spray f—ing everything, Georgie, from now on," Mr Bollas said.
Evidence presented to IBAC on Thursday showed Transclean failed to properly disinfect the trains, while Mr Bollas "covered up" their mistakes and tipped the company off about a surprise audit in July.
Transclean was paid $1.3 million a month for extra COVID cleaning by the taxpayer, on top of a $40 million contract with V/Line and a $5 million contract with Metro.
On the call, Mr Bollas also told Mr Haritos that a commuter suspected to have been infected rode the trains for two weeks, saying "I'm never going on a train again in my life".
IBAC is investigating serious corruption allegations that public officials at V/Line and Metro Trains were paid off by Transclean while they oversaw taxpayer-funded cleaning contracts.
This is the third corruption probe into the regional rail operator, V/Line, in five years and the second probe into V/Line in three years.
Earlier on Friday, the inquiry heard that sacked V/Line boss James Pinder asked Mr Haritos if he could approach "friends" to help him arrange finance for a loan on a $2.5 million home in Williamstown.
Mr Haritos told IBAC that he was Mr Pinder's closest friend when he returned to Australia from Britain to take up the job as chief executive of V/Line in late 2016.
He ultimately "indirectly" loaned Mr Pinder some of $320,000 to cover the deposit on his $2.5 million Williamstown home in 2018.
"He asked me about my circle of friends … he didn't want to go through a stranger," Mr Haritos told the inquiry.
On Friday, Transclean's Mr Haritos was grilled about the source of a $320,000 loan that was paid to Mr Pinder that covered the deposit on his home in 2018.
Mr Pinder had asked Mr Haritos if he could approach his "friends" about helping him arrange finance for the loan, Mr Haritos told the inquiry.
Mr Pinder decided to accept the loan from Transclean's head of cleaning contracts Marie Tsakopoulos and a loan agreement between the pair was witnessed and signed by Mr Haritos' accountant.
When asked if the cash provided by Ms Tsakopoulos to Mr Pinder came from Transclean, Mr Haritos delivered a long explanation to describe how people inside and connected to Transclean paid Ms Tsakopoulos the funds, part of which was repayment for an earlier loan she made to Mr Haritos and was kept in his mother's safe.
The money was directed back to Ms Tsakopoulos for Mr Pinder via different accounts linked to Transclean, including the bank account of Ms Tsakopoulos's sister, Andrea Bennett, who did not work for Transclean but was married to another Transclean employee.
Mr Haritos said this transaction likely occurred because Ms Tsakopoulos requested the money be paid in that way.
But this evidence conflicted with a document tendered at IBAC in which Ms Bennett claimed the $200,000 she lent to the sacked V/Line boss was Mr Pinder's own money, which he kept in her account for "safe keeping".
Mr Haritos admitted this conflicted with evidence he gave that the money to Ms Bennett was repayment for a loan to Ms Tsakopoulos.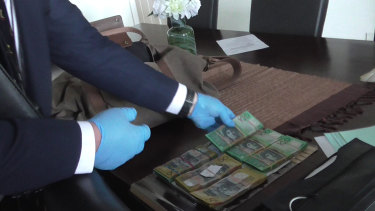 Mr Haritos denied the money for Mr Pinder's home came "directly" from Transclean, posing conflict of interest problems for Mr Pinder that should have been disclosed to V/Line.
Mr Haritos stands accused of paying off senior people at rail operators Metro Trains and V/Line and has told the inquiry he had a "strong friendship" with Mr Pinder, whom he paid cash that he claimed was the winnings of successful horseracing bets.
Mr Haritos said he socialised with Mr Pinder at the horse races, Formula One races and the casino while Mr Pinder worked at Metro.
Loading
When Mr Pinder was head of V/Line, Mr Haritos claimed he bet money from a shared kitty with Mr Pinder, winning about two quadrellas a month and handing the proceeds to Mr Pinder in cash, the inquiry heard.
Mr Haritos said he kept his cash winnings in a drawer at home and paid Mr Pinder's $5000 to $6000 in dividends and only one time paid $10,000 – the day Mr Pinder was caught with the cash in an IBAC raid. The bets were made in cash and Mr Haritos claimed he had no TAB account.
Counsel assisting IBAC Paul Lawrie suggested to Mr Haritos on Friday the proposed gambling fund is a "cover story for cash payments you were making regularly to Mr Pinder".
Mr Haritos denied this.
The hearing continues.
Get our Morning & Evening Edition newsletters
The most important news, analysis and insights delivered to your inbox at the start and end of each day. Sign up here.
Timna Jacks is Transport Reporter at The Age