"You know the bottom line though? You're gonna get better … If I can get better, anybody can get better."
Shortly afterwards, Biden held a drive-in rally at the Florida State Fairgrounds, lashing out at the President for his recklessness over the pandemic.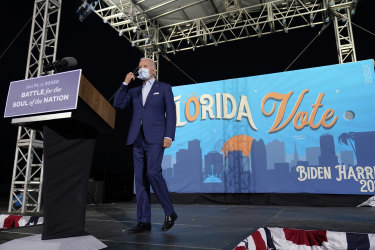 "Millions of people out there are out of work, on the edge, can't see the light of the end of the tunnel, and Donald Trump has given up," he said.
Today's rallies came as the US hit yet another single-day record, almost 90,000 COVID-19 cases, with most states now experiencing significant spikes and health experts warning that things could worsen in coming months.
Loading
"If things do not change, if they continue on the course we're on, there's gonna be a whole lot of pain in this country with regard to additional cases and hospitalisations, and deaths," Dr Anthony Fauci, the nation's top infectious diseases expert, said in an interview with CNBC.
In another hurdle for the White House, reports have emerged of a major split in its coronavirus taskforce, with longstanding adviser Dr Deborah Birx refusing to sit in a room with Trump-appointee Scott Atlas.
Atlas has often been criticised for his proposed pandemic strategies, which centre on his support for herd immunity and suggestions that masks do not work.
The latest figures from Johns Hopkins University show that more than 228,000 Americans have died from the virus.
Loading
But while Trump has told supporters he is sick of hearing about the virus, the issue is pertinent in Florida where two key voting groups have a higher chance of getting sick: seniors and Latinos.
Both are needed to win the Sunshine State, which has 21 Electoral College votes and will therefore provide a clearer path to victory on election night.
Polls put Biden slightly ahead on early voting, but the race has tightened in recent days and Republicans are expecting another surge on the back of the Cuban-American community, many of whom are drawn to Trump's pro-business policies and anti-socialist narrative.
"If Donald Trump does not win the state of Florida, it's very, very difficult to draw an electoral map where he gets to 270 electoral votes [the minimum needed to win]," data analyst Harry Enten told CNN.
Trump was scheduled to do another rally on Friday in North Carolina, but announced on Twitter that he'd been forced to move the event to Monday due to "high winds".
Earlier, North Carolina health officials revealed that at least two people who took part in the President's rally in Gaston last week had tested positive for coronavirus.
Farrah Tomazin is a senior journalist covering the 2020 US presidential election.