And that's a wrap! Thanks for your comments, photos and chatter this afternoon.
A round up of the main stories today:
Ok, this one's pretty good. Get the joke?
On the Victorian Premier's first day off in 120 days, an unexpected talkback caller phoned in to ABC Radio Melbourne.
Daniel Andrews' 77-year-old mother Jan Andrews had called into one of her favourite shows – the Weekend Mornings program – to reflect on her son's time in the spotlight of an unprecedented crisis.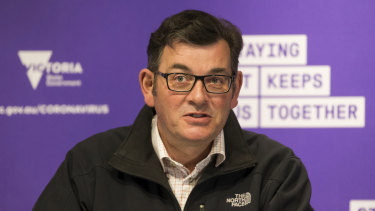 "It's a combination of everything really, that we've gotten through it," Ms Andrews said of her emotions now that the deadly second wave of COVID-19 has subsided. "Now we just have to be very, very mindful and do everything responsibly, because we never ever want to experience this again."
Like the rest of Victoria, the mother of the most powerful man in Victoria has suffered with the restrictions imposed to stem the spread of the virus – Ms Andrews, who lives in Wangaratta, has not seen her son, daughter in-law or grandchildren in person since last Christmas.
She's seen her son like the rest of us, on the podium in front of that familiar purple background, in his daily press conferences.
"I have watched every press conference. And some days I have thought, 'yes, you look OK', other days, I've taught 'oh Daniel you're looking very tired'," she said. "But he's strong."
Health Minister Martin Foley led the coronavirus briefing on Saturday in the Premier's absence. Ms Andrews said she purposely didn't ask her son what he had planned for today when she spoke to him on Thursday.
"I purposely didn't ask him because I thought no, that's their time," she told host Libbi Gorr. She suspected the family may have "just put the shutters up, turned the phones off and just be a family".
"Just to let him have a day of just doing whatever if it makes him happy."
Although she said she hadn't been able to figure out how to video call her son's family during their nearly 10 months apart, Ms Andrews was up to date on some of the internet 'meme' culture that has sprung up around the Premier, such as his fashion choices.
"I was quite surprised with the fascination that people seem to have when he wore the jacket, they thought,' Oh, that's good news'. And we put a suit on, 'Oh, we were in trouble'," she chuckled.
We're nearly done for the day here on the blog but I just had to share these pictures of trick or treating done COVID-style in Melbourne.
Age reader Marli has just sent me these photos from out an about in Albert Park in Melbourne's inner-south.
"What is a long held tradition in Albert Park, Halloween COVID style has been done so well!," she writes.
"CHO (Chief Health Officer Brett Surtton) would be proud?!"
I especially like the creativity of the set-up in the second photo – if you look closely those are lollies ensnared in the 'cobwebs'.
Very well done.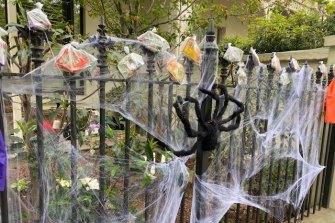 Victoria Police have just given us an update on that protest in Treasury Gardens in Melbourne's CBD this morning:
21 people in total were arrested for a range of reasons such as not wearing a mask, breaching public gathering directions, travelling more than 25km from their home or failing to state their name and address.
Of the 21 arrested, 20 were fined for breaching Cheif Health Officer directions (worth $1652 per fine) while the other person was arrested for a drug-related offence.
While coronavirus news in Australia today is (thankfully) relatively quiet, there's plenty of action
happening in Queensland this afternoon as the state headed to the polls.
There's been hecklers, sausages and the threat of dangerous storms today up north – and it won't be long until the vote count begins.
Head on over to our to the Brisbane Times live election blog to keep abreast of the count.
A number of people have been arrested and fined at small anti-lock down protest in a Melbourne CBD park today.
Videos and photos on social media show at least 100 police officers swarmed Treasury Gardens this morning where a planned rally began at 11am.
In police tactics similar to those used at a larger anti-government protest last weekend in Melbourne, dozens of officers surrounded the group – while police on horseback and bike also monitored people in the area.
A number of people were seen arrested, while a makeshift police processing spot – similar to one created at a petrol station in South Melbourne last week – was set up to fine people.
Police had previous warned they would they would be a "significant public order operation" this long weekend in Melbourne in response to any protests planned.
"Everyone has a right to protest peacefully, as long as it is in accordance with the Chief Health Officer directions and does not impact the rest of the community, who also have the right to go about their daily business," a spokeswoman said.
"Anyone coming into the city in blatant breach of the directions, or looking to disrupt others, create conflict and incite violence can expect a very firm response from police."
The current restrictions in Melbourne prohibit groups of more than 10 people gathering in public. Those gathering can also be no more than 25 kilometres from home and must be wearing face masks.
Melbourne anti-lockdown groups have a number of rallies planned for November, including on Melbourne Cup day on Tuesday at Parliament House.
G'day folks – Rachael Dexter here to see out the blog until the end of the day. Hope you're enjoying the day (whether you're Halloweening or not)! Feel free to drop me a line on rachael.dexter@theage.com.au or on Twitter with news tips or comments.
On the second-last day of early voting in Georgia, a line is snaking around the entry to the Cobb County Board of Elections office. As a reward for casting their ballots, voters are being served complimentary "democracy tortillas" filled with their choice of scrambled eggs, bacon, shrimp and sausage. Next to the buffet, a food truck is handing out complimentary coffee, smoothies and donuts. Adidas workers are offering goodie bags with face masks, rain ponchos and bottles of hand sanitiser.
It would be unpatriotic to say it's better than an election day sausage sizzle. But it's pretty damn good.
Andre Williams showed up at 6.30am so he could vote as soon as the early voting centre opened its doors at 7 o'clock. But there were delays: a tropical hurricane blew through overnight with 80 km/h winds, causing mass power outages. More than three hours after showing up, Williams emerges proudly wearing his "I secured my vote" sticker.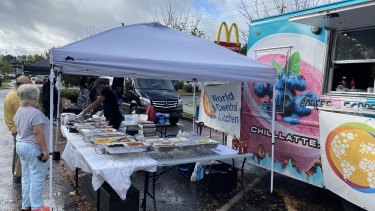 "I brought a stool with me because I was prepared to wait for eight hours," the 31-year-old says. Williams, who moved to the US from Jamaica in 2008, voted for Democratic nominee Joe Biden.
"I was born in one of the shithole countries the President talks about," he says. "Biden is not perfect. I'm voting for someone who believes in equality and can admit mistakes."
Sean Mac, who runs a pretzel company, voted for President Donald Trump. "I wouldn't say to my kid, 'I want you to be like him'," he says. But he believes Trump is better for the economy: "Joe Biden wants to raise taxes. I'm a small business owner hit by the coronavirus. I couldn't make much less and still survive."
Williams and Mac are two of the more than 80 million Americans who have already voted, a figure that has the nation on track to record its highest turnout rate since 1908. It's a sign of the enormous enthusiasm voters across the country feel about the election: they actually agree with the candidates when they say this is one of the most important elections in their lifetimes.
In Georgia 3.4 million people have already voted – 82 per cent of the total votes cast from four years ago. Over the past four decades, the Peach State has been among the safest Republican territories in the country. No Democratic nominee has carried Georgia since 1992. But the state is rapidly becoming younger, more diverse and more progressive, turning it into a highly competitive battleground.
Another doughnut day! Today's single case of COVID-19 in Victoria has been reviewed and rejected, according to the state's Chief Health Officer.
The case was under review after the Stonnington resident returned a low positive case. Health Minister Martin Foley said this morning that the person had recorded negative test results before the low positive result, while the department's subsequent press release said the negative results came afterwards. We've had clarification now that the case recorded negative results BOTH before and after the positive result. Which is good news!