Crafty cricketers can't even use their sweat or saliva to shine one side of the ball and extract a little bit of extra swing.
But to Melbourne's cricketers who've endured a long winter in lockdown, abiding by those rules is not a big deal.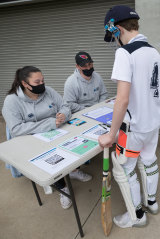 "It is a privilege to be able to go back, indoor sports don't have that freedom at the moment," said Simon Kingston, junior co-ordinator at Newport Digman Cricket Club, after two junior sides had their first training session for the year on Saturday.
"The kids had a ball. We had to force them to pack up and get off the field. They got to release some energy other than on the Xbox," he said.
"That [rules around distancing and no celebrations] was explained to them at the start and they have been back to school for a couple of weeks so it is instilled in them."
Like many clubs, Newport have asked some parents to help out as COVID officers.
Two COVID officers were present at Newport's session, responsible for checking kids in and out with QR codes and sanitising balls and equipment at the start and end of training.
Come season kick-off – which begins for juniors on Friday, November 13 and for seniors on Saturday, November 21 – teams will come off every 10 overs to sanitise themselves and equipment.
Cricket Victoria rules also encourage players to keep 1.5 metres away from each other, on and off field.
Does that mean the end of the slips cordon?
In the next line of the booklet, Cricket Victoria say players must "minimise time fielding close to an umpire or another player".
The cordon lives, it seems, but try to use it as little as possible.
The umpire can't touch the ball, or any player's property, and change rooms must remain closed.
Only one parent per child can watch, while scorers must socially distance and can't share books or stationery.
"The kids were good," Mr Kingston said. "Some wore masks doing fielding drills and they don't have to."
Anthony is a sports reporter at The Age.