The husband of the woman allegedly involved in the incident made the complaint to the integrity unit via his Brisbane lawyer, John Sneddon.
Loading
The man was distraught and furious when he discovered a message from the star player to his wife about their toilet tryst in the Qantas lounge, which occurred on Father's Day 2018.
Alarmed at what could become a public relations nightmare, the woman, who is employed by the Cowboys, contacted the club's then football manager, Mr Parr, for help.
''On becoming aware of our client's knowledge of the sexual act,'' Mr Parr gave the husband prescription medication ''to help him cope with the shock'', said Mr Sneddon in his complaint to the NRL, first lodged in October last year.
Unbeknown to the husband, the tablets Mr Parr gave him were Valium.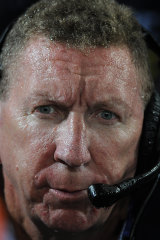 Mr Parr denied that the tablets were his or that he knew they were Valium. He said he had ''swung by the doc's'' place on the night to get something to help the husband sleep.
It's alleged that Dr Ball came forward to falsely claim he had personally consulted with the husband on the night of September 5, 2018.
The matter is now the subject of an investigation by the Australian Health Practitioner Regulation Agency. Mr Parr had confirmed that he was aware the matter was the subject of an inquiry by medical authorities and had provided the regulator with an account of what transpired.
However, Mr Parr failed to inform the NRL's integrity unit of the probe or the alleged inappropriate behaviour of the player. The integrity unit's investigations are continuing.
The incident has come to light as the Blues prepare for the opening game of the State of Origin series, which will be held in Adelaide on Wednesday.
NSWRL chief executive David Trodden said Mr Parr would continue in his role as manager of the Blues while the NRL was looking into the matter.
"They are historical allegations that have nothing to do with the NSWRL," Mr Trodden said.
"No doubt the NRL integrity unit will deal with them in due course.
"Some time ago, Peter gave me a briefing about the nature of the allegations and also the fact that the NRL integrity unit were aware of it.
"As far as we're concerned, it's a matter for them to deal with. I'm sure in due course they will do that. It doesn't impact on his role with the NSWRL."
Asked if the matter was a distraction ahead of the first clash against Queensland, Mr Trodden said: "No."
Mr Parr is one of rugby league's most seasoned administrators. He was North Queensland's team manager when they won their inaugural premiership in 2015, but recently stepped down from the role to take up a position on the club's board.
The Blues will fly in and out of Adelaide on game day.