Channel Nine has already started its election night coverage an hour before polls close. If you're not near a TV you can see the latest in the player below.
Joining Andrew Lofthouse. and Melissa Downes are outgoing Labor MP Kate Jones, former LNP leader Tim Nicholls, Channel Nine's state political reporter Lane Calcutt and national political editor Chris Uhlmann.
Voting booths were hammered by torrential rain and hail across the south-east today but in Mount Isa, it was another hot and sunny day.
Katters' Australia Party leader Robbie Katter was joined on the hustings by his wife Daisy and daughter Peaches.
The crucial-crossbencher holds the safest seat in the state, Trager in north-west Queensland, on a very comfortable 28.5 per cent margin.
If neither major party is able to secure at least 47 seats tonight, Mr Katter will be one of the most popular men in Queensland.
Voting is open until 6pm, but the Electoral Commission of Queensland says you can still squeak in after that.
We're not sure how many polling booths would have had queues today, let alone at 6pm, but important advice nonetheless. Your vote matters.
Even cartoon dogs have made it out to vote today, with juggernaut Brisbane kids show Bluey dropping an episode this morning perfectly timed to coincide with election day.
In the episode, called Circus, the Heeler family are attending a voting booth in Brisbane, where mum Chilli explains that it's voting day, where people vote on "who will be the best boss".
Bluey and her sister Bingo aren't too interested though, and as their parents stand in line to vote, they decide to play a game of "circus" instead.
Ultimately the episode sees Bluey, Bingo and their friends all learn a lesson about how to play nicely with each other.
Perhaps a takeaway for all the family on this election day.
Bluey is set in Brisbane and was created by Brisbane animator Joe Brumm, with the show made locally at Ludo studios in Fortitude Valley.
Since its debut it has taken Australia and the world by storm, airing on the ABC and distributed internationally by the BBC and Disney, and earlier this year won an Emmy for best international kids show.
Thanks for following our live coverage so far.
I am handing over Poll Call to Stuart Layt who will keep you up to date with the breaking election news and the latest results throughout the evening.
Only two hours left to vote at one of about 1300 polling booths across the state.
Politics can be a brutal business but it rarely results in physical scars.
Former Labor deputy premier Jackie Trad is fighting to retain her South Brisbane seat, facing a strong challenge from Greens candidate Amy MacMahon.
Today, her polling booth set up went slightly awry.
"OMG Joel cut his finger setting up this morning, went and got stitches, and came back! At least now when he says "Vote 1 Jackie Trad" it definitely gets attention! Seriously though, what a legend, thanks so much Joel," Ms Trad posted.
The Electoral Commission of Queensland advises the Rosewood State High School polling booth has reopened after the hailstorm swept through the region.
Greens MP Michael Berkman reports there is "just a little hailstorm at the Fig Tree Pocket polling booth to liven up the arvo".
The Bureau of Meteorology warns of "life-threatening storms" in south-east Queensland including Brisbane, the Gold Coast, Logan, and Ipswich.
For those still to vote, the Bureau of Meteorology has issued a severe thunderstorm warning for south-east Queensland.
Destructive winds, large hailstones and heavy rainfall are forecast for Ipswich, Logan, parts of Gympie, Somerset, Scenic Rim, South Burnett, Toowoomba, Lockyer Valley, Gold Coast, Redland City, Sunshine Coast, Brisbane City and Moreton Bay Council areas.
The bureau will provide an update in about an hour.
Democracy sausages were off the menu for Queensland's local government elections held in March at the height of COVID-19 community transmission.
Today, the winning combination of a piece of white bread, sausage, onion and sauce is back provided stallholders ensure "clear access for electors to and from the voting venue, and practice social distancing, good hand hygiene and regular cleaning".
Premier Annastacia Palaszczuk indulged.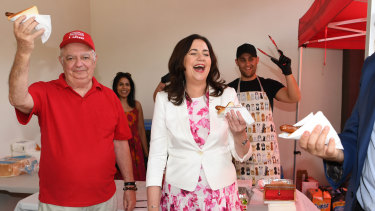 Her dad did too.
For her fix, Opposition Leader Deb Frecklington dropped by a Bunnings in Townsville.
Some voters were left disappointed so improvised.
On a sweltering morning with the threat of dangerous storms ahead, politicians and hopeful candidates almost outnumbered the slow trickle of voters at Queensland's polling booths.
Pre-polling numbers were at record levels ahead of Saturday's election, with more than 1 million voters choosing a postal, pre-poll or telephone vote over lining up on the day.
The Electoral Commission of Queensland urged voters to get in early before a predicted dangerous storm hit south-east Queensland.
Premier Annastacia Palaszczuk and her rival, Deb Frecklington, made a final pitch to voters at polling booths across the state.
READ MORE: Nervous wait for candidates as storms build in the west