"As well as electors planning the way they'll have their say when voting, they may also have to plan their vote around the weather," he said.
"… If it's bright and dry in the morning, why not head to a polling booth while the sun is shining?"
That warning rang true on Saturday, when a series of powerful storms, described as "life-threatening" by the Bureau of Meteorology, barrelled through south-east Queensland in the early afternoon.
Large hailstones were reported at several locations and power was lost at polling booths in Crestmead, Kingston and Marsden.
But the storms' impact on voter turnout may have been negligible.
By the time polling booths opened on Saturday morning, 1,288,696 Queenslanders had already voted in person at pre-poll locations across the state, and 905,806 postal votes had been issued, 571,095 of which had already been returned.
Given there were 3,360,078 registered voters on the Queensland electoral roll, that meant anywhere between 55 per cent and 65 per cent of votes had been cast by the time the first democracy sausage hit the grill.
The previous record, set in 2017, was 36 per cent.
As the storms brewed to the west of Brisbane, Ms Palaszczuk was facing turbulence of her own.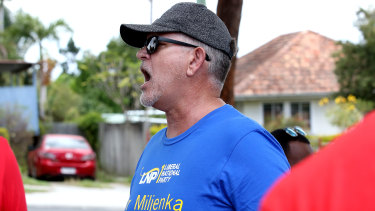 In a fiery exchange outside the Inala State School voting booth, an LNP volunteer screamed at Ms Palaszczuk to "open the borders".
"Consider the people who are unemployed, it is about time you open the border," he said.
The volunteer then pushed into a Labor campaigner, while the Premier laughed him off: "There you go, they will open the border," she said.
When asked if she thought Ms Frecklington would open the borders, LNP's Inala candidate Miljenka Perovic said: "Absolutely."
"We need to open the borders because we need to get Queensland working again," she said.
Ms Frecklington spent the start of the day in much sunnier climes, making a last-minute blitz of regional seats in Townsville.
The Opposition Leader cast her absentee ballot in the marginal seat of Mundingburra, some 960 kilometres from her home electorate of Nanango.
The LNP hoped to pick up Mundingburra and Townsville on the back of its controversial youth curfew plan, while Labor had some LNP seats in the south-east in its sights.
Shortly after casting her vote, Ms Frecklington swung by voting centres in the electorates of Thuringowa and Hinchinbrook.
She was then on a plane back to Brisbane, where she visited polling booths in the marginal Labor seat of Mansfield.
Ms Palaszczuk's party went into polling day as the slight favourite to win the election, with a Newspoll released on Friday showing Labor ahead 51.5 to 48.5 per cent on a two-party preferred basis.
– with Lydia Lynch and Toby Crockford
Cameron Atfield is PM editor at the Brisbane Times