It's past 5pm, which means the vote counting has finished for the day, and therefore so is Poll Call.
There were no official seat declarations today, but those will come in the following days.
What is clear is there has been a historic victory for the Labor party, which has turned around its fortunes from a party that would famously fit into a mini-van after the 2012 wipeout, into a three-term dynasty for Annastacia Palaszczuk, who now has four straight years to make the state according to her and Labor's vision.
The final makeup of the parliament remains to be seen, but it now appears clear Labor will have a majority.
Brisbane Times will bring you all the latest political news as it happens over the next week and the leadup to Christmas, with Ms Palaszczuk already promising a full budget and estimates hearings before then.
However I'm now putting the blog to bed more permanently – after 27 days of campaign, election day and aftermath, I can't type "Palaszczuk" or "Frecklington" without my hands involuntarily seizing up, so this feels like a good time to stop.
Poll Call has been an enormous team effort with Brisbane Times Editor Danielle Cronin pointing the way and providing valuable support, State Political reporter Lydia Lynch reporting all the latest from the ampaign trail, ably supported by reporters Toby Crockford and Matt Dennien, Cameron Atfield answering your questions with Ask a Reporter, Tony Moore speaking directly to voters on Marginal Streets, and the rest of the Brisbane Times team providing much needed extra stories, support and laughs.
It's a total cliche at this point but the fact that Australia has elections that run so smoothly is a gift that we can never take for granted. But it's also four years until the next one (in Queensland at least) and that's not terrible either.
Take care of yourselves, and see you on the hustings.
Queensland Greens federal Senator Larissa Waters says it is time to review Queensland's mining royalties regime.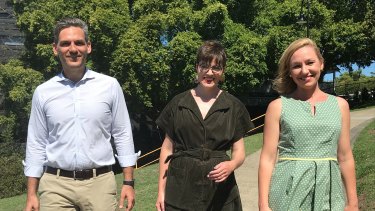 When questioned how Greens promises could come to reality when the Greens were unable to influence state parliament with two seats and a Labor majority, Ms Waters instead talked about what needed to happen with the state's mining royalties.
"We have had $480 billion of profits exported from the resources sector and they have paid a measly seven per cent in royalties (each year) over the past 10 years," Senator Waters said.
Mining royalties goes to the Queensland Government consolidated revenue to fund large budget expenditure in health, education and public works.
The Greens propose to increase the royalties to increase the share of revenue to schools, public housing, health and education.
"I have absolute confidence that Michael and Amy are going to deliver in spades for their communities and for The Greens," she said.
Labor has claimed a victory against Prime Minister Scott Morrison in the Queensland state election by saying his campaign visit to the state helped his own party lose.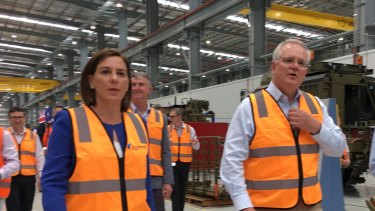 READ MORE: 'No help': Voters finish off PM's fight with Queensland Premier
The swing toward Labor Premier Annastacia Palaszczuk led her federal colleagues to argue they could build on her gains to reverse the battering they took across the state at the last federal election.
But federal Coalition ministers said the state result reflected the advantages of incumbency for all premiers and the lack of personal approval for Liberal National Party leader Deb Frecklington.
Newly re-elected Greens MP for Maiwar Michael Berkman said the Greens doubted the efficiency of the Labor Government's CleanCo, which is a government-owned company charged with producing renewable energy.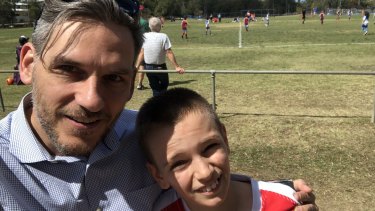 "The targets they are working towards are clearly inadequate and beyond the targets are effectively a target without plan to get there," he said.
Mr Berkman was asked if the Greens would want to make amendments to the CleanCo legislation.
"CleanCo is clearly under-delivering on the delivery of state-owned renewables," he said.
Queensland's labor government has increased the proportion of renewable energy from 3.2 per cent in 2005 to 20.3 per cent in 2020.
It has a Renewable Energy Target of 50 per cent of power generated in the state coming from green sources by 2030.
Brisbane Times is now calling Clayfield for the LNP, with Tim Nicholls seeing off a surprisingly strong challenge from Labor and the Greens.
Ms Nicholls, a former Treasurer in Campbell Newman's government who led the LNP to defeat in 2017, looked nervous on Saturday night on Channel Nine's coverage of the election, watching strong figures come in from Labor's Philip Anthony.
Mr Anthony was buoyed by preference flows from Greens candidate Andrew Bartlett, who only stepped in after the party ejected its planned Clayfield candidate John Meyer in spectacular fashion.
But Mr Nicholls is now clearly leading the primary vote, making Clayfield a likely LNP retain, which the party will need as it fails to get traction in north Queensland and faces a Labor rear action on the Gold Coast.
New Greens MP Amy MacMahon says she has sympathy with Extinction Rebellion protesters.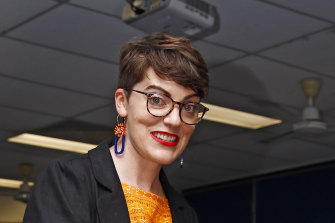 "I think regardless of what you think about their particular protest techniques, this is the result of people feeling so frustrated with the political system that doesn't listen to them anymore," she said.
"People only engage in protest and civil disobedience when they are faced with a political system that is no longer meeting their needs and no longer listening to them."
"And we can see the gap that exists between the community and our representatives who just are not moving fast enough on these key issues."
"Regardless of what you think about particular approaches that groups like ER might take, that groups like the [Kangaroo Point] Refugee Protesters might take, the core of the issue is a political system that is no longer listening to people."
Brisbane Times is now calling Whitsunday for the LNP with just over half the votes in the seat counted.
Former LNP member for the seat Jason Costigan has failed to attract enough votes under his new party North Queensland First, after he was expelled from the LNP after a series of scandals.
Labor's Angie Kelly is ahead slightly on the primary vote but the LNP's Amanda Camm now looks set to take the seat once preferences are allocated.
We now have 28 seats for the LNP, far short of Labor's 48, with the Greens on two seats, the Katters on three, One Nation on one and 10 still too close to call by our reckoning.
New Greens MP for South Brisbane Amy MacMahon says she's yet to speak to ousted Labor MP Jackie Trad after her win in the state election.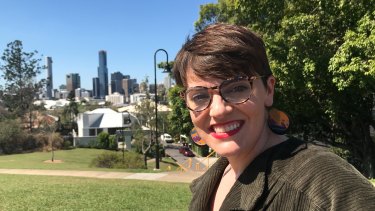 Ms MacMahon's win is against a swing of over 5 per cent to Labor state-wide, which Labor figures have credited to the LNP's decision to preference the Greens over Ms Trad.
But Ms MacMahon disagrees, and with a lead on primary vote over Ms Trad of 38 to 34 per cent on Sunday afternoon with 67 per cent of the vote counted, it could be argued she has a point.
"I will say it again. The result is because more people than ever put the Greens first in South Brisbane," she said.
'We knew the support for the Greens was surging here in South Brisbane and we knew that people felt fed up with both Labor and the LNP.
"And I think the result here is a reflection, not only of that frustration, but also of the excitement for the Greens vision that we have offered at this election."
Ms MacMahon said she has been playing "phone tag" with Jackie Trad and hoped to speak with her on Sunday afternoon.
She said she believed people voted for the Greens vision for Queensland to use the state's "immense wealth" to fund essential services.
"Here, particularly in South Brisbane -which is now the second Greens seat in the state – we are looking at over-development and dealing with the immense power that property developers still have over our planning system."
Ms MacMahon is a sociologist, who has worked in teaching while finishing her doctorate in sociology and climate change in Bangladesh.
Most recently she has been working at Ipswich City Council in a community engagement role.
As the vote counting continues, some electorates are doing better than others in getting through the ballots.
As at 4pm, Gladstone had just over 80 per cent of its votes counted, with Labor's Glenn Butcher polling strongly and a certainty to retake the seat.
Spare a thought for the people of Bonney, on the northern Gold Coast, where the ECQ lists just 38.5 per cent of the vote as having been counted.
The LNP's Sam O'Conner looks set to retain the seat with over 54 per cent of the primary vote, but there are still a lot of votes to be counted there.
The Greens have won a second seat in the Queensland parliament simply because more people had voted Green, not because of LNP preferences to Greens ahead of Labor, Maiwar Greens MP Michael Berkman said.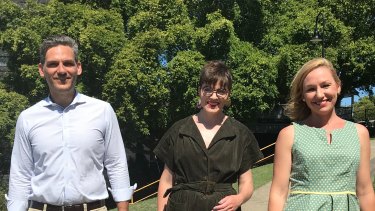 "The results that we are seeing across the state and in the electorates here, Maiwar and South Brisbane and in Cooper and in McConnel, we are seeing more people than ever voting for the Greens," Mr Berkman said.
"We have clearly won on primaries here in South Brisbane and in Maiwar," he said
Mr Berkman disputed suggestions the vote was exaggerated by the LNP preferences.
"They are voting for us as a party because we have been able to get to their doors to deliver that message of fundamentally addressing these fundamental inequalities in Queensland." he said.
Mr Berkman said the contrast between a increased Greens vote in inner-city Brisbane but a decline of one per cent in the overall Green statewide vote was not evidence of "two Queenslands."
"I think there area lot factors in play here. Everyone is aware we have far more minor parties and generally more players in this election than ever before," he said.
"And it is in the middle of a global pandemic when obviously the overall result reflects that way people feel Labor have dealt with the global pandemic.
"We will have plenty of time to pick over the entrails but I am really proud of the campaign we have run and the result we have got across Queensland."
Mr Berkman said he hoped Labor was prepared to constructively engage with the Greens, despite Labor already forming a majority government with 48 seats in a 93-seat parliament.
"They are clearly not serving the interests of the Queenslanders if they just show up with no interest in negotiating on the issues that clearly matter to people."
Mr Berkman said it was still possible even though the Greens do not hold the balance of power.