But if anyone can convince players they can walk on water, it's Bennett, while Meninga was the mastermind of a resurgent Queensland era of interstate domination that culminated in eight successive series victories from 2006-2013.
Cherry-Evans said that had taken some of the weight off senior players, who may have otherwise had to help instil confidence in the rookies, and allow them to focus on the key aspects of springing an upset to start the belated campaign.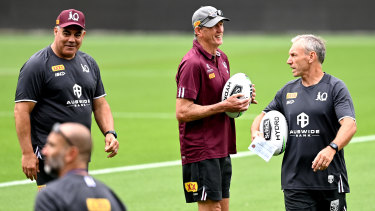 "We're really lucky with the coaching staff we've got. My job has been to just come in and be the halfback for Queensland," Cherry-Evans said.
"Wayne literally involves himself in all of the camp. His calming influence is great to have around. When people do talk from experience, that means we're more prepared for what's to come.
"We're not going to underestimate NSW … we understand what's at stake here, and a lot of that preparation has come from the coaching staff."
With spring in the air, magies swooping, the weather heating up and the Melbourne Cup about to run, it certainly doesn't feel like an Origin series is about to be played – externally at least. But within the camp, Cherry-Evans said the excitement levels were reminiscent of a typical winter Origin campaign, while the prospect of three games in three weeks had added a new intensity.
"It definitely does feel like we'll be playing Origin. We're definitely in an Origin camp the way training has been going on," Cherry-Evans said. "The fanfare and media isn't what it used to be… we've had more time to focus and connect in training. It's different but not in my mind it won't be a typical Origin. There's going to be fireworks."
Queensland can genuinely lay claim to being underdogs this time and Cherry-Evans said the lack of Origin experience would at least ensure the NSW video sessions are shorter than usual.
"Expectation can do funny things in sport. We have to keep our head down and work hard. We have a hell of a lot of belief in the squad we've picked. I think that's a successful recipe for the series.
Loading
"There's not much to view in their video sessions. But they're (new layers) not coming in here with any fears. I don't see any of that as a false reading of what's to come. We've got enough older players in this team… more so our coaches… to know what's a high level of training and what's not.
"The feedback we've been getting from our coaches is that we're on the right track here."
Cherry-Evans said he would 'reserve judgement' on the end-of-season timing for the series. The NRL had little choice in the scheduling this year due to COVID but would consider making the change permanent if the ratings were strong.
"I just don't know what's going to happen over the next three weeks," Cherry-Evans said. "I like what they've done this year, this probably had to be done to get this up and running. Origin is such a big part of our game. It's great to fit it in somewhere… whether it's the right time or place, I'm not sure yet."