The popularity of the area carried on into Sunday, helped perhaps by the sunny weather and the fact that the Cup Day long weekend would provide many Melburnians with more time to sleep off a big meal.
More people flocked to Lygon Street at lunchtime on Sunday than on Saturday, and the pedestrian volumes were far higher than a typical Sunday night.
Melbourne lord mayor Sally Capp said she was pleased to see said COVID-safe measures were in place to welcome people back to the city safely.
"It's wonderful to see Melburnians back in the city enjoying our shops, cafes and restaurants and bringing a sense of activity back to our streets," she said.
Cr Capp said the visitor booth in Bourke Street Mall had reopened this week to help guide people to the area's shopping, dining and visitor attractions.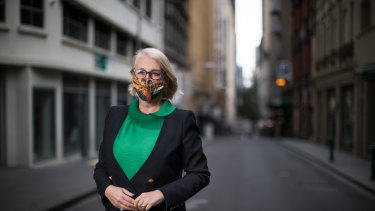 "A COVID-safe environment is really important to encourage people back and we've had the city cleaning teams focus on hotspots to keep the city clean and safe.
"We also have a team of safety and support officers out on our streets helping businesses and visitors to maintain COVID-safe behaviour and physical distancing," she said.
Other busy locations for pedestrians on weekends recorded far more foot traffic than over the past month of lockdown, but not as many people pounding the pavement as during a typical Melbourne weekend last year.
In Bourke Street Mall, often the busiest city location where the council has installed pedestrian sensors, there were five times more pedestrians than there were during an average weekend during the past month of lockdown, but still not as many visitors as there would have been on a typical Saturday or Sunday last year.
Pedestrian traffic on Swanston Street, out the front of the State Library, shows a similar trend.
Princes Bridge, which connects Swanston Street on the north bank of the Yarra River with St Kilda Road on the south, recorded more foot traffic on Sunday than Saturday.
Finally, on the footpath near the entrance of the Melbourne Convention and Exhibition Centre, Sunday's foot traffic was almost the same as on a typical day in 2019.
The City of Melbourne has set up sensors at fixed locations throughout the central business district and surrounding areas that count the number of pedestrians each hour. The sensors were installed for city planning purposes and have been placed on light poles or awnings to keep track of how many people use the footpath below.
Craig Butt joined The Age in 2011 and specialises in data-driven journalism.